If you are working online and want to live a life by earning passive income. Then, you can use Adsense and make money from Google Adsense by just showing ads on your website.
Adsense can generate revenue for any type of website by placing ads to the content of your site.
Do you want to make money online by just displaying ads on your website? Are you ready to work from the comfort of your home to earn money online? If yes, then you are at the right place to learn everything on how to make money from Google Adsense.
No matter whether you want to work part time or full time from the comfort of your home. This beginners guide is not a get rich quick method at overnight, it takes time. You have to work hard at the start to earn passive income from it.
So, if you are ready to learn this beginner guide from the start to the end. Then, let's start learning each section from Google Adsense approval to the activation and display of ads. We will also give you some best ideas to increase your Adsense revenue.
What is Google Adsense
If you are working online, you may hear many times about Google Adsense. Google Adsense is the popular way for any website owner or blogger to monetize their website.
Adsense is the free service offered by Google online for the publishers. Publishers place ads on their content after getting approval from Google Adsense. If the visitors view or click on these ads, the publisher may earn some amount of money.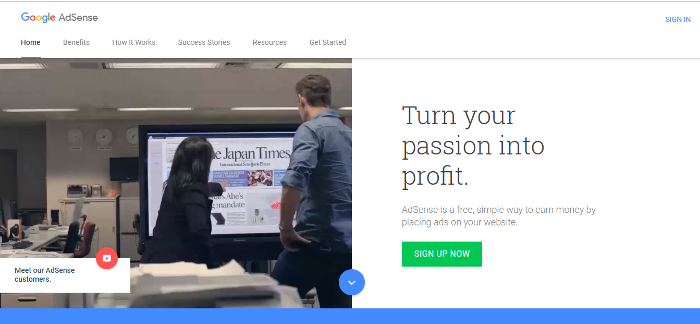 Google Adsense is the advertising program that can help you to make money online. It works on the basis of Cost Per Click(CPC) and Revenue Per million or 1000 impressions(RPM).
If someone clicks on the ads, the advertiser's charges per ad click and the publisher earn about 68% of the click amount.
How to Make Money By Showing Ads On Your Posts
If you want to make money from Google Adsense, you must have a website where you can place Google ads. To create your own blog for Adsense approval, you can read our Beginners Guide on How to Start a WordPress Blog in just 15 minutes.
No doubt in that, when we say "content is king". But the content should be of high quality and unique. You cannot add copied content to your blog to get search traffic. You have to create quality content because quality content is the best way to get a high amount of traffic.
Many large websites contain millions of high-quality content. That's why they still getting high search traffic from Google and other search engines. You also need to create quality and researched content on your website.
Consider adding high-quality content on your blog after you start your website.
Apply For Google Adsense to Make Money Online
Now, you have a website with high-quality content. It's enough to create 20 to 30 high-quality content on your website to get Google Adsense approval.
If you have 10 posts on your website and still creating high-quality content for your website. You have to wait until your blog post reaches 20 to 30 high-quality post.
After you have 20 to 30 post on your website. You can apply for the Adsense using your Gmail account. To complete the application process of Google Adsense, you have to place a scripting code on the <head> tag of your website.
The placement is required to check the website structure and quality of the website. Also, to check the traffic of your website before getting approval for the Adsense to make money.
Got Approved For Google Adsense: What You Should Do Now
After you got approval for the Adsense, you have to create a strategy to create high-quality content for your website. High-quality content is the key to success to earn money from Google Adsense.
Create Your First Adsense Ad Unit
Getting approval from Google Adsense is the simple process. Step more from approval you now in a position to create your ad unit set up to place on your post content.
To create your first AdSense ad unit, you have to log in your Adsense account. After the login, you have to visit the location ads>>ad units. Click the "New ad Unit" button to start creating your first ad to place on your content.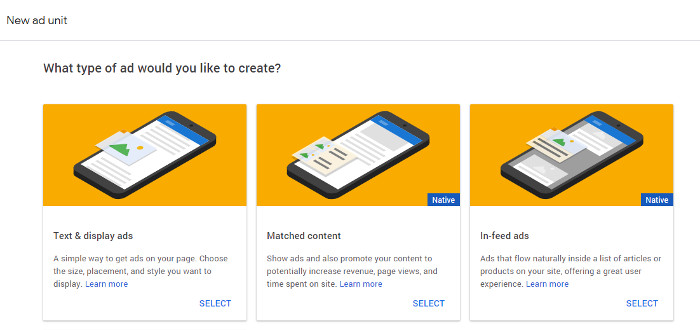 Here, there is three ad type you can create for your content. Click on the 'Text & display ads' as this option is the simplest and quickest option to place ads on your content and earn money.
Use Responsive Ad Unit to Place on Your Blog Post
While creating an ad unit, you may find many shape and size of the ads. However, the responsive ad type is the recommended ad type to place on your post.
This ad size can resize itself automatically at the time when visitors see them on other screen sizes. The other screen sizes include the desktop, tablet and small to medium mobile sizes.
The ad is automatically resized to these devices screen which can increase your revenue from Adsense.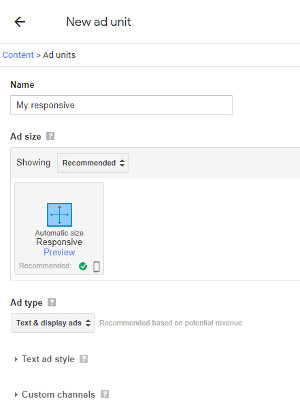 Choose 'Text & display ads' option under the Ad type to get more types of ads for your visitors.
Complete Setup and Place Ads on All Your Post
Now, to complete the ad setup for your first ad, click on the 'Save and get code' button. This gives you the Google Adsense scripted code to place on the location where you want to display the code. You can place this code on your post where it can display on every post of your website.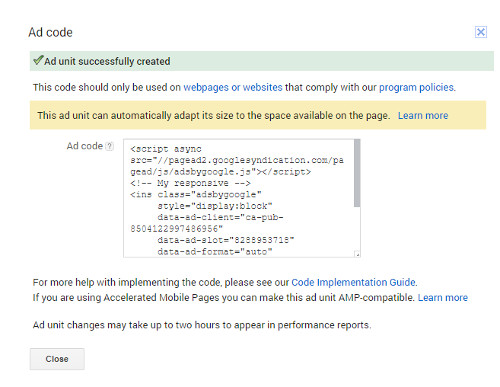 This completes the setup of code on your website post. After the placement of the code, the ads takes time to set up and display on the placed location. After few minutes, it starts displaying on the required placement location.
At the start of the time of display of ads, you may see some few dollars showing on your Adsense revenue. The ads working depends on the CPC(Cost Per Click) and RPM(Revenu Per Million).
Increase Google Search Traffic to Increase Adsense Earning
The earning of money depends upon the amount of traffic you get for your website post. The more traffic you will get, the more you earn from Adsense.
So, if you want to earn huge money from Adsense, your blog or website must have thousands or millions of traffic in a month.
To increase your Adsense earning, you have to create many quality contents for your website. The more quality content you have on your website, the more you earn from Google Adsense.
You may also like to read