If you are a blogger and want to earn easy money online. You have to try top pay per lead affiliate programs. The pay per lead affiliate programs gives free money for each free signups you promote. Top pay per lead affiliate programs is the best source of money for bloggers.
It's not easy for any blogger to earn money from your blog without any hard word. Whether you are using Adsense or affiliate marketing. All these needs your hard work to create a blog which gives your money online.
However, top pay per lead affiliate programs makes it easier for a blogger to earn free and easy money online.
Affiliate Disclosure: At Tutorialdeep, we believe in transparency for our users. In this blog, there are some referral links. If you signup with these links we will earn some commission with no extra cost to you. We recommend these links because these are our trusted brands.
To join each pay per lead affiliate programs given below. You have to join ShareASale affiliate network to join advertisers given below. In addition to this, you also need to signup with each programs to promote them on your blog or website and make money online.
Free Signup Programs You Should Join to Earn Money
Here are the list of the best pay per lead affiliate programs to earn money for free signups.
1. Tailwind ($0.50 For Free Signup)
Tailwind is the tool to schedule your post to Pinterest & Instagram. Share your best post automatically to social media with less human effort. It is an all-in-one tool to share and track your post after you share it.
It also comes with a browser extension to create multiple posts from any site with one click. It is the best marketing tool trusted by many bloggers and online marketers.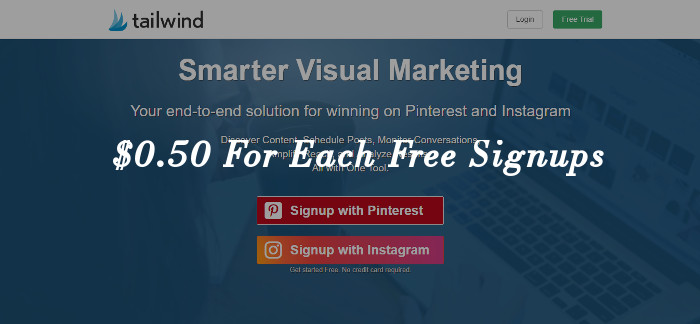 Drive smart traffic to your blog by resharing your best content on top social media. Make all your blog posts evergreen and save your valuable time. Focus on creating good content without worrying about sharing for traffic.
For each free signup for Tailwind free plan, Tailwind gives $0.50 for each free signups. Each lead can signup through Pinterest or Instagram account in minutes to earn extra and easy money.
2. FreshBooks ($5 For Free Signup)
FreshBooks is the cloud-based accounting software built for small business. With this software, you can create automated invoices to send recurring invoices to your customers. It saves your valuable time and increases you're earning with less effort.
You can bill your customers in any currency and allow them to pay via credit card. Track all your expenses and calculate your profits with this easy software. It does not matter whether you are a self-employed, freelancer or running your business. FreshBooks is for professional small as well as large businesses.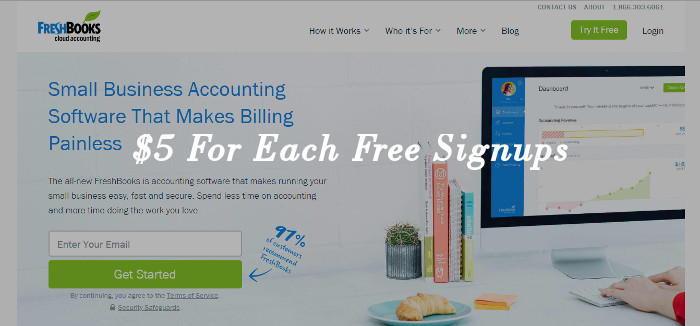 FreshBooks comes with a free plan for 30 days with no credit card required. With this free plan, you can perform all its features for 30 days free of cast.
For each free signup for its free plan of 30 days, FreshBooks gives $5 for each free signups. It can add some extra buck to your earning with very fewer efforts.
FreshBooks also gives an extra bonus of $25 when you add its banner to one of your website blog post. You have to just add any of its banners to your blog post and send the added post URL to them. Within 7 days, it adds a bonus of $25 to your ShareASale account.
3. ShareASale ($30 as Highest Pay Per Lead Affiliate Program)
ShareASale is the top online Affiliate Marketplace Network to promote affiliate products online. It is the most trusted affiliate network with the highest number of affiliates earning money. I am also an affiliate of ShareASale and have no problem in getting payments on time.
It is the easiest affiliate network where you can find affiliate products to earn easy money. It comes with the best support which can resolve all your affiliate and payment related problem at earliest.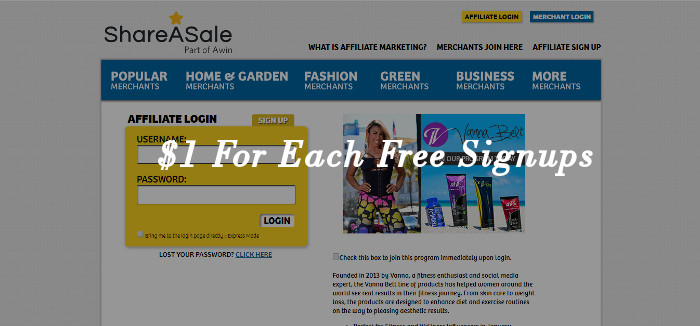 To join the Pay Per Lead programs given here, you have to first join the ShareASale network. After joining this network, you will be able to promote products and earn money on free signups.
Also, with each free signup of ShareASale, you will earn $1 who complete the signup process. After signup, you can find the sponsor for your website with the potential to earn more money online.
4. Ginger ($0.50 For Free Signup)
Ginger software is the fastest way to write better English online. If you are a blogger or writer and want to create the best blog post. No matter whether you are native.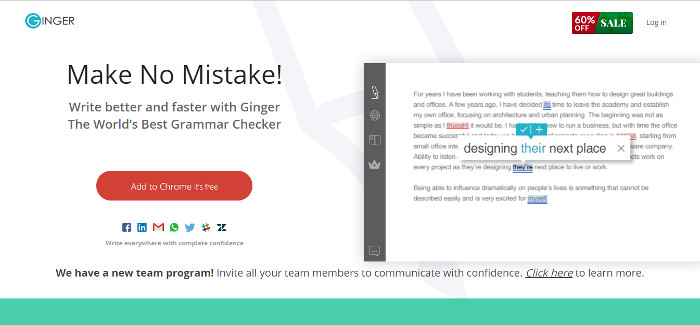 5. DMCA ($0.25 For Free Signup)
DMCA helps the website owner to protect their content from thieves. You can protect your site from unauthorize content duplication with DMCA content scanning tool.
Protect your images by automatically watermarking your brand to all your website images. You can use DMCA protection free of cost. However, if you want premium protection, you have to buy its premium plan.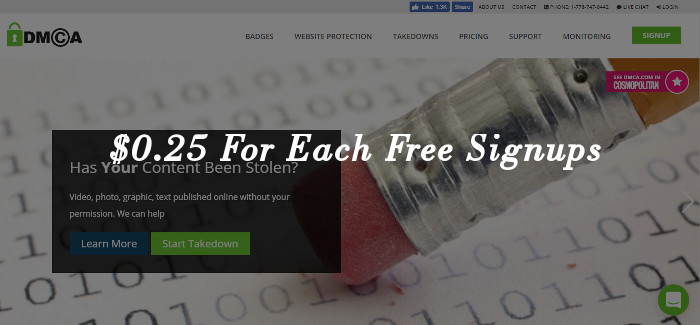 The DMCA free plan protect your valuable content from stolen. After you add DMCA to your website, your content becomes copyright DMCA protected.
For each free signup of DMCA for the free plan, DMCA gives $0.25 for each free signups.
6. Grammarly ($0.20 For Free Signup)
Grammarly is the best online grammar checker tool. With this tool, you can improve your writing skills in English and make the correction in minutes. With this single tool, you can perform all you spelling check, grammar check and plagiarism check of your blog post.
Create an error-free blog without any duplicate content using Grammarly plagiarism checker. It helps you to write an error-free blog post without any English grammar knowledge.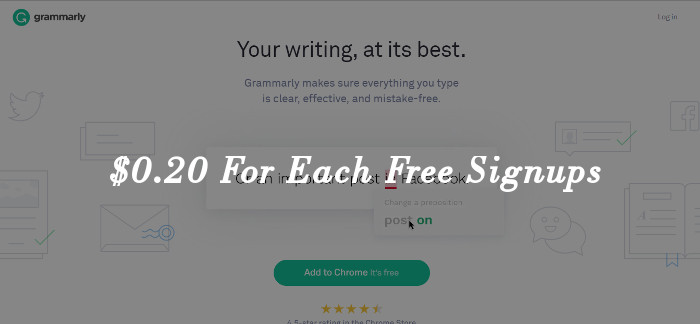 If you are an English writer but not a native English speaker. Grammarly provides you with all useful tools to become a best English writer and Earn money online.
In addition to all above, it also gives $0.20 for each free signups you promote. If you write a review about Grammarly, it also gives $25 as a bonus. But, to get this bonus, you have to first join ShareASale affiliate marketplace and after that signup Grammarly with below signup link.
Conclusion: Pay Per Lead Affiliate Programs Have High Earning Potential
If you promote them seriously with a few extra efforts. These Affiliate Marketing pay per lead programs can be the best source of earning online for you. These programs have high earning potential to earn easy money online. If you want to make passive income with few initial efforts.
I will keep updating these list which I found more profitable pay per lead affiliate programs to join. If you have any other high-quality affiliate program to earn money on free signups, do let us know by commenting below. I will definitely add it to the above-given list.
You may also like to read
Also tell me, which is your best pay per lead affiliate programs to earn money on free signups.