Are you looking to start affiliate marketing to earn money online?
If you want to make money online, affiliate marketing can add an extra income to your earnings. It is the most popular and oldest way of earning money online. If you do affiliate marketing in the right way, the money starts flowing to your account with just a few efforts.
Many affiliate marketers making millions of dollars each month without any investment. It is one of the best option to earn passive income from your website.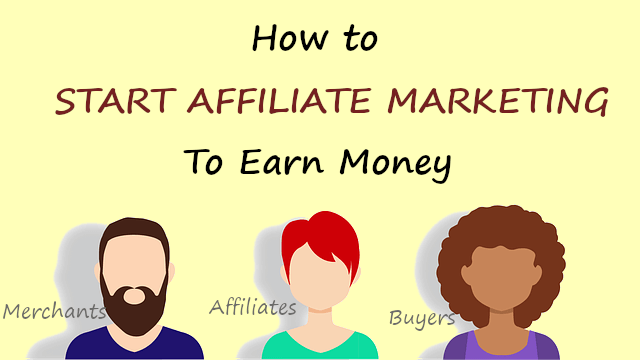 However, it may be difficult for you to find where to start doing affiliate marketing.
That's why we have created this guide to help you start your affiliate marketing business today.
Here, you are going to learn:-
How to create an affiliate marketing ready WordPress website.
Choose Best Affiliate Programs to promote.
Content ideas to create for affiliate products.
And promote content to build an audience and earn passive income online.
So, let's get started.
What is Affiliate Marketing and Why you Should Start Doing This
If you want to earn huge money online, you may think of creating your own products to sell it to multiple customers. However, it needs time and more money to create your own products to sell online.
In that situation, affiliate marketing is the best option for beginners to earn money without investment. You can earn huge money from this by promoting other's products on your website. It's the best option to earn a huge commission with each sale. You can sale to multiple customers without investing in creating your products.
Disclosure: At Tutorialdeep, we believe in transparency for our users. In this blog, there are some referral links. If you signup with these links we will earn some commission with no extra cost to you. We recommend these links because these are our trusted brands.
Here is the screenshot of my affiliate earnings from ShareASale Affiliate Marketplace:-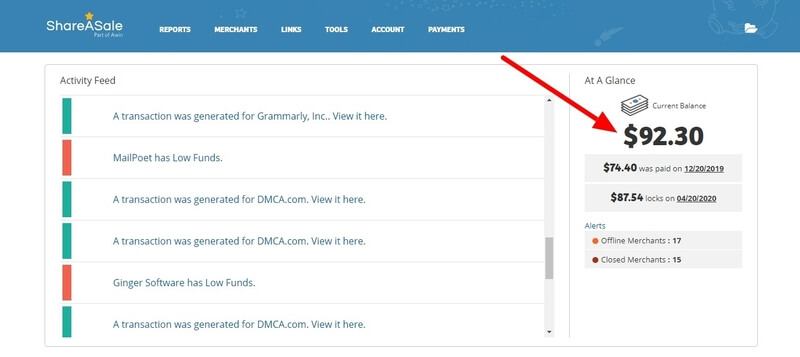 Affiliate Marketing is the smart way of earning money online by promoting someone else product. You don't have to create your own products to sell online. In place of this, you can promote someone else products and earn a great income from this.
You will earn a commission each time when someone clicks affiliate links and buy products. The commission is the small percentage of the money you earn from each sale you made.
How Affiliate Marketing Works
Person's who involved in affiliate marketing:-
Merchants or Advertiser: It is the product creator who creates the products to sell online.
Affiliates or Publishers: An affiliate or publisher is the content creator to promote a merchant's product on its website.
Buyers: A buyer is a person who buys the merchant products from affiliates websites links. He/She may also buy the products directly from the merchant's website.
Here is the graphical view of affiliate marketing channels in the image below:-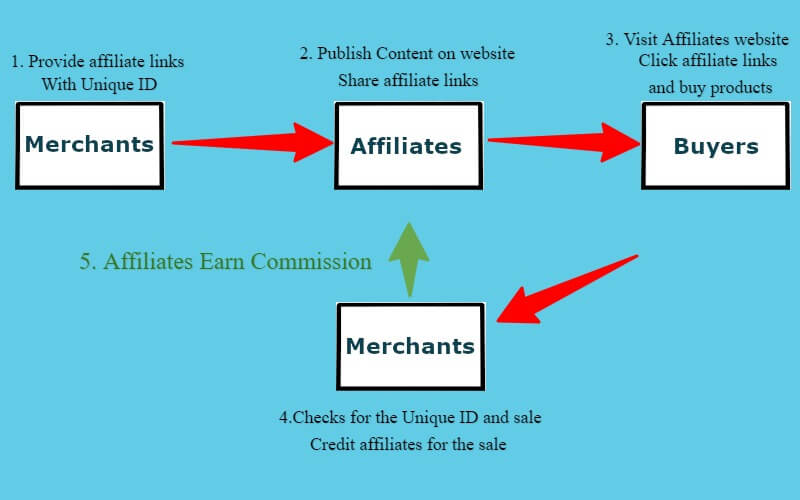 Working of affiliate marketing whose process is given below:-
Publisher joins the best affiliate networks.
Find affiliate products to promote and get affiliate links.
Publisher add the affiliate link to their blog content
The buyer visits the publisher's website and clicks the affiliate link.
Buyer made a purchase, publisher earn an affiliate commission
Now, you know all the terms of affiliate marketing. Let's start with 5 easy step-by-step processes to start affiliate marketing.
How to Start Affiliate Marketing in 5 Easy Steps
We have divided it 5 easy steps which you have to follow as given below.
Step 1: Start A WordPress Website
If you want to start affiliate marketing, you need a medium to share and promote affiliate products online. The website is the best option for beginners to share affiliate links online to earn a commission.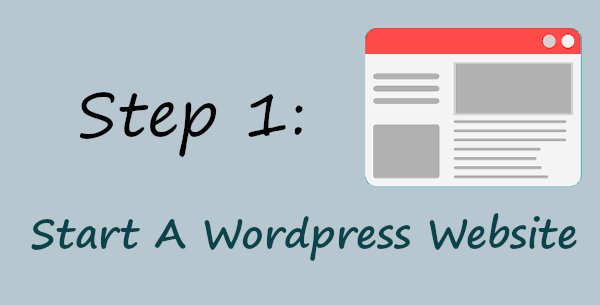 Fortunately, it's easy for beginners to build a website in minutes with WordPress. It is the best CMS for beginners to start your website without any coding knowledge. You can easily create and manage content and add affiliate links in WordPress. There are millions of websites already using WordPress to easily manage all website contents.
We figured out everything for you and made a guide for you to easily create your WordPress website. You can read this guide whose link is given below. After completed with this guide, you can return back to follow other steps given here.
Read our guide: How to Start a Blog on Bluehost
Step 2: Join Affiliate Marketplaces to Find Right Affiliate Programs
Once you have done with your website, it's time for you to get the affiliate products to promote. You have to choose the right affiliate products related to your niche.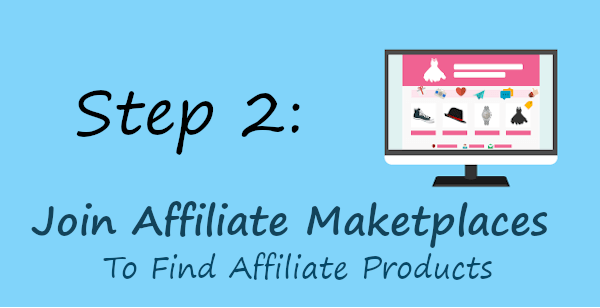 Join the affiliate marketplaces where you can find affiliate products for every type of niche. The most popular and trusted affiliate marketplaces are:-
Out of the above affiliate marketplaces, ShareASale is the highly recommended beginner's friendly marketplace to start. It provides beginners friendly user interface with high paying affiliate programs. With more than thousands of affiliate products of every niche type, it can be the best choice to start affiliate marketing.
Read our guide given below:-
Step 3: Install Best Affiliate Marketing Tools to Your Website
After you completed choosing the right affiliate programs to promote on your website. It's time for you to install affiliate marketing tools to use.
You set up a website above using the WordPress platform. WordPress comes with many excellent tools and plugins for affiliate marketing. You have to just install them to easily manage affiliate links and track sales.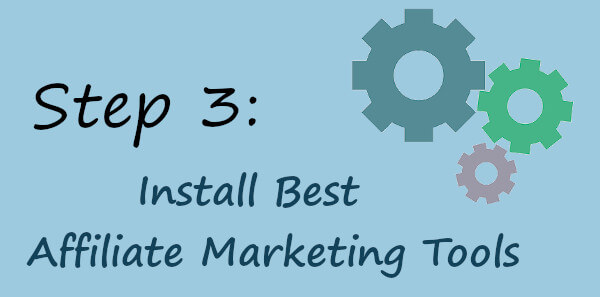 Below are the best affiliate marketing tools to install and easily manage links and track sales.
ThirstyAffiliates Link Manager Plugin
ThirstyAffiliates is the best plugin to manage affiliate links on WordPress. It comes with all the features to easily manage and organize affiliate links.
Affiliate links are ugly to add to your website content. You should use a Link Cloaker plugin to shorten affiliate links. See our guide on how to manage affiliate links in WordPress with ThirstyAffiliates.
MonsterInsights Plugin
MonsterInsights is the best Google Analytics plugin trusted by more than 2 million websites. With this plugin, you can easily find the traffic behavior, affiliate link clicks, and other analytic reports.
To track all your outbound links and views, you have to just install MonsterInsights plugin. After you install, it starts tracking all your affiliate links which you can check in WordPress dashboard.
Step 4: Best Ideas to Create Content and Promote Affiliate Products
Now that, you are done with all the settings on your website for affiliate marketing. You can now start creating the best content for your website to promote affiliate products.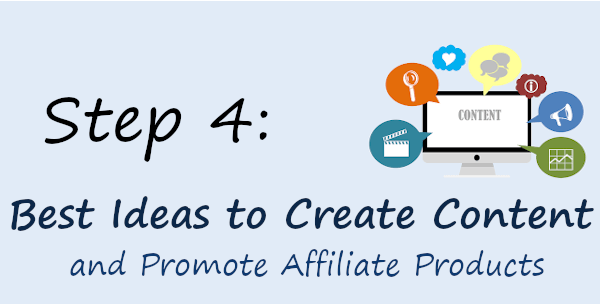 First of all, Get Grammarly tool that can help you to write better content by eliminating all your grammar, spellings, punctuation, and other English writing errors and mistakes. After that, you can start with below suggested content ideas to create stunning content.
Here are the best content ideas to create content and promote affiliate products.
Product Reviews
Product reviews are a detail description of the affiliate products. Focus to give more value to the products to promote on your website. You should know what you are promoting on your website. Try every product with all its features before writing any reviews for them.
Product Comparison Content
Comparison content can drive more sales if done correctly. You can create this type of content to rank the best affiliate product. This can be the best way to get more sales easily. People can also give you thank if they found the product as you described.
Be Honest While Creating Best Content
Be honest with your audience when creating your content to promote products. Create honest reviews of products with all the information you know better. Use each and every affiliate product before creating detailed content. Never create content for the products if you have not used it.
Offer Discounts and Coupons to Attract Visitors
Add offers and discount coupons to your reviews contents and other content with affiliate products. It attracts more sales as people always looking for discounts to save more money. You can make immediate sales and earn more money with these contents. Include features to add coupons and discounts to your website content. Choose from 6 Best Free WordPress Coupon Plugins.
Step 5: Add Affiliate Disclosure For Your FTC Compliance
It's recommended to be transparent with your audience that you are earning commission from the sale. People willing to buy products and appreciate you for honesty and transparency.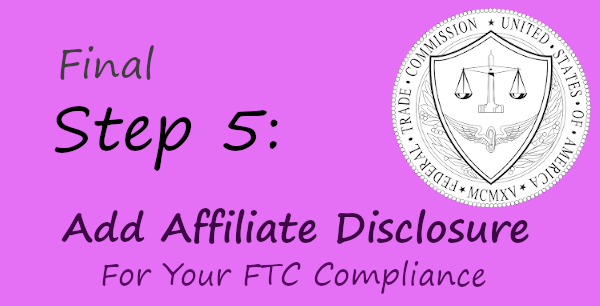 FTC is a Federal Trade Commission in the US. It requires Affiliate Marketers to disclose affiliate relationships with affiliate products. If you are not doing this, product creators may cancel your agreement as an affiliate.
Whenever you add affiliate links to your content, let people know that you are earning a small commission if they buy from your link. It's the best practice for the affiliate marketers to add a disclosure to every content. You can also find the affiliate disclosure here as given below.
Disclosure: At Tutorialdeep, we believe in transparency for our users. In this blog, there are some referral links. If you signup with these links we will earn some commission with no extra cost to you. We recommend these links because these are our trusted brands.
Promote Your Content to Build an Audience
To see better results from your content, you need to share your content with audience. Use free resources available online that can give you quality traffic. Traffic is the main source to easily make sales from your content.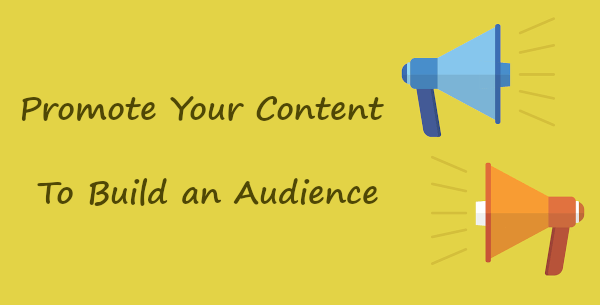 To promote your website content, here are the best options you can use:-
Share on Social Media
Social media is one of the easiest ways of attracting visitors. You can autoshare blog posts to social media websites like Facebook, Twitter, LinkedIn, etc. You can take the benefits of these sources with billions of traffic each month.
Create FaceBooks Groups
You can create your Facebook group and start joining as many people as you want. This can be your regular traffic source for your website. You can share your valuable content with this group to drive more sales. It is a great source and free use on Facebook.
Generate Leads and Do Email Marketing
Start collecting emails from your visitors and share your content with them. It's the best option to get more conversions. You can contact directly to them via emails and convert visitors into sales. There are many email marketing software and the most popular software are given below:-
Create a Resource Page
A Resource page is the best option for you to add all your tools together recommended on a page. It can promote all of your affiliate products to your readers in one single page. Create a recommendation page for the products you are already using and love to share with your audience.
The Bottom Line Is
If you are struggling online on how to start affiliate marketing, this post can be the best starting point for you.
Affiliate commission is a win-win offer for you to make your first dollar online. However, it's not magic as you have to implement all steps seriously given above to earn money.
Create lots of detailed content on your website to educate peoples. Be honest with them to gain trust to get success in making affiliate sales. After gaining more popularity with your content, affiliate marketing can be the best business for your blog.
I hope you like this post on how to start affiliate marketing to earn money online. If you have any queries regarding the tutorial, please comment below.
Also tell me, which affiliate marketplace you have joined to find affiliate product. Please comment below.