Do you use any logo design maker and generator website to create your website logo? If are not using any, you must try one. A logo design maker website creates a professional logo in minutes for the users.
If you are a blogger or professional website owner. You may like to create a professional logo for your website. These logo design maker websites give all the tools to Make free logo Design.
If you are a designer and want to create your logo design for your customers. You can use these online logo design creator and generator websites for the fastest creation of the logo. Create and generate professional looking logos for your customers without any designing knowledge.
List of Best Online Logo Design Maker and Generator Websites
We worked hard to provide a list of the best online logo design maker, creator and generator websites. These online logo maker tools can do magic to create your logo design and generate your logo.
Disclosure: At Tutorialdeep, we believe in transparency for our users. In this blog, there are some referral links. If you signup with these links we will earn some commission with no extra cost to you. We recommend these links because these are our trusted brands.
Here are some useful online websites to Make free logo Design and generation.
1

Designhill: World #1 Graphic Design Website

Create your professional logo with this free logo creator website tool. Choose more than 1000 icons to design a logo for your business. In addition to this, you can customize the color, edit fonts. After you have done creating your logo, you can generate and download the logo for your use.

If you want to create your logo design or print cards for your business. You can purchase them to get unlimited access to their free logo maker files.
Choose the best graphic design and get all graphic design files with the premium version of designhill.
2

DesignEvo: Create Custom Design Logos With DesignEvo Free Logo Maker

DesignEvo is the free online logo maker website. It gives 7000+ unique templates with compelling design. Use these logos for your business to create a unique logo in minutes.

With DesignEvo, you will get a fully customized tool where you can change fonts, colors. Create a unique looking logo for your blog or business or any work.

It gives you the flexibility to create any type of logo. You can Make free logo Design, create all kinds of logo like Software app logo, brand logo, social media profile logo, business logo, website & blog logo. You can even create a logo for any type of wedding in minutes using designEvo.
However, If you want to create a high-resolution logo up to 5000 with a transparent background. You have to purchase its premium membership to get a print logo with copyright ownership and lifetime support.
Discount Coupon:- If you buy DesignEvo membership of Basic/Plus with one of the links given here. You will get a 40% discount. All you have to do is to use coupon code: TUTORIALDEEP at the time of checkout and downloading of the created logo from DesignEvo.
3

DesignMantic: The One Stop Graphic Design Shop

DesignMantic provides graphic design tools to create a professional looking logo for your business. Create your own logo design your unique brand with a unique design of the logo.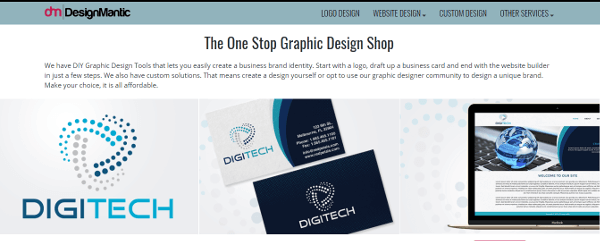 It comes with numerous logo design templates to create your logo and impress your customers. You can even create a T-shirt design and social headers for new business trends. Use its free software to Make free logo Design and create your identity with unique colors, fonts, and style.
If you have no time to design the logo for your business. They have a dedicated team of professional graphic designers who can help you to generate a creative logo. All you have to do is to give a detail description of your requirement and hit start
4

Tailor Brands: Logo Design Made Simple

Create your custom made logo in minutes with Tailor Brands. It provides the best tools to create your own logo design with a stunning logo. With a variety of options and powerful tools, choose and create an ideal logo.

You can style your logo and change many preferences to get a beautiful design to impress your audience. To create any type of logo, you don't need any design skills. Get unique logo by utilizing their best tools.

Design a professional-looking logo with Tailor Brand logo maker. Change and customize it's color, fonts with tons of tools to establish branding.
You can create and design a logo with Tailor Brands. However, you have to take basic, standard and premium membership with monthly plans to download the final logo. The basic plan starts with $3.99/month which is billed annually.
5

Logaster: Create Your Logo Online In Minutes. Fast and Simple

Logaster can create an automatic logo for your blog or business websites. You don't need to do anything to create your own logo design with beautiful design logos with the free version of Logaster. All you have to do is to get and download the free logo with a just single click.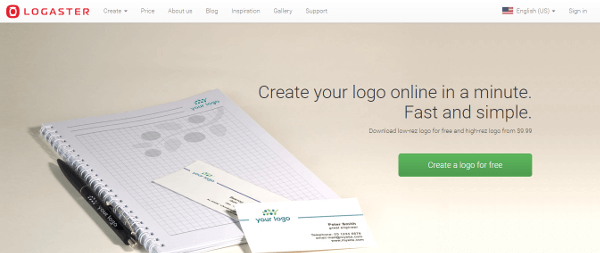 However, the free plan of the Logaster gives you a small-size logo for your business. To get more professional and large size logo for your business. You need to buy a full version of the Logaster which starts from $9.99.
Customize the colors, fonts, and backgrounds of the logo with the Logaster tools. Create your logo in minutes with online logo design maker and choose the plan suits best to your business. To print the logo for your business, you need to upgrade to the higher version of the Logaster tool.
6

LogoJoy: Make a Logo You Will Be Proud Of

Logojoy creates a stunning logo with a professional looking design for your business. To create a logo in minutes, use its online logo maker and free online logo generator. Generate your designed logo after creating your custom company logo.

Test each tool of the LogoJoy and pay if you are 100% completely satisfied with the online tools. They provide guaranteed unique design logos for your blog or business.
Create and generate a high-resolution logo for your company. If you are running a website designing company, you can use its royalty-free image to sell commercially to your customers. They provide ready to use PNG transparent images with high resolution.
To get all these, you have to buy its subscription plan starts from $20 for one single logo file. To get more logo file, you can upgrade to the higher version of the plan.
7

Logodesignguru: A Kickass Logo Team To Work For You

Logo Design Guru provides guaranteed professional logo design. If you are satisfied with the logo, they refund all of your money. Means a money back guarantee if you are not fully satisfied with the logo design and services.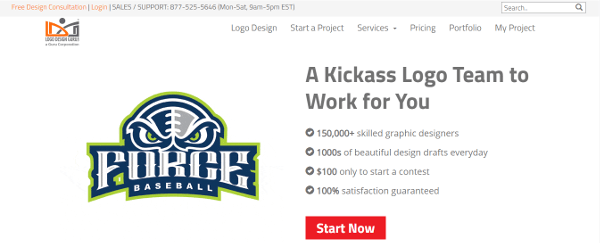 If you have no time to design your business or blog logo with its free tool. They have a dedicated team of a designer who can create your logo design of any type of logo for you.
In addition to above all, you can also organize a contest to get the best logo design. Create your contest and get the top logo design with the top freelance professionals online. After you select the winning designer who secures the first prize. You will get multiple design ideas with all submitted online logos.
With this crowdsourcing method, you can get the world best quality graphic design concept for your business.
8

Logonerds: Affordable Logo Design Services

Logonerd provides revisions to create a logo design for best customer satisfaction. If you are not satisfied with the online logo design maker design, you can call for another logo design. Mean a guaranteed customer satisfaction to create a business or blog logo.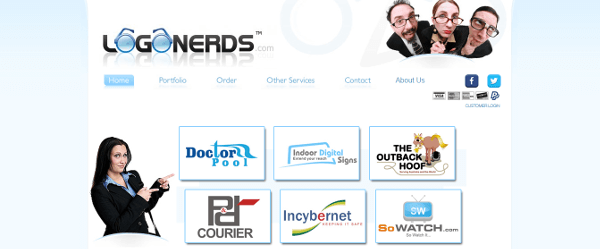 The logos are of the high-quality custom logo and Logonerds is the #1 choice for the small businesses.
If you are not completely satisfied with the new custom design, they will re-draw the new logo with absolutely no cost till assured of satisfaction.
Its pricing starts with the professional web logo package of $27. The package gives 3 different concept choices and unlimited free revisions till satisfaction. If you want more concept choices and print-ready formats, you can upgrade to a more higher version of Logonerds.
9

Freelogoservices: Make A Logo Design In Minutes

Free Logo Service is the free logo design provider to create your own logo design with a high-quality logo in minutes. Design your own logo in 4 easy steps. Its free to use its tool to design any type of logo for your business.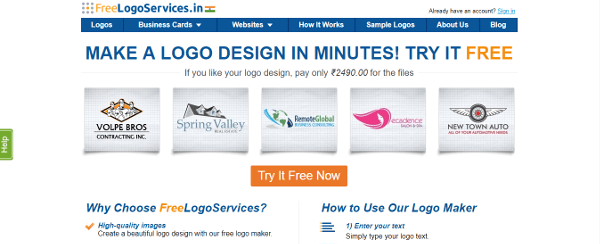 Choose from 1000's of logos and build endless logo design. Customize your logo with the frees customization tool of it and edit its color, fonts, and layout of the logo.
To get unlimited use of your created logo and get higher resolution. Buy your created logo for just $34.35 and promote your brand with its unique design.
10

48hourslogo: Affordable Custom Logo Design In Just 48 Hours

48hourslogo is the most affordable crowdsourcing website to create the best design concept for your logo. You have to just post your logo design contest in just $29. After that, you will get logo design from freelance professional and graphic designers.

It is the fastest and the easiest way of creating the top logo design for your blog or business in minutes. You just need to give a brief description of your logo and launch your contest. Professionals are ready to create a beautiful design for your business.
Select the winner from more than 20+ concept of logo design. Its an amazing service for entrepreneurs and small business owners to get the most affordable logo design.
Conclusion
Online logo design maker design websites are the best source for logo design without any graphic design knowledge. You can create professional-looking logo designs in minutes with a tool suits best to your business or website.
I will keep updating the above list if I found useful for logo design creation and generation. If you have any other suggestion of best online logo design maker website. Please tell me by commenting below. I will surely include it to the above list.
Also tell me, which is your favorite online logo design maker, creator, and generator website.
You may also like to read