TutorialDeep resources are the tools we are using to develop and grow our website. When I started creating this website I found many websites already using WordPress and growing better. I wanted to know what are the best tools and plugins they are using on their website.
I struggled every day to find and collect the best tools to create a better website. Tutorialdeep now became the largest free online tutorial resource for beginners.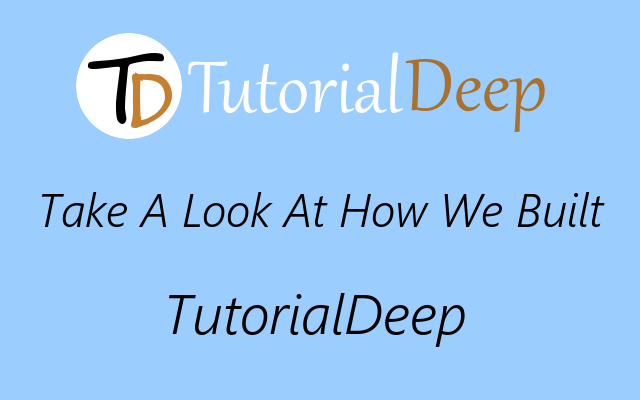 When you create your website, the right set of tools will help you save your valuable time. I want to share my collection of tools and resources that I am using to create this website and make it more better day-by-day. I hope you will find it more useful in building your own website.
So, let's begin Tutorialdeep resources with the blogging platform we are using.
Tutorialdeep Resources
Blogging Platform
We are using a Self-hosted WordPress platform (WordPress.org) as a blogging platform to manage Tutorialdeep. It is the best blogging platform to start your blog. Its 100% free and WordPress community provided many useful plugins and themes to add more features.
Disclosure: At Tutorialdeep, we believe in transparency for our users. In this blog, there are some referral links. If you signup with these links we will earn some commission with no extra cost to you. We recommend these links because these are our trusted brands.
Domain Name Provider
Web-hosting provider
A domain is the name of the website and hosting the place where you in-house on the internet. We are using it to host our website as HostGator is the best hosting provider, hosted more than 10 million websites worldwide.
WordPress Themes
Our theme is custom designed and developed by us. You can make your own customizations by purchasing well-documented premium themes.
Some of the best high-Quality premium WordPress theme providers are:
Performance and SEO
Grammar Checker Tool
Contact Forms Software Tools
Affiliate Network
CDN (Content Delivery Network)
Ad Network
Email Marketing
Manage Affiliate Links
Best Website Builder Plugin
Other Useful Plugins