Do you need best email marketing software to increase subscribers and increase traffic? Increase your affiliate marketing skills and increase your income. I will give you some best email marketing software to increase your email list and convert your customers into sales.
What is Email Marketing
Email marketing is the process of sending electronic mails for the purpose of communication. It is the best way for any blogger or website owner to send emails to their customers and convert them into sales.
Electronic mails are the digitized conversation you do on the internet.
Why you should use best email marketing tools to Increase Subscribers
For every bloggers and website owners, the email list is the main source. This helps you to make a successful blog. Without getting subscribers you can't earn money and can't get returning customers.
There are following benefits of using the best email marketing tools and increase subscribers for your blog:
Create Email Lists: You need to create an email list to increase subscribers for your blog. Subscribers are the returning visitors of your blog or website that in future can convert into sales. By creating an email list from the start days of blogging or business, you confirm that you are serious about the success of your blog.
Create Relationship With the Visitors: To increase trust with your visitors, you need to create a better relationship with your website visitors. To do this, you need to communicate with the readers personally via email. Use best marketing software to regularly create a relationship with the returning visitors of your blog.
Acquiring Customers to Purchase Something Immediately: If you want to become a successful marketer, you need to acquire customers to purchase products recommended on your blog. This can be done by using the email marketing software and aware the subscribers about the quality of the product you want to sell.
Track Your Campaign: Tracking your customers confirm that they read and follow your emails. This can increase the conversion rates that can help you to communicate further and make sales. Without tracking your emails, you cannot get some possibilities of making any sales. For that purpose, you need the best email marketing software service.
Disclosure: At Tutorialdeep, we believe in transparency for our users. In this blog, there are some referral links. If you signup with these links we will earn some commission with no extra cost to you. We recommend these links because these are our trusted brands.
5 Best Email Marketing Online Tools [Updated 2019]
TO get best email marketing services for your blog you can use below trusted online websites:
Constant Contact is the fastest growing Email Marketing tool to increase subscribers. They have an easy to use and professional-looking user interface which helps in better Email Marketing.
You will get a personal coach for all your needs which can guide you in all the growth of your company Email marketing system. Beginners can use it with ease with an assigned personal marketing coach.
Get access to the tracking software of constant contact to get the reports.


You can use Constant Contact for 60 days without any credit card required. After 60 days you need to pay $20/month to use all the features. If you don't want to invest some money you can go with the Vertical Email Marketing Software.
Constant Contact is the best email marketing software for small businesses and associations.

This online tool comes with all the important features you want for email marketing like managing email lists, contacts and email templates and much more. You will get many beautiful responsive templates for your email marketing without spending any money for it if you send 4000 emails per month.
Vertical Response is the best and the only tool offering 4000 emails to send per months to 300 contacts for free. If you want more than 4000 emails to send, you need to get their subscription plan which costs you $11 per month.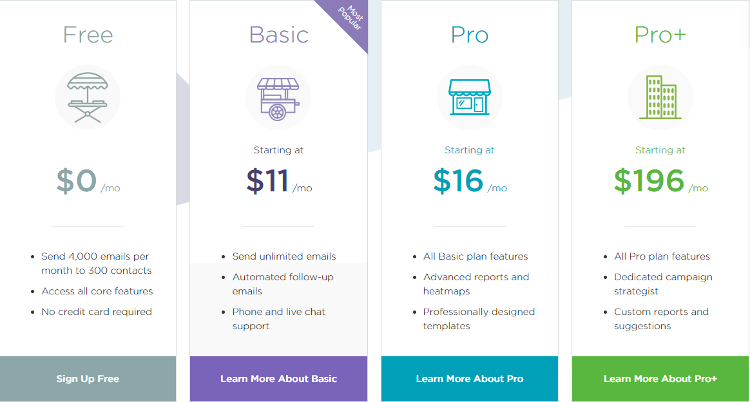 You will get email marketing services like Automated followup emails, autoresponder, and email series and full-service email marketing.
All these services are of free to use for a lifetime if you send 4000 emails per month. I think, its a best online software for beginners who don't want to invest money in the beginning. After you earn some money and grow your email list you can switch to the pro version of the vertical response.
In addition to all these, you will also get automated social sharing tool free of cost for a lifetime. This is the only tool to provide this type of facilities without spending a penny for it for a lifetime.
The support and live chat option are only available for the subscribed users only. However, Vertical Response comes with easy to use interface for beginners as well as professionals. But after you increase your email lists and want some advanced features, you can go with the pro version of this email marketing software.
3. Aweber
Aweber offers email marketing features with a much wider range of tools. It the most popular email marketing tool to increase subscribers. You can connect it with many of the blogging platforms like WordPress.
It provides some ready to use email templates, list management software, and email tracking system. You get access to all email marketing features with a cost price of $19 per month for up to 500 subscribers. For more subscribers, you need to switch to more advanced versions of Aweber.
However, they provide 30 days free trial period to use the software and after that, you need to pay $19 each month. There are quarterly, yearly plans also available for you if you have decided to take a long-term plan.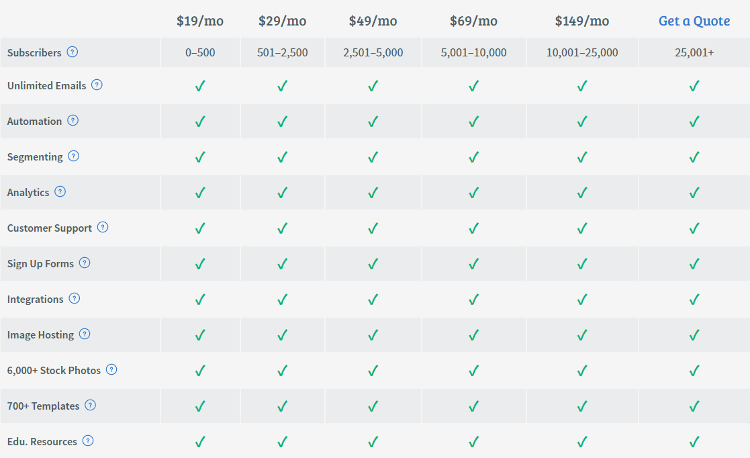 With each subscription, you will get live support and chat system which can help in any step you want. They also provide how-to tutorials to get expertise in using their email marketing software.
4. Convertkit
Convertkit is the newly created email marketing platform. But it gets popularity from bloggers community in very few days.
It contains much range of tools that are easy for bloggers to promote their blog or website. You can create any type of newsletters and landing pages to promote your blog and increase the popularity of it.

It costs you $29 per month to use all its features and get customer support and live chat support system.
5. GetResponse
GetResponse is the popular email marketing platform comes with amazing marketing tools.
It's pricing is extremely affordable as compared to others. However, Vertical Response still costs lesser than anyone else and costs nothing for beginners to use to 4000 emails for free.
GetResponse costs $15 per month and with this, you will get all the useful tools with 500 best and responsive email templates. You can create custom landing pages to attract your customers.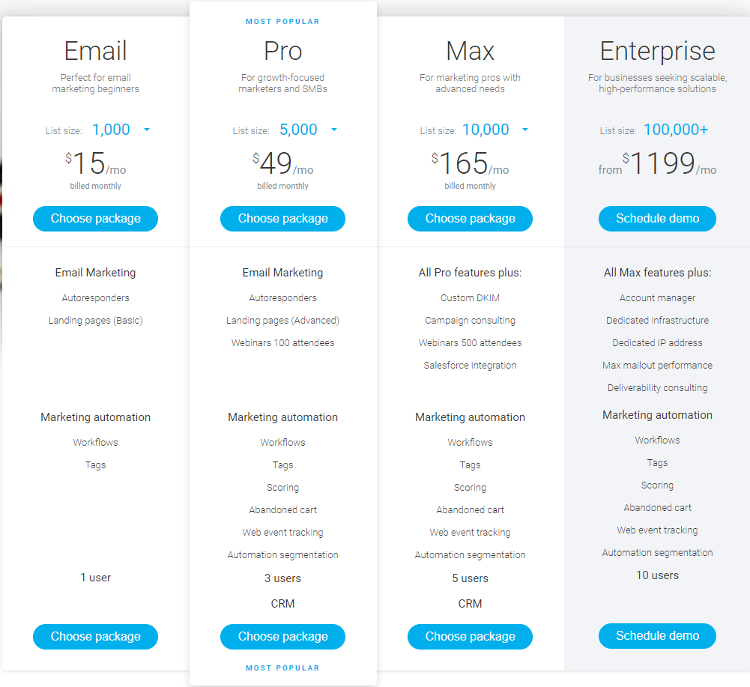 You will also get the email support and chat support with the subscription plan of GetResponse.
You may also like to read
Which is email marketing software you are using? Let us know by commenting below.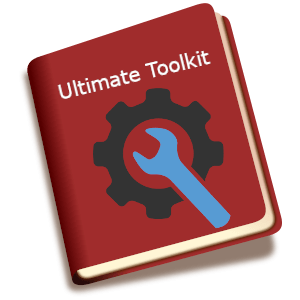 THE ULTIMATE TOOLKIT
Get FREE Access to Toolkit and Resources that we are using in Tutorialdeep that Every Professional Should Have! in one handy PDF.
Get the PDF