To make your blog successful, you have to earn money from the starting days of blogging. Bloggers can earn huge money by joining the best affiliate Networks marketplaces. Each network provides affiliate products for bloggers to find and promote on the blogs. Affiliate marketing is the highest source of income for many online professional bloggers.
Affiliate networks provide a huge library of products to promote on your blog. First of all, you have to join affiliate networks. After that, you can join their affiliate programs to earn extra income.
After you start a blog, one single question arise on blogger mind that from where should I start?.
Well!, the answer is you should start from joining affiliate marketplace networks to find related niche products.
When you promote affiliate products that someone buys from one of the links of your blog, you will earn some extra commission and earn some money online.
Disclosure: At Tutorialdeep, we believe in transparency for our users. In this blog, there are some referral links. If you signup with these links we will earn some commission with no extra cost to you. We recommend these links because these are our trusted brands.
List of Top Affiliate Networks Marketplace
These affiliate networks provide affiliate programs of many niches. You have to determine the niche of your blog to find relevant affiliate programs.
What affiliate products should I join? after joining affiliate networks.
Join products that users need and which is related to your blog niche. When you do so, your chances of making sales increases.
For example, if your blog is based on an online tutorial, you can join the Educational affiliate programs. If you have a content based on blogging, you can join programs that help bloggers to increase traffic, grow an email list, send an email, and many other related products.
7 Best Affiliate Networks For Bloggers to Get Affiliate Programs and Earn Money
Below are the best affiliate networks any blogger can join and start making money online.
ShareASale is the leading and most popular affiliate marketing network for the past 19 years. It is a most reputed marketplace known by the bloggers. They have high paying affiliate programs to earn money on free sign up and sales.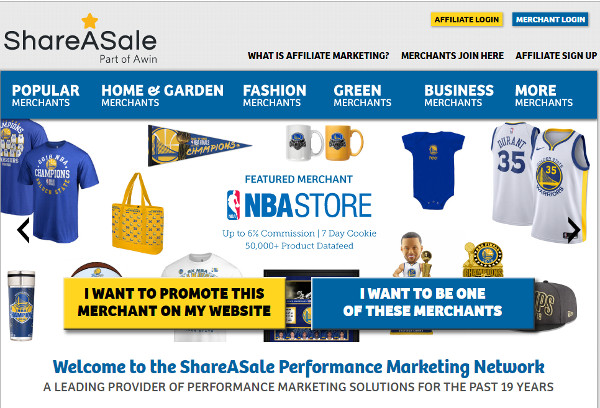 I am also using ShareASale Marketplace and promoting many products on my website. You can easily find affiliate products to earn easy money from day-one of signup ShareASale. Furthermore, They also have also the best support team that can resolve your problems easily.
After you join ShareASale and made successful sales and your account balance reach $50. You will also get paid on every 20th of every month.
No matter whether you are from the USA, Canada or from any other country. Your earning will easily get transferred directly to your account.
I am an Indian affiliate marketer and ShareASale has a direct wire transfer method. With this payment method, you can easily get paid and you're earning easily gets transferred to your Indian account.
No other affiliate market network provides such types of payment methods. Because of this, its the first choice for the affiliate marketers to join.
So, If you want to join the best affiliate networks for the blogger to join at the beginning of the startup. ShareASale is a worth to join as an affiliate Marketplace Network to join and earn money.
CJ Affiliate(Commission Junction) is one of the biggest affiliate networks to join. You can find many popular affiliate programs after you join CJ affiliate. It is also popular among the bloggers and it is a reputed network.
They have a large number of affiliates and merchants already running. You have to just fill up a few details to create your profile to join CJ Affiliate. It is relatively easy to search and find your blog relevant product to promote.
If you have reached your payment threshold, you will get paid in a timely manner each month. However, they have limited customer support method to contact them if you have any query. Presently, you can use the contact form as the main method to get in touch with them and resolve to query.
3. FlexOffers Affiliate Marketplace Network
Flexoffers provides thousands of affiliate programs to promote and earn money. It also pays you earning fastly as compared to other best affiliate networks. They arranged their affiliate programs in the category to find and join them easily.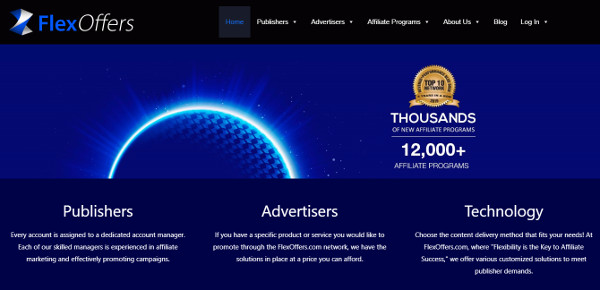 However, you have to apply for each program you want to promote and also need to get approval. After you apply for the affiliate program, the programs require reviews to approve you to promote products. The approval process takes 2-3 days and its the fastest process.
Each category also has sub-categories to find and join programs easily.
One more bonus from flexoffers you will get after joining it. If you refer someone to flexoffers and your referral earn some commission. You will also get 50% of your referral earning.
In addition to all these, you will also get a dedicated affiliate manager after you join. If you need some help, the affiliate manager will be there to help you and earn more money with fewer efforts.
RakutenMarketing is not the biggest as that of the above-given marketplace. You have to complete the profile to start joining the affiliate programs. After you get approved for the program, you can add links and banners to your website. You have to just place the script in the place to show the banner.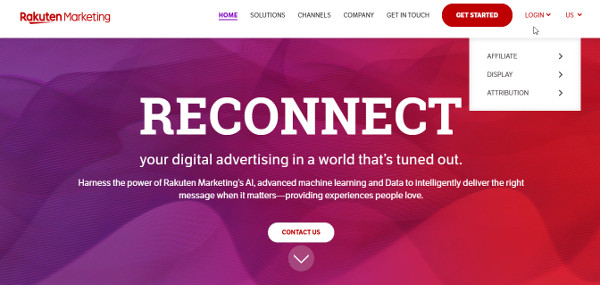 However, they only pay their affiliates when they received payments from their partners. Till that time, you have to wait for the commission money to reach your account.
Refersion is the fastest growing network for affiliate marketers to join. However, in this network, the advertisers itself manage the affiliate programs. They add their product details, sale commission with their own rules.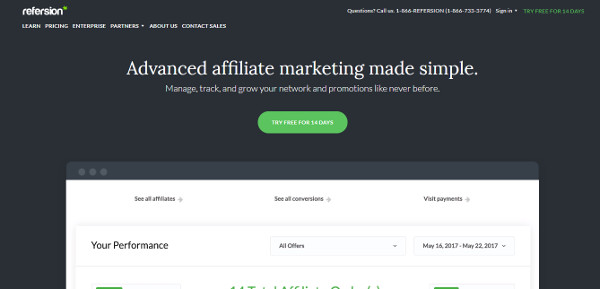 If you want to search the products to promote, they have many filters options available. Just search the product, join and start promoting it on your blog using links and banners.
In addition to all these, you will also get many resources and training to get success in affiliate marketing.
They have a PayPal payment option to get paid in your account.
The support system of Refersion requires you to fill a contact form or email to send.
PartnerStack is the newest affiliate marketplace to join and earn money. However, it is also the fastest growing network with lots of high paying affiliate programs.
After you join this network, you can easily start joining programs. To join the programs, you have just searched the program name or find it from the list. If you are a beginner in the blogging world, you will find it easy to use interface after login.
They pay their affiliates each month when they reach a minimum threshold of $25. However, they support the PayPal or Stripe payment options to get payments to your account. So, fewer options for the affiliates to get paid online.
If you have any query regarding any program, you can message advertiser directly from the login. The support system of PartnerStack requires you to fill a contact form with your query.
Avangate Network is the newest network to join and make money online. It provides a large number of affiliate products to promote. Mostly, the affiliates products are based on Software and Digital Goods.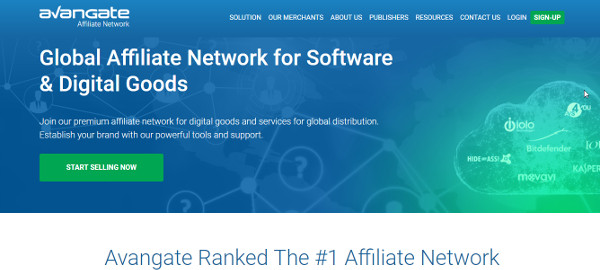 You can find affiliate products from the database of 22,000+ software products, advanced marketing tools, and others. In addition to this, they also provide e-Books which helps you to make successful selling through content marketing.
Conclusion
Probably, affiliate marketing takes time to earn huge money online from your blog. However, ShareASale, CJ affiliate, Flexoffers, Rakuten, and Partnerstack are the first choice for almost all the online highest-earning bloggers.
You can make passive income with few efforts on your blog. So, all you have to do is to create good content on your blog to promote the best product online.
I will also keep updating the above list of best affiliate networks for the blogger to earn money online. If you have any more suggestions or any other affiliate network you are using. Please tell me by commenting below, I will definitely add it in the above list.
You may also like to read
Also tell me, which is your best affiliate network you are using to earn money from your blog.