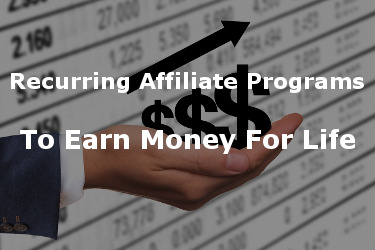 Create a highly profitable blog and make money with best recurring affiliate programs. These programs can give you free money and generate recurring lifetime income.
What is Recurring Affiliate Programs?
Recurring Affiliate programs are the programs that can give you monthly basis income when someone buys the product from your affiliate links. Every month you will get a commission when the user renews its monthly subscription.
Affiliate marketing is the way to earn income when someone buys a product from your affiliate. You can earn a one-time income with affiliate programs. To earn more money with affiliate programs, you need to find more customers. But when you join best recurring affiliate programs, you can earn long time income with only a single customer even lifetime income.
The best recurring affiliate program is the most profitable affiliate programs you can join to monetize your blog and make a lot of residual money or free money for a lifetime.
Why You Should Join Best Residual Income Programs
Best Recurring affiliate programs are the best way to monetize your blog in place of earning limited income for one time. You can earn free money each time your referral renews its program for the product.
Below are the benefits of joining the best recurring commission affiliate programs.
Earn Money For Lifetime: With best recurring commission programs, you can earn money for your lifetime. Not all programs provide recurring income for a lifetime, few offer residual income for 1 year. But, In this post, you will get a list of affiliate programs offering recurring income for life. So, join each p
Monetize your blog: You need to get more traffic and earn money to monetize your blog. For this, you need to start promoting affiliate products. Affiliate products are the best way to get higher commissions.
Recurring programs are the best way to earn residual income and create a most successful blog.
Required less effort to earn consistent money: You can start earning more money with the with just less efforts. Unless make money online required hard work. But, if you starts promoting recurring affiliate programs, you can earn consistent money by signup best affiliate programs with recurring commission with very less efforts.
Disclosure: At Tutorialdeep, we believe in transparency for our users. In this blog, there are some referral links. If you signup with these links we will earn some commission with no extra cost to you. We recommend these links because these are our trusted brands.
Best Recurring Affiliate Programs to Make Money Each Month For FREE
| Affiliate Program | Program Type | Commission rate | Sign Up |
| --- | --- | --- | --- |
| Aweber | Email Marketing | 30% | Join Now |
| Get Response | Email Marketing | 33% | Join Now |
| Elegant Themes | WordPress Themes | 50% | Join Now |
| Semrush | Search Engine Analysis Tools | 40% | Join Now |
| LongTailPro | Keyword Reearch Tools | 30% | Join Now |
| Snip.ly | Conversion Tracking Tool | 20% recurring | Join Now |
| Tailwind | Pinterest scheduling tool | 15% | Join Now |
| Tubebuddy | Youtube Ranking tool | 50% | Join Now |
| Socialoomph | Social Sharing tool | 40% recurring + 5% Referral | Join Now |
| Improvely | Conversion Tracking Tool | 10% recurring+50% per sale | Join Now |
| Sales Handy | Email outreach and Sales productivity tool. | 20% recurring | Join Now |
1. Aweber
Aweber is the online Email Marketing Software use by 100,000 plus users to and track them with its online features.
Aweber offers 30% recurring affiliate commission each time when the users renew their plan. You can earn money for a lifetime with this affiliate program.
There are many bloggers earning consistent money with Aweber affiliate program.
Read more about Aweber affiliate program here
2. GetResponse
GetResponse is the best Email Marketing software and is the best alternative of Aweber with very low in price. You can get all its features at a very affordable price of $15/month only.
GetResponse affiliate programs offer 33% recurring commission for everytime the user renew their account.
It offers you awesome features to create your email list and make more sale. It contains useful tools to create a beautiful email.
Read more about GetResponse affiliate program
Elegant themes offers 50% recurring commission to their affiliate partners who make sales through their affiliate links. Each time the user buy theme through the affiliate link, you will get 50% recurring commissionn each month.
It's a win-win offer for every blogger who wants to monetize their blog and earn money.
Read more about Elegant Themes affiliate program
4. Semrush
Semrush offers free plan to our users for 15 days, sign up semrush with this link. Analyze your competitor's website and create your best content to grow your traffic.
Semrush offers 40% recurring commission for each sales of semrush pro plan for each month user renew its plan. It's a high paying affiliate progam with best recurring affiliate program income.
Read more about Semrush affiliate program
5. LongTailPro
LongTailPro is the best keyword research tool to find the most profitable keywords for Google search. You can find keywords to increase your adsense earning with the high paying keywords.
It is one of the cheapest keyword research tools you can use for 10 days only for $1. However, it's monthly plan starts with the lowest price of $25.
LongTailPro offers 30% recurring income for lifetime, depend upon how long the user renew it's monthly plan. If the users renew each month for life, you will also get the lifetime income. That's the beauty of recurring affiliate programs.
Read more about LongTailPro affiliate program
6. Snip.ly
Snip.ly is a conversion tracking tool used to track the shared link created using sniply.
The affiliate program of this product offers you to earn 20% recurring commission of each month the user renew its program.
Read more about Snip.ly affiliate program here
7. Tailwind
Tailwind is the best Pinterest scheduling tool you can use to schedule and track your pins. You can signup the tool for free and can send up to 100 pins. For more pins, you have to upgrade your plan.
By joining its Affiliate program, you can earn $0.50 for a free sign and for each pro account you can earn 15% recurring commission for each sale.
Read more about Tailwind affiliate program here
8. Tubebuddy
Tubebuddy is the best tool to increase your youtube videos ranking and get more views.
Its affiliate program offers 50% recurring commission for life.
Read more about Tubebuddy affiliate program here
9. Socialoomph
Socialoomph is the social tool used to schedule social media websites like facebook, twitter, linkedin etc.
You can join a free plan to test this software and schedule your posts.
Its affiliate program offers 40% recurring commission plus 5% from referral revenue.
Read more about Socialoomph affiliate program here
10. Improvely
Improvely is the conversion tracking and analytic tool used to track organic and ad campaign.
It's affiliate program offers 50% commission for each sale plus 10% recurring commission each month user renew its plan.
Read more about Improvely affiliate program
11. SalesHandy
SalesHandy is an Email outreach and Sales productivity tool. It provides features like Email Tracking, Email Scheduling, Document Tracking, Email Templates, Mail Merge with Automated Follow-ups and Detailed Engagement Analytics.
SalesHandy offers 20% recurring commission on each sale. You will get the commission each time when a user renews their plans. Anyone can join the affiliate program for free.
Read more about SalesHandy affiliate program here
I will keep updating the list of best recurring affiliate programs which I found more profitable to join. If you know any other recurring affiliate programs with high paying commission potential, do let us know by commenting below.
Which is your best recurring affiliate programs to promote and earn money? Comment below