If you want to start WordPress blog, then you are in the right place. WordPress is the best blogging platform to start your blog and easily manage from one single dashboard. It's really simple to create a WordPress blog with the step-by-step guide given in this post.
When I started, I had a little knowledge about blogs. I don't know how to start a blog. It's too confusing for me finding the right steps to follow. That's why I created this guide for beginners.
Why You Should Start A Blog
There can be many reasons behind this, few are given below:
Share your knowledge
Make an online presence
Earn passive income
Become Famous and popular
Make money online from home
Without wasting your time, let's find out the steps you need to create your WordPress blog given in the table of content below. However, if you need help, our expert team can help you to setup your blog for FREE, click here to get our FREE blog setup service.
So, Are you ready to start your blog today? If yes, then let's get started.
Step 1. Find your niche
If you want to become a successful blogger and writer, you will have to choose the niche in which you have highest form of knowledge. You should have many topics in your mind that you can write on your blog to make it grow better.
If you want to sell your product or someone else product. You can also make a review blog. A review blog contains a review of different products with some referral links. On clicking these links a blogger can earn some money as a commission.
A blog cannot become successful without making any money. Think about your blog as an online business. Choose a niche where you can create content and monetize it to earn money.
Select a niche in which you have the knowledge and you know many topics to create content. This can be helpful in future when you want to monetize your blog to earn money.
Step 2. Get A Domain Name and Hosting
After you have decided to start your blog with the selected niche. You need a domain name matching to your niche. A domain name is the web address you choose for your blog like our blog name (Tutorialdeep.com).
Choose a domain name end with .com because it is the most trusted domain on the web. A standard domain name is a .com domain.
HostGator is the best option to start a WordPress blog for beginners. With more than 8 million websites already hosted, 24/7 available support team, and 45 days money-back guarantee, they are the most trusted hosting provider company. It also provide FREE domain name to our readers if you buy hosting for 1 year or more.
Disclosure: At Tutorialdeep, we believe in transparency for our users. If you buy a domain name and hosting from HostGator, we will earn some commission with no extra cost to you, in fact, it saves your money with a free domain name. We recommend it because these are our trusted brands.
Let's go-ahead to get your Domain name and Hosting.
Open the Hostgator website in the new window. You can also visit the site by using the button given below:-
Click Here to Get FREE Domain and Hosting from HostGator
Now, first of all you need to click the Web Hosting option of the menus.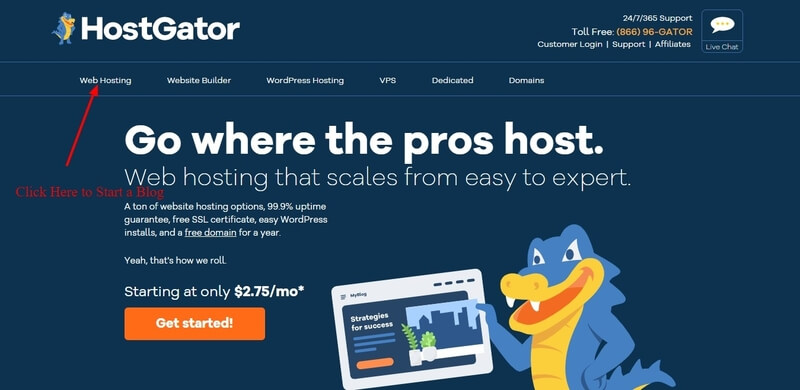 Here, you can see there are three shared hosting plans. Shared hosting plans are best for beginners who want to start their blog at very low prices. After your website traffic increases and you earn some money, you can upgrade to other plans.
My recommended plan is Hatchling plan for beginners, because with this plan you can start your website at very cheapest price.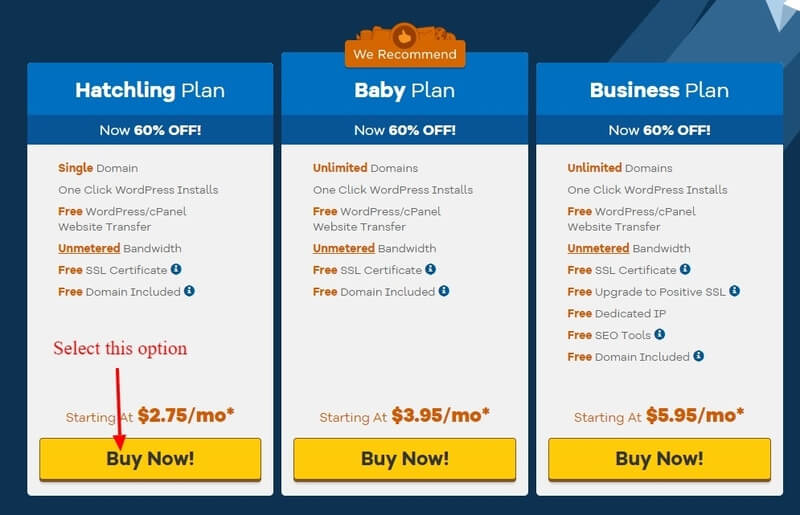 Enter your chosen domain name here and find out if the domain name is available to buy at the time. Many times it happens to bloggers that they delay for some time to buy their chosen domain. The domain may be taken by the other person and you may lose your chosen domain within minutes.
So, don't delay while purchasing your chosen domain name.

After you confirm the availability of your domain name, you can proceed further to enter your username and security PIN.
You will get 60% discount which is applicable if you purchase hosting for 3 years. The discount will not work if you buy hosting for less than 3 years. Why not go for 3 years, Google gives more preference in the search engine to the domain and hosting taken for longer years.

Enter your billing details and credit card info. You can also make payment using the PayPal account option.
If you have chosen a credit card payment ooption, fill all your card details required for payment.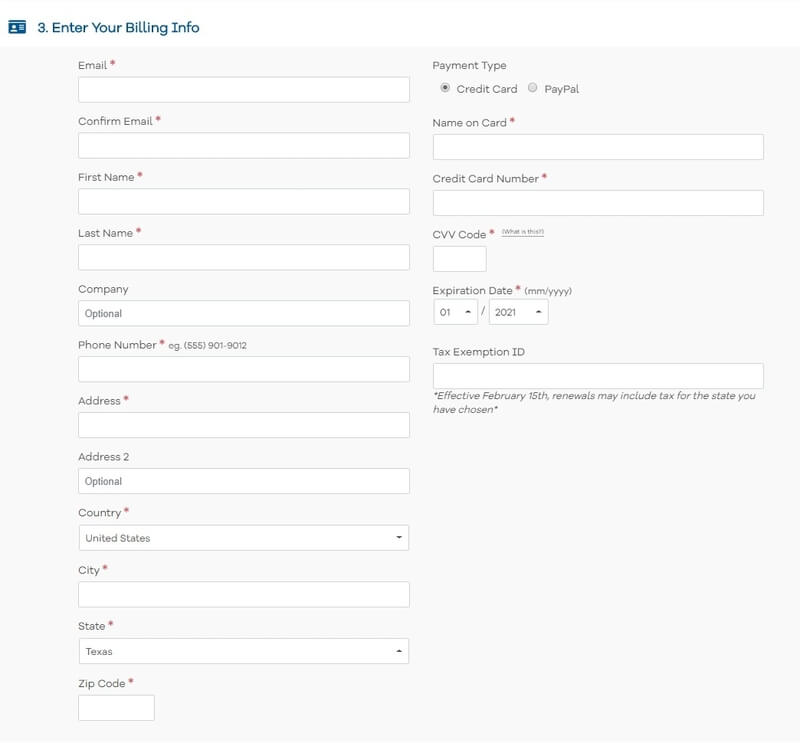 In the additional field, leave all fields unchecked. Because they are not required if you are a beginner and just going to start your blog.
After you start getting enough traffic to earn some money, you can opt for these settings in the future. But for now, leave all these settings unchecked.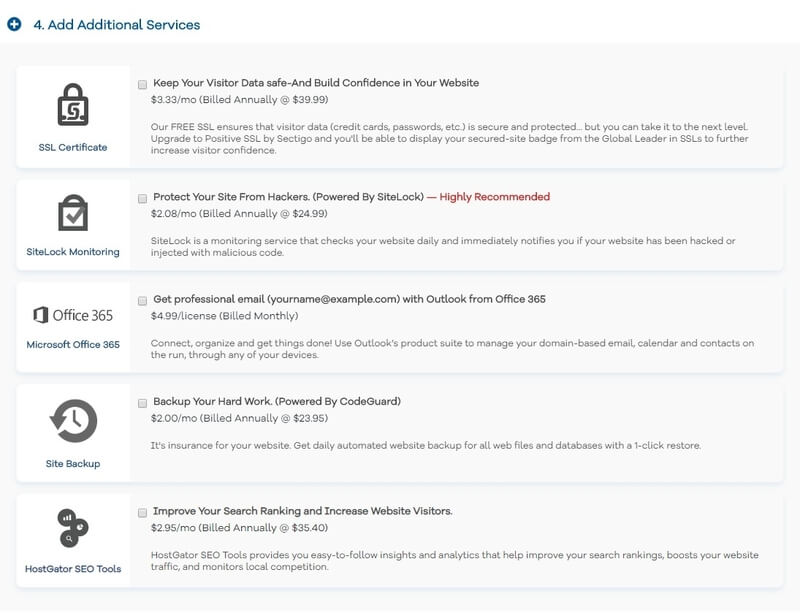 The coupon code is not required for discount if you purchase it from one of our links given on this page. But if you have any coupon code, you can apply by entering the coupon code and pressing the validate button.

Accept the privacy policy and terms of conditions and click checkout to complete the purchase.
Note: If you are Indian user and find difficulty in making international payments. You can purchase webhosting from HostGator India with Indian payment gateway options.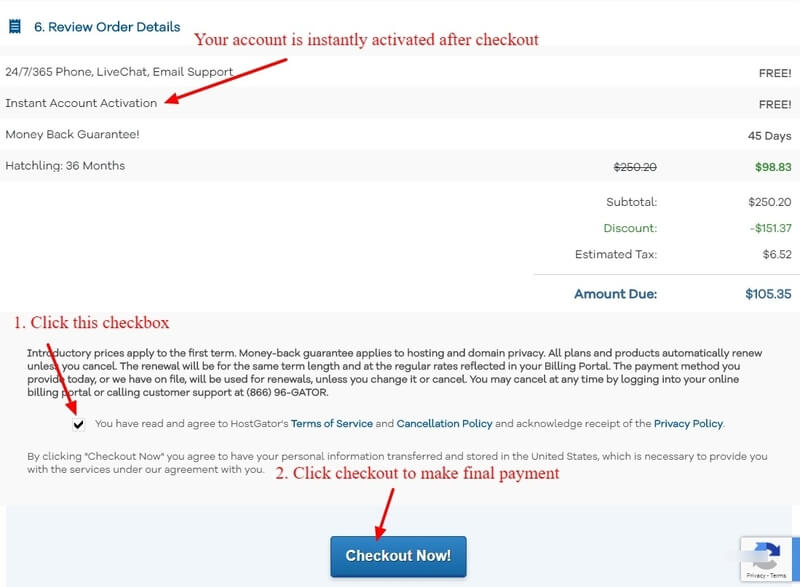 Once completed, you will receive an email which contains details of your hosting and control panel(Cpanel). To store your files in the webserver(hosting) and manage everything (like files, emails, support, etc.) , you need this Cpanel.
Step 3. Install WordPress Blogging Platform
So, You have a domain and hosting to make your website live. Now it's time to select a platform by which you can easily manage your blog. I recommend WordPress as a blogging platform for all the bloggers.
WordPress is the most trusted almost using by more than 35% of websites worldwide. It is open-source (available for free) with lots of customizing options.
Open your Cpanel and check "Top Application". You can see WordPress there. Click this installer for WordPress.
You just need to click on install button and enter some details as below.
Select the domain name you want your WordPress to get installed on it.
If you want to install your WordPress to a specified folder, then enter the folder name "In Directory" input box.
The next screen is the login details. These login details you use at the time when you want to login to your WordPress.
Enter your admin username and password for WordPress login.
In the site setting section, put your blog name. This can be the title of your blog. Enter your site description, Useful when you want your user to understand your website.
Next screen is the database section where you can enter your database name.
Click on plus sign of advanced section and enter your database name.
Now it's time to click on install button to complete WordPress installation. Your WordPress is ready to work for your blog. Let's create your blog by selecting WordPress themes.
Step 4. Find Right Theme For Your Blog
After you install WordPress to your hosting, you will get the default theme activated and showing when you visit the site as given below.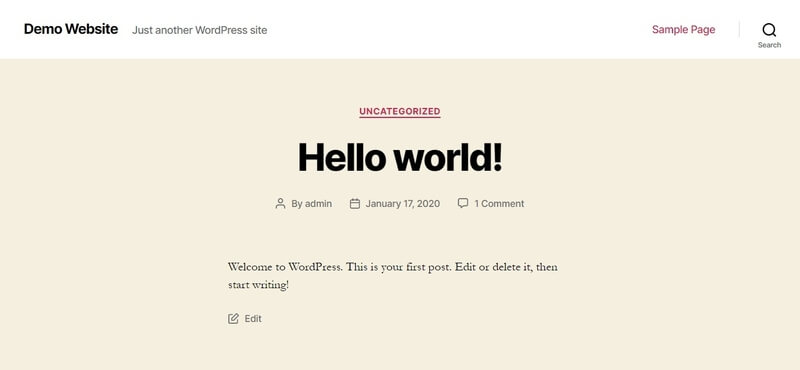 If you need the best theme for your blog. WordPress bundled with some default themes. But these themes are not easily customizable. That's why you need a premium theme that you can easily customize and design as per your need.
Don't use free themes
Why you should not use free themes for your blog? Free themes are updated regularly but If you want support for customization of your theme, free themes are not giving you this. An updated and well-coded theme is required for your blog to guarantee the security of your blog.
If you buy premium themes, You will get well coded and well-documented theme. These themes are updated regularly and you can customize every part of it without any coding knowledge. The theme providers will give regular updates, support and security to your blog. You will get support when you are in a need of help with your theme.
Some of our trusted and recommended theme providers:
This guide helps you to use and customize the default Twenty-twenty theme.
Step 5. Customization and Settings For Your WordPress Blog
To customize your WordPress blog, you have to first login to your admin panel dashboard of WordPress. To login to your dashboard, you have to use the URL yourblogname.com/wp-admin.
Now, enter username and password you have given at the time of WordPress installation. You can also read our guide on how to login to WordPress admin dashboard for any help on logging in.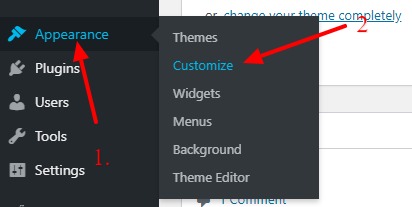 After you logged in on the dashboard, you have to visit Appearance >> Customize option of your admin menu.
A page will open which contains the customization menu options as given below. Now, follow the below steps to the design of your website.
Add Website Logo, Site Title, Tagline and Favicon
Logo and the favicon are the main identities of the website to check when open on browser. They will appear at the header and the favicon will appear at the topmost tab of your browser.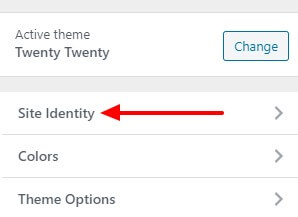 To add them, you have to click on the option Site Identity as given in the image above.
Add Website Logo
The site identity contains the logo section to upload and select your logo to display on your website. You have to click in the 'Select logo' button given as in the image below.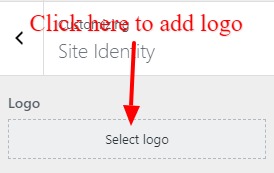 Add Site Title and Tags
The site title is the name of your website( e.g. like our is Tutorialdeep) to make it a brand for your online business. Also, enter the tagline which can be the topics you cover on your blog,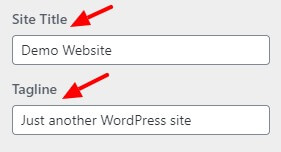 Add Favicon
The favicon is the icon for your website to display on browser tabs, mobile apps and pasted online URLs in chats.
Click the 'Select site icon' button to select and add your favicon to your website as indicated in the below image.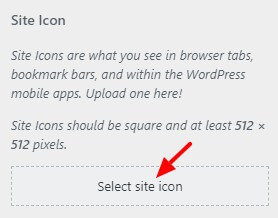 Change Your Blog Footer
When you open the website and scroll down the page. A footer appears at the bottom of the page as given in the image below. When you just started your blog, these footer widgets are not required at the start.
We suggest you remove these widgets from the footer area. You can add these widgets after your number of posts increases.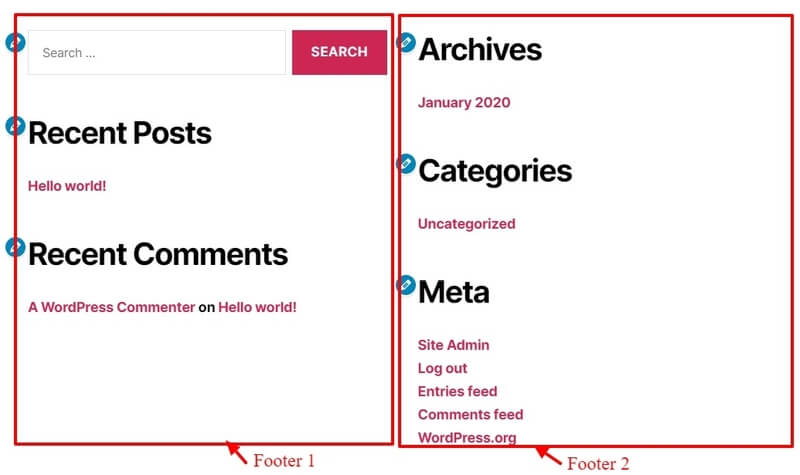 To remove the widgets from the footer area, visit Appearance >> Widgets.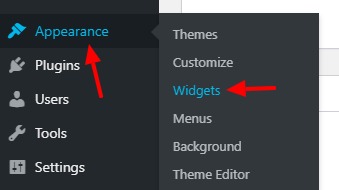 Here, in the widgets page, you can find your footer widgets displays as in the image given below. There are two footer widgets showing in the image.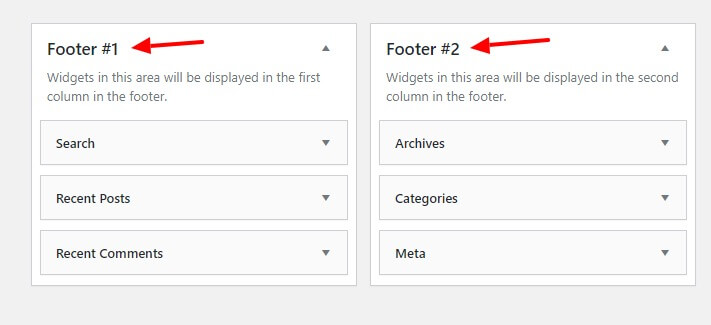 To remove the widgets, you have to first click the widget to open it. Now, click the 'delete' button to remove the widget. Similarly, remove other widgets with the same as indicated in the image below.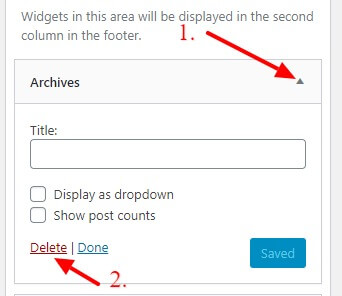 After you completed removing the widgets, you can check your site footer if all the widgets are removed.
Set SEO Friendly Permalink for Your Blog Post
To create SEO friendly URLs for your blog post, you need to set an SEO friendly permalinks for your post. A permalink is the link structure for your post in WordPress.
Go to Settings >> Permalinks option of the dashboard menu.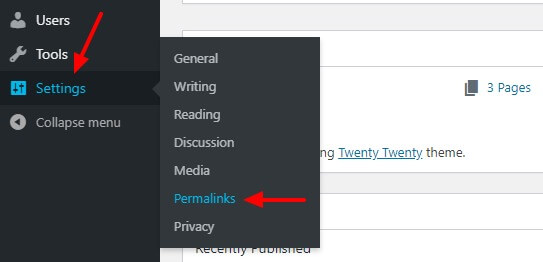 A page will open where you have to select the structure of the permalinks as yourdomainname.com/sample-post/. See the image below showing the permalink to select for your blog post.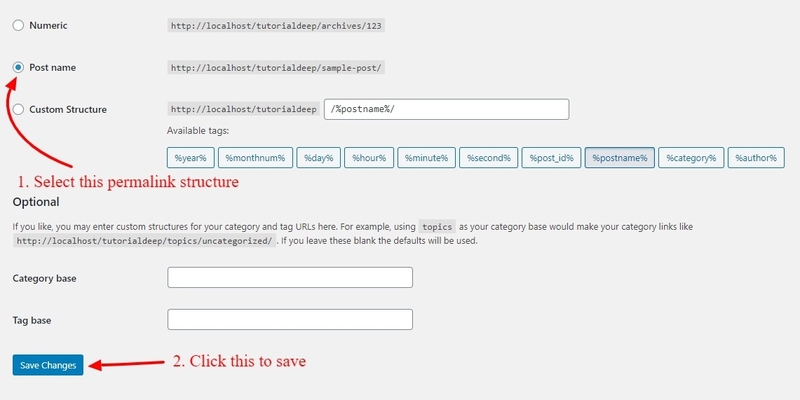 You have to click the 'Save Changes' button to save the permalink structure for your website.
Step 6. Create Pages and Add a Menu to the Header
To complete creating the header part of your website, you need to add a menu to it. We recommend you to create the pages first that you have to add to the menu to show on the header.
Create About us and Contact Pages
As you have just started your blog, you need only two pages which are about us and contact us page. So, let's create the page and start with the about us page.
For creating the pages, you have to visit Pages >> Add New dashboard menu option.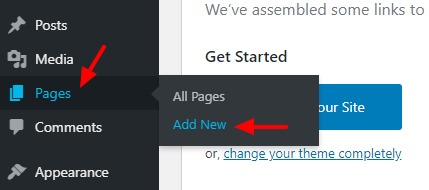 WordPress latest versions come with Gutenberg editor which is difficult for beginners to use. Install the Classic Editor plugin to make editing easy for you and get the editor as the screen given below.
Here, you have to provide the title of the page which also create the URL automatically on WordPress. Add a content about yourself and your blog you have just created.
Now, click the 'Publish' to finalize the page. Similarly, add the contact us page for the menu with the same process you have followed.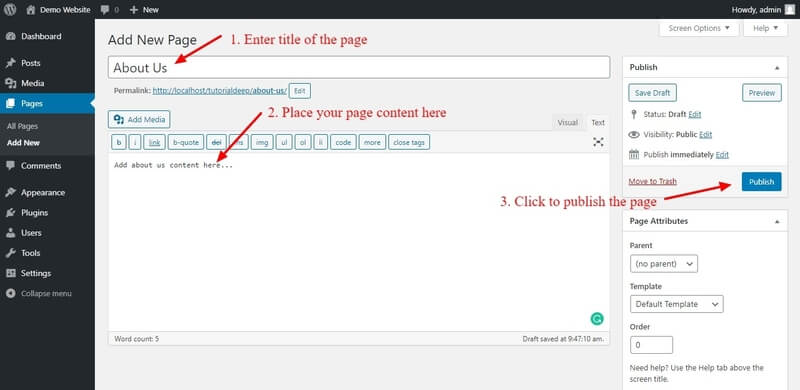 If you have any other pages on your mind should be in the menu, you can create it to add on your menu.
Add a Menu to the Header
After you done creating the pages, visit the dashboard menu option Appearance >> Menus to create your menu for header.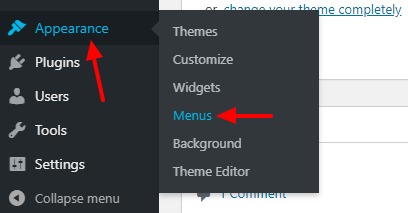 A page will open where you have to provide the name of the menu and click the 'Create Menu' button.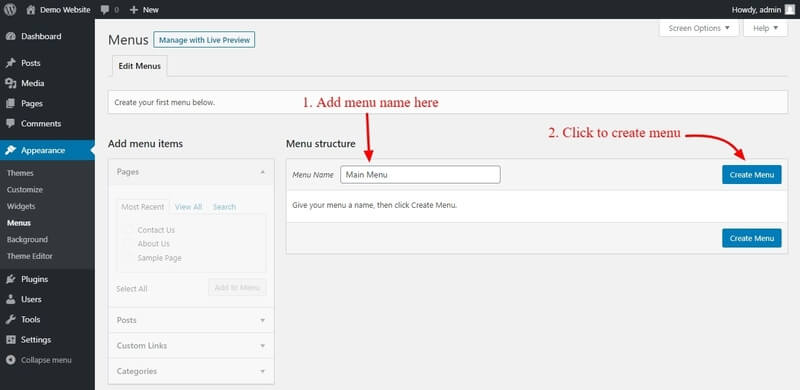 This will create the menu with the specified name and open a page where you have to select the menu items. See the left side box and find your created pages.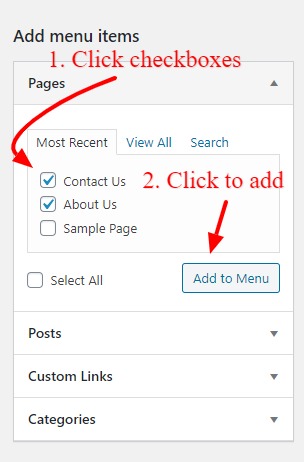 Now, select the checkboxes for the pages you have created above and click the 'Add Menu' button. This add the pages to your created menu.
The below image displays the added menu items which you can drag-n-drop to arrange in sequence.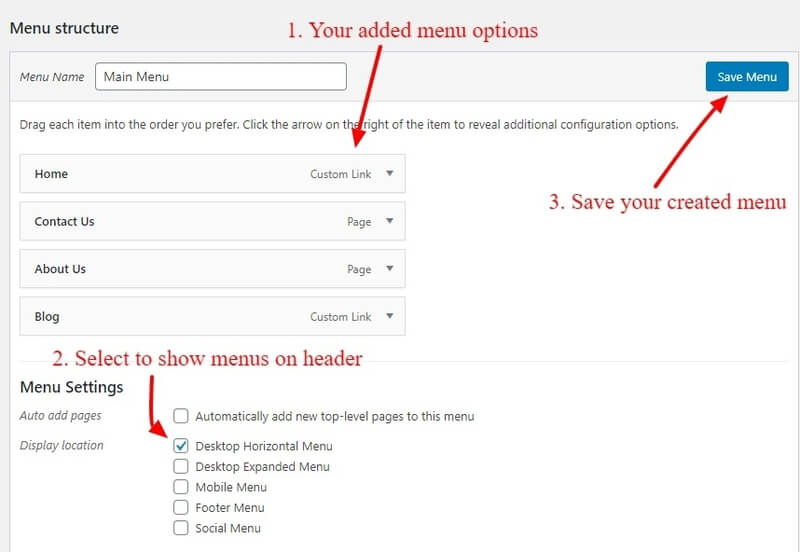 Select the 'Desktop Horizontal Menu' checkbox to add the created menu in the header. Click the 'Save Menu' button to finally save it for your header. Now, open your site on your browser to check your newly added header menu.
Step 7. Add Blog Post and Optimize for SEO
So, you are all set with all of the above setting and configurations. Now, your website is ready to create content for your newly created blog. WordPress comes with all the features to easily create and publish your post.
To create a post on your WordPress blog, you have to visit Post >> Add New.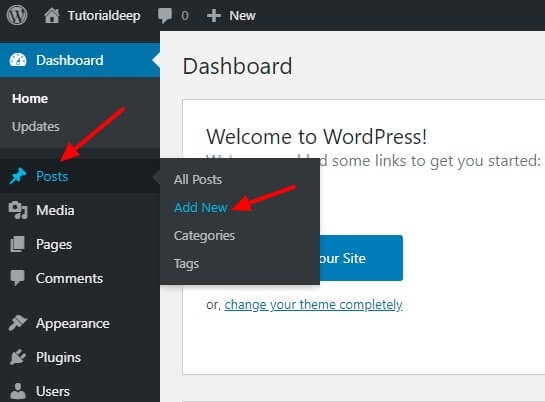 WordPress recent versions come with Gutenberg editor which is difficult for beginners to use. We recommend installing the Classic Editor plugin to get the screen as given below.
This is the screen where you can add content and publish for your audience.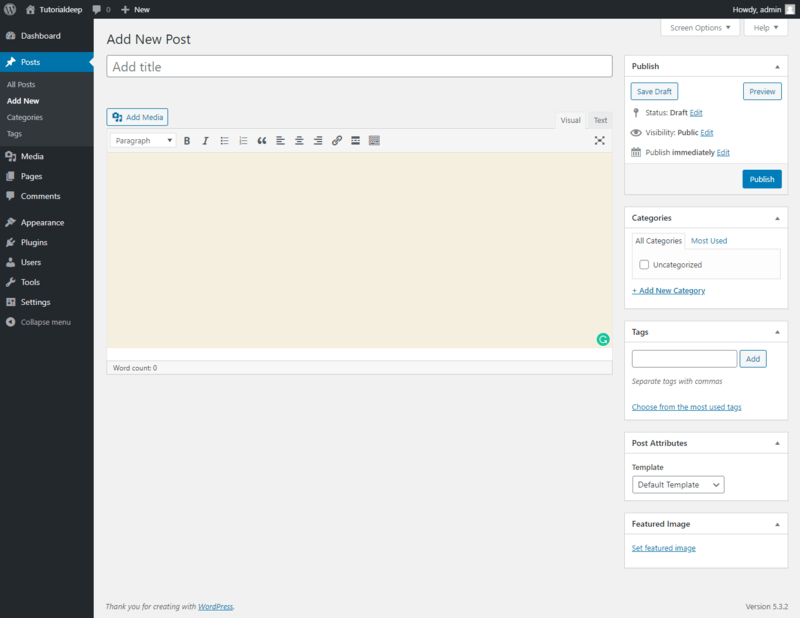 Let's start by adding the title of the post. Enter the title of the post in the input box as indicated in the image below. When you enter the title, WordPress automatically creates a permalink which is the URL of the post.

You can modify the URL of the post by clicking on the 'Edit' link given as above.
The WordPress classic editor is showing in the screen below. You can start writing the content for your post in the textarea.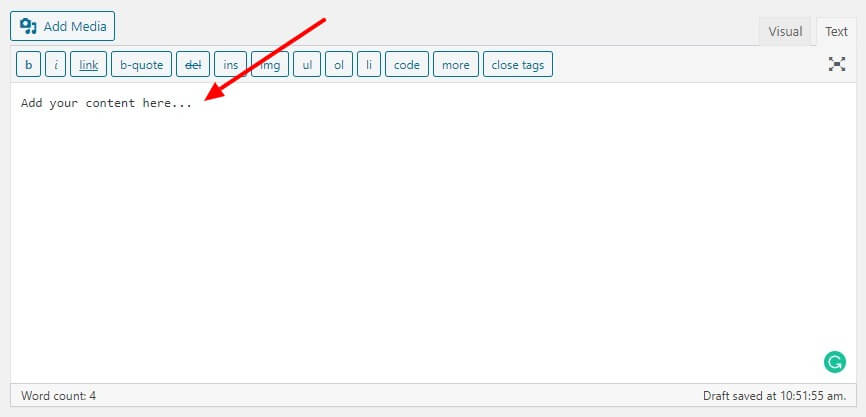 To learn all the features of creating the post and optimize for SEO, we recommend you to check our post on how to add blog post in WordPress.
Once you completed creating the content for the post, you can click the 'Publish' to finally make it available for the audience.
Step 8. Monetize Your Blog and Make Money Online
There are many ways to earn money online from your website. Below are one of my best ways to make money online.
Google Adsense Network
You can place ads on your website to earn easy money. Google Adsense is the best Ad network you can easily use on your website to monetize your blog.
Before using this network, you have to get approval from it to authorize for placing ads and earn money online.
Read our guide: Make Money From Google Adsense: Beginners Guide.
Start Affiliate Marketing
If you want to make money online, affiliate marketing can add an extra income to your earnings. It is the most popular and oldest way of earning money online. If you do affiliate marketing in the right way, the money starts flowing to your account with just a few efforts.
Many affiliate marketers making millions of dollars each month without any investment. It is one of the best option to earn passive income from your website.
Read our guide: How To Start Affiliate Marketing to Earn Money Online.
Start Selling e-Books Online
In addition to above all monetization methods, you can also earn money by selling your content as an e-Book. Collect all your content together and merge them all to create an e-Book. Make it more attractive by designing a front page for your e-Book.
You can offer it as a downloadable digital product to sell online on your blog. Selling your e-Book is a great source to earn extra income from your blog.