While running a small business online, have you ever thought of getting beautiful free invoice templates online. There are many free resources available online which provide templates for free.
But, what is the best platform to create professional-looking invoices in just a few clicks?
Well! You can create and send professional looking invoices using FreshBooks.
With more than 24 million users, FreshBooks offers to send recurring invoices, tracking time of sending invoices, getting payments in multiple currencies and many more!.
Sounds great, yeah!
Let's dive into FreshBooks features and how you will get the Free invoice templates with the step-by-step guide given below.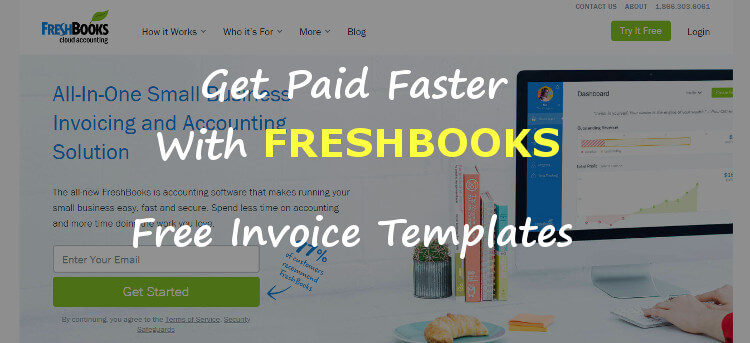 Why You Should Use FreshBooks to Create Invoices
Below are the best features with the description of FreshBooks and FreshBooks invoice templates.
Unlimited Templates to Create Unlimited Invoices
Create your professional-looking invoice in just 30 seconds. The templates are available for many industries like web design, contractor, photography, hotel, painting. If you are a freelancer or self-employed, you can find business, hourly, printable, blank invoice templates and many more.
Beautiful Look & Feel Templates
The templates are professionally designed to create a beautiful looking invoice for your business. You can find many useful and attractive templates and downloads as per your use.
Download invoices in Many Formats
The templates are available in many formats like Word, Excel, PDF, Google Docs, Sheets & more. These formats help you to create an invoice for different platforms and make it available for many users.
Time Tracking
By using FreshBooks accounting software, you can track your timing of sending the invoice and getting payments. Analyze the timings of your accounting task with this accounting software. Increase your earning potential by using this analysis at one single platform called FreshBooks.
Recurring Invoices
If you are tired slow-paying customers and not have enough time to send invoices to your customers. You can use a recurring invoice system to send invoices automatically to your regular customers each month. FreshBooks offers a recurring invoice system which saves your time of creating invoices for many times.
Multi-currency Support
FreshBooks supports multi-currency system by which you can receive payments from any countries. It accepts payments with options using the credit card system also. It keeps your life secure, fast as a small business owner with more profits.
Get FreshBooks Free Invoice templates
Disclosure: At Tutorialdeep, we believe in transparency for our users. In this blog, there are some referral links. If you signup with these links we will earn some commission with no extra cost to you. We recommend these links because these are our trusted brands.
How to Get FreshBooks Free Invoice Templates
FreshBooks invoice templates are the perfect fit for entrepreneurs to earn more profits. If you are tired of creating invoices in Word, Excel and other software every day. You can start using FreshBooks invoice templates which are beautifully designed with all the features.
To use the templates for your business, you have to follow the step-by-step process given below.
Step1: Go to FreshBooks Invoice Template Page
Use the link below to visit the page where you will get downloads for FreshBooks free invoice templates.
Visit FreshBooks Invoice Templates Page
The below images showing the page you will get after you click the above button. If you want to create free invoice and use all the features of FreshBooks, you can use the 'Create My Free Invoice' button to signup with the FreshBooks.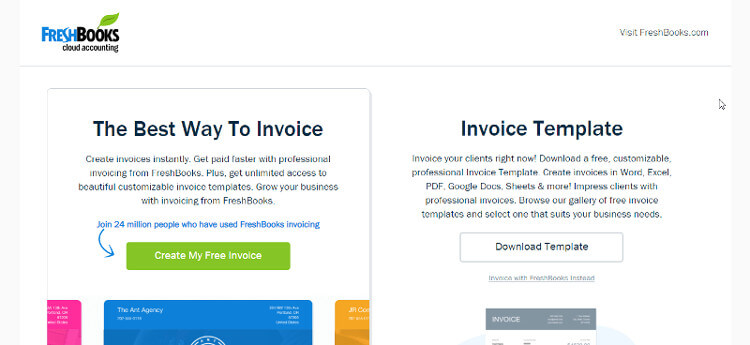 However, if you want to download free templates on your local system and modify it manually. You have to click the 'Download Template' button and follow the next step showing the downloads options.
Step2: Download Your Required Formats
In the Download Invoice Templates section, you will get different formats of the invoice like Word, Excel, PDF, Google Docs and many more. You have to choose your required format of document from a list of given invoice templates.
See the image below showing the Word and Excel invoice formats. To download them on your local system, you have to click on the indicated places given in the image below.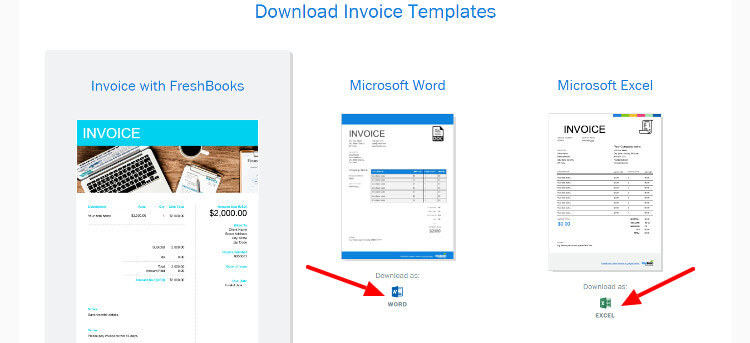 After you download the invoice formats, you have to manually modify them as per your requirement. However, this may require some time to manually modify them.
Use FreshBooks to create and send invoices in less than 30 seconds!
You can use FreshBooks features to create free templates send them in seconds. FreshBooks offers a free trial of 30 days for its users with no credit card required. After signup, you can create beautiful free invoices in minutes. That's a win-win offer for the users to try it free for 30 days.
You may also like to read
Hope, you like this post of FreshBooks free invoice templates. If you have any query regarding the post, please comment below.
Also, share your best free tools you are using to create an invoice for your customers. Do comment below