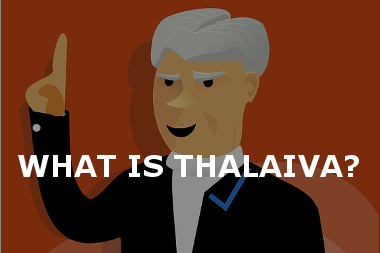 What is Thalaiva?
Thalaiva is the word comes from Tamil side. The persons using this word for the greatest actor of Tollywood Rajnikant. Because Rajnikant is the top actor of Indian cinema and famous for his best stunts and dialog delivery.
The word Thaliava comes from the word 'Thala' and first time shown in movie 'Chennai Express'. The song is 'Lungi dance' of Chennai Express movie is dedicated to actor sir Rajnikant. Shahrukh Khan performs the dance in this song and points Rajnikant as 'Thalaiva'.
'Chennai Express' based on Chennai location and the song is in Hindi language but few words used in the song in Tamil. 'Anna' word also using in the song and it is also a Tamil word which means 'Big brother'.
A Tamil film also coming with the name 'Thalaivaa' followed with the same word as you want to find in this post.
People also use the word 'Thala' for the Indian cricket team former captain "Mahendra Singh Dhoni. The meaning of the word is the same as the meaning of 'Thalaiva'. But the question comes here is- what is Thalaiva. You need to read further to find the meaning of 'Thalaiva' in this post.
Meaning of Tamil Word Thalaiva
The word 'Thalaiva' means the leader or the boss of the team. The word comes from the word 'Thala' which means the head of the team. Mahendra Singh Dhoni is also the former head of the Indian cricket team, that's why people call him 'Thala'.
It is also the nickname of the famous actor 'Rajnikant'. In politics, the word also using by the politicians for the head politicians like Chief Ministers, MLA or others head politicians.
You can too use these words whether you are an English speaker or Hindi speaker or any other. This is the famous word in the world. However, 'Thala' is the shortest version of the word 'Thalaiva'. You can use 'Thala' in place of the word 'Thalaiva' to call the head person of your team.