Grammarly Review
Helps you write better English
Sometimes while writing a blog post, you always think of a tool to use and improve your English writing.
You need a Grammar Checker Tool to analyze the mistakes.
If you are a NON-NATIVE ENGLISH SPEAKER, the chances of making mistakes increases. Grammatical errors like misspelled, incorrect use of articles, overuse of active/passive voice are some mistakes that you can make whenever you write something.
You want to provide error-free and easy to read the article to your readers. If the Blog posts are full of mistakes and errors, chances of users might leave your blog and move quickly to another one. You don't want to make this happen. For this, You need a Grammar Checker Tool to improve your English writing.
I think you agree with me, If I say – It's challenging for the non-native English writers to write error-free blog posts.
So, How can you write better blog posts for your readers?. You might be leaving the writing because you don't want to have bad dreams of your readers leaving your blog, or will you try a Grammar checker tool?
That's the thing I am going to discuss here today.
Affiliate Disclosure: At Tutorialdeep, we believe in transparency for our users. In this blog, there are some referral links. If you signup with these links we will earn some commission with no extra cost to you. We recommend these links because these are our trusted brands.
How I found Grammarly useful for the writers and bloggers
Recently, While writing one of my blog posts, I found the Grammarly app to work for the proofreading of my blog posts. I signed up and begin using the free version of Grammarly tool. A free version helped me a lot to remove my grammar errors with the free Chrome extension. With the Chrome extension, I can check all my English mistakes with some critical errors.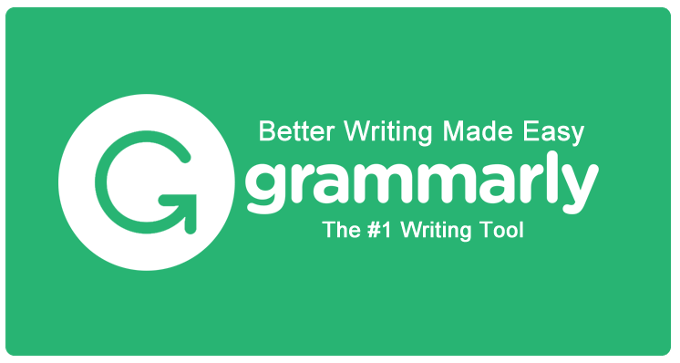 In addition to this, You can also check your social media English writing, directly in the editor of them, You don't need to go anywhere. Chrome extensions work with all the top social media editors like facebook, twitter etc.
Signup to Get Free Grammarly Chrome Extension
But the free version only checks spelling mistakes and some critical grammar errors.
I want to write unique contents for my website to rank well in the search engine. For this, I needed a plugin to check the spelling mistakes and in addition to this, it should also check plagiarism to remove duplicate contents. My English writing post should be unique to make it better and rank higher in Google search.
You may also like to read
Grammarly premium advanced checking contains all these features. I decided to use the premium version of this tool.
The premium version contains almost all the tools which I need to increase the quality of my blog posts. My writing is gradually improving with the online app and its other features for a grammar checker.
I think Grammarly is a worth try Grammar Checker tool for the bloggers and writers.
Since this online checker got all the features and worth to try for the beginners, students, and professionals for better English writing. As a result, I decided to write a review of this excellent tool.
Here, I will share all its features. But firstly, I am going to show you how you can signup with Grammarly for free.
How to Signup for Grammarly Free plan and improve English writing
First of all, Let's start with the free version of this tool. You can improve your English writing with the free available tool of Grammarly. The free tools allow you to check critical grammar errors and spelling mistakes. Read further to check the steps to free sign up with Grammarly.
Create your free account:
Step 1
Go to Grammarly website and click 'Sign Up' button to create your free account.

Step 2
Fill in your few details, enter your name, email and password.
Select dropdown for the option which describes you best.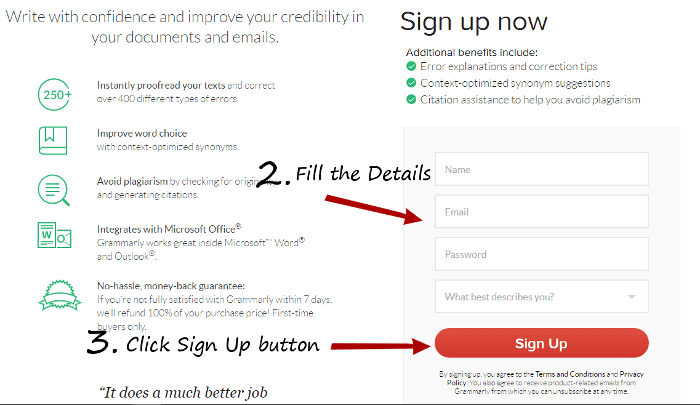 Step 3
The Final step is to Click the 'Sign Up' button.
Congratulation!, you have signed up successfully.
After you signed up, You can start using the free version of Grammarly for Grammar checking and all its free features for your writing. A free version provides you free Chrome, Firefox and Safari extension also to check your English writing directly within the browser.
If you think, you are not satisfied with the free version and want advanced functionality to test your writing. Get the premium subscription plan with the next reading.
Install Grammarly Google Chrome Extension after free signup
A Google Chrome browser comes with Grammarly plugin to use while writing blog posts. This extension instantly works with any online Editor after you install it to your browser. When you use an online Editor(WordPress editor), you can use Grammarly while writing your posts. A Grammarly icon automatically starts appearing at the bottom-right part of each Editor.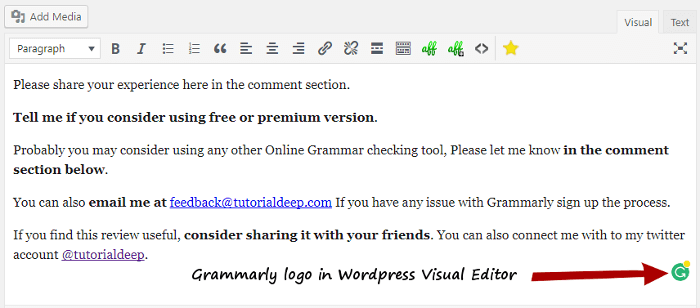 Here are the process and link to install Google Chrome Extension:
Step 1
First of all, you need to Signup Grammarly to install Google Chrome Extension, It's free!.
Step 2
After you signup Grammarly for free, you can install Grammarly Google Chrome Extension to use this plugin in Google Chrome.
Step 3
Click 'Add extension' button to start the Chrome extension installation.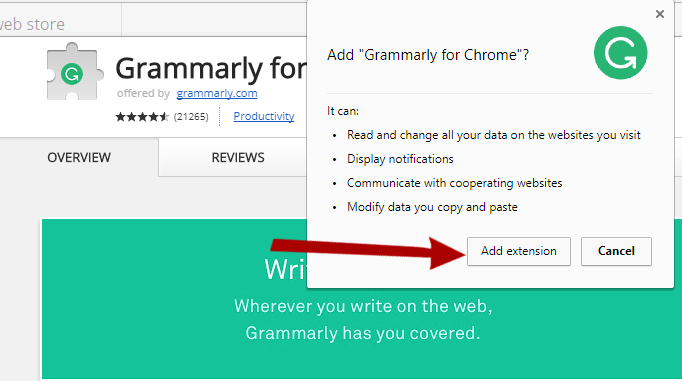 Note: Grammarly plugin is available for Google Chrome, Firefox, and Safari browsers only.
After you
install the plugin
, A new icon of green color with a circular arrow will appear to your Google Chrome extension list.
Click this extension and log in to your Grammarly account, to start using the extension right in your browser.
Now, Every time you write something to an online editor, Grammarly suggests you an error with red underlined.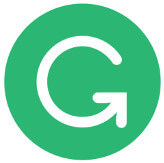 Here is the WordPress text editor, where you can check your spelling and grammar errors direct to your admin panel.

Put your written posts in the editor.
You see, after a few seconds; it will start giving suggestions for errors and mistakes with colored underlined. Hover over these red line texts; a pop-up will appear with the error corrections suggest. These proposals are grammar and vocabulary errors. Click the tip if you want to correct it with some other content word, especially relevant content matching to your word. It depends on you, if you think that you wrote correctly, you don't need to fix it.
When you write emails on any editor with google chrome browser, posting something to any social media platforms, Grammarly suggests you the corrections of mistakes you do with your writing.
Grammarly Premium Plan: Worth to Buy
Grammarly is a worth try the app for the Nonnative English speakers. You don't need to have full knowledge of English Grammar while writing your blog post with Grammarly. Grammarly got all the tools; You want for the proofreading of your work.
A subscribed version of the Grammarly is the feature rich and more advanced to use. Grammarly premium version offers you to identify more grammatical errors and structure of your writing. You can also check for the plagiarism to improve your site performance.
The premium version provides you the Grammarly app where you even put your post and check your errors directly. This app is your editor to correct your mistakes while writing your blog posts.
The app provides you correction over incorrect use of phrases, modal verbs.

Now, to use the premium version, you need first to get the subscription of Grammarly. Grammarly gives a monthly subscription for $29/month.
You can also get a subscription for more than one month with some discount added.
To get all the benefits from Grammarly, You should go for the premium version of it. Premium version is the advanced version with all the checks you need for a better writing blog.
With premium version, Grammarly helps you to identify the spelling errors, Common Error, Articles, Phrases, overuse of active/passive voice.
Get your subscription plan $29.95 / month from Grammarly premium page.
There are three plans Grammarly provides to their users:
Monthly plan costs you $29.95/month. If you buy a monthly plan, you will have to pay more extra bucks. After one year your total amount to pay will be $359.4.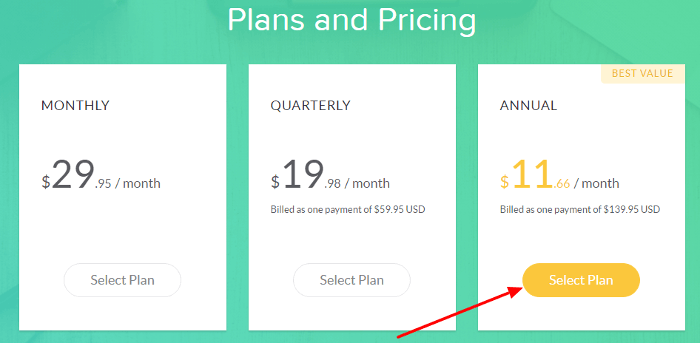 If you go for the Quarterly plan, It costs you regular stand $19.98/month. At the end of 1 year, you will pay $239.76.
But here's the discount.
An Annual plan costs you less amount if you buy a Grammarly Annual Subscription plan. You should go for the Annual plan with more discount you will get. You have to pay the total amount of $139.95 USD billed in one payment.
Step by Step Instructions to purchase premium plan:
Step 1
Follow the steps given in the free account Sign up for an account. Fill the details, enter your name, email, password and select the drop down which best describes you. Click the sign-up button.
Step 2
Go to Grammarly Subscription plan page.
Step 3
In the next step, Select your plan. The best plan which costs you lesser amount is the Annual plan. Click the Select Plan button and pay for the amount of $139.95 billed in one payment.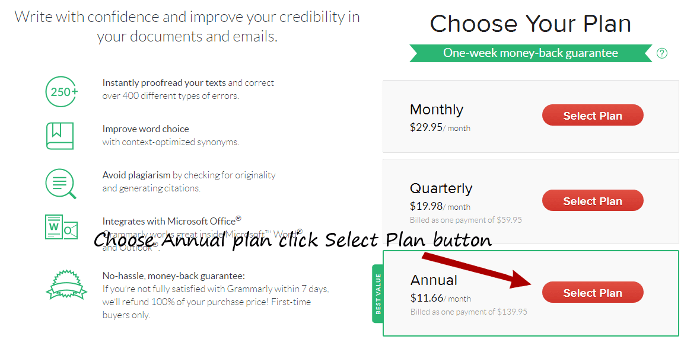 Congratulations! You got the premium plan. Enjoy the blog writing with Grammarly app with its advanced features.
Now you want to use all its features.
So, Here's the detailed use of all its features.
Using the Grammarly online App
To use the Grammarly online app, log in to your account. After you log in, the dashboard will open.
Here, click on the 'New,' this will open a new doc your writing. You need to enter the title and the content to check for corrections. After you enter the content, Grammarly will start giving you error mistakes to correct.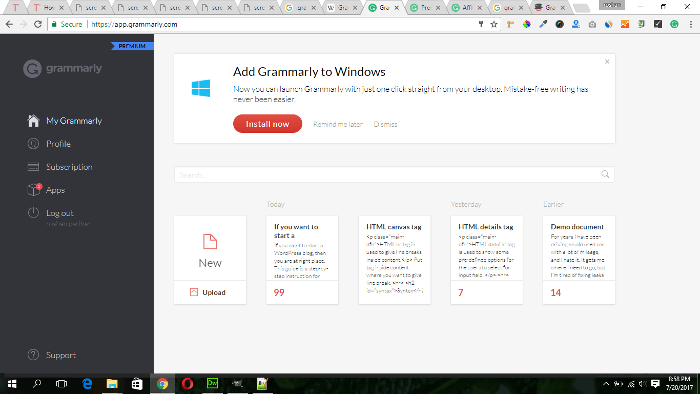 It will give suggestion to correct the repetitive words, Overused words, Sentence fragment and much more.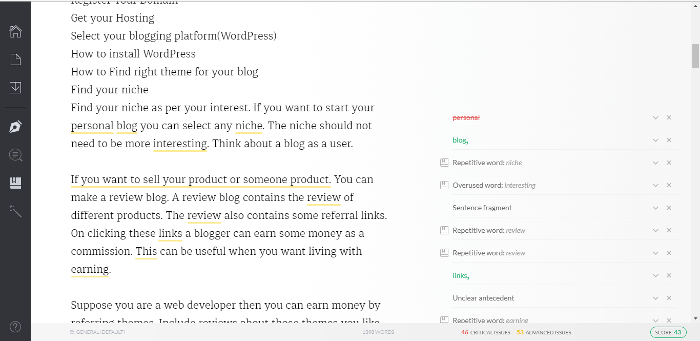 Click the down arrow to see the ideas. If you find the idea right for your content, you need to click the tips. Grammarly will automatically change the text with the suggested text given.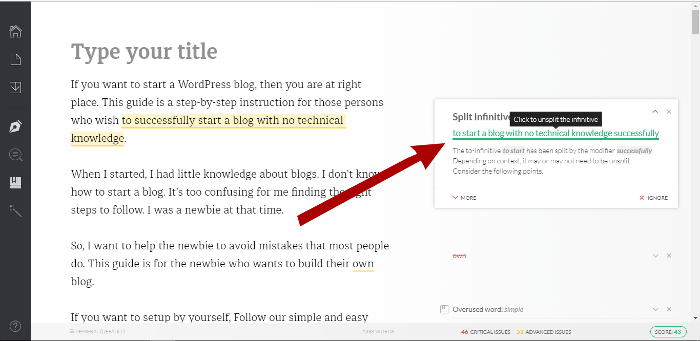 This is the quickest way of writing error free content for your blog.
Grammarly Add-In for Microsoft word and outlook
If you have the premium version subscription, you can install Grammarly for Microsoft word. It works well with it. You can do all grammar checks directly to Microsoft Word. It gives all suggestions while you are writing content in Microsoft Word.
Grammarly offers an Add-In with the premium subscription/. Download the Add-In and install. Log in to your account and in the dashboard, Click the "Apps" on the menu list. Here, you have to check your installed apps. If you have already installed the Chrome Extension, it shows as active. Click the install button for Grammarly Microsoft word. The process will download the installer. Click and install the app.

Now, open Microsoft word and see for the Grammarly Enable option there. Click the Enable; It will show all the checks you write to your Microsoft Word toolbar. Click the features you want to check for your writing.
You can use the Microsoft Word to check below English writing mistakes:
General Checks
Contextual Spelling
Grammar
Punctuation
Sentence structure
style
Vocabulary Enhancement
and Plagiarism
These are all the features you will get in the Microsoft add-on. You have to click the feature you want Grammarly to check for your writing.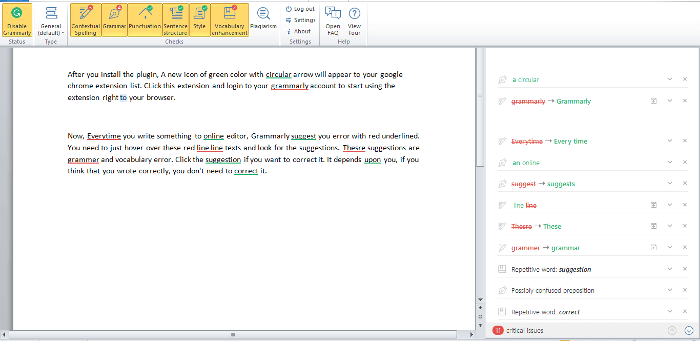 Write Unique content with Grammarly Plagiarism Checker
The Plagiarism checker tool is the tools used to check the content if it is original or copied from another website. If the article is original, it will show you the percentage of original content in the article. If the content is not original, it will display some websites where you copied the content. You can change this content to remove plagiarism from your article.
Piracy works with the Grammarly app and Microsoft word.
You need to enable them manually. Plagiarism is only available for the premium users not for the free users. If you are a free user, then you are not able to use this feature of Grammarly. Use this feature to write original content for your blog and increase the traffic by removing the plagiarism.
Grammarly Makes your Writing Better Blog
Grammarly works great as an English writing checker tool. You will enjoy writing your article when you use Grammarly features. You are no longer afraid of your writing mistakes. Your writing skills gradually increase day-by-day with Grammarly.
In the recent research, almost 90% Grammarly users becomes stronger English writers. Their English writing skills increased, and they hardly make mistakes while writing their blog posts or article.

Conclusion
Grammarly offers almost all the features a professional writer need to write best articles. Hence, I recommend Grammarly to every blogger, students, and writers to use when you want to write an error free article. No one is perfect in the world but we can try to be better with the available resources.
You can make useful corrections as Grammarly is a useful platform that can improve your way of writing. Most of all I checked personally and recommend them to all the bloggers and article writers.
Please share your experience here in the comment section.
Tell me if you consider using free or premium version.
Probably you may consider using any other Online Grammar checking tool, Please let me know in the comment section below.
You can also email me at [email protected] If you have any issue with Grammarly sign up the process.
If you find this review useful, consider sharing it with your friends. You can also connect with me to my twitter account @tutorialdeep.