WPForms Review
Best Drag & Drop WordPress Form Builder Plugin
Are you looking for the best form builder plugin for your WordPress website? WPForms is the highest 5 star rated WordPress form builder plugin. It is the most popular and beginners friendly drag & drop plugin in WordPress.
You can easily create different types of forms with WPForms in minutes. It comes with many pre-made templates you can use to create forms in just one click. WPForms provides an easy to use interface and useful addons to build various types of forms.
In this WPForms review, you will find why WPForms is the right choice for you. Let's check out its features, pricing to find out its worth to buy WPForms plugin for your website.
Affiliate Disclosure: At Tutorialdeep, we believe in transparency for our users. In this blog, there are some referral links. If you signup with these links we will earn some commission with no extra cost to you. We recommend these links because these are our trusted brands.
WPForms: A Drag & Drop Form Builder Plugin For WordPress
With more than 3 million downloads WPForms plugin is the most popular plugin in WordPress. You can easily create smarter forms in just one click with pre-made templates.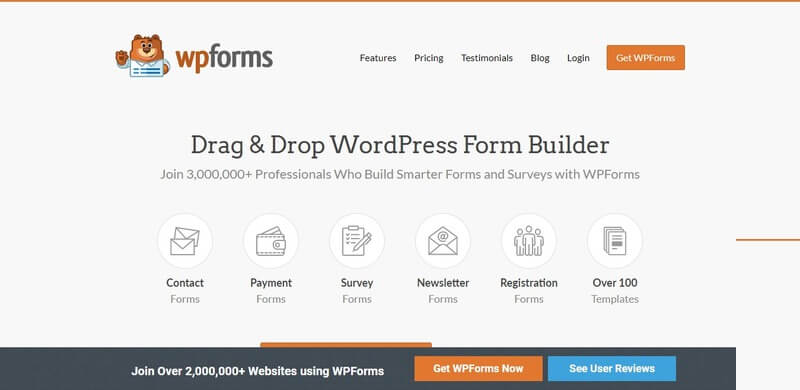 It comes with many pre-made form templates to easily create forms and save your time. If you want to show/hide form fields when required, you can use its smart conditional logic.
After creating the form, you can easily embed it to your posts and pages with shortcodes and widgets. If you want to extend its functionality, you can use tons of hooks and filters with WPForms.
Most Reviewed Contact Form Plugin in WordPress
It is one of the highest reviewed contact form plugins in the WordPress plugin repository. If you search for the contact form plugin, you will find the WPForms plugins with most reviews. See the image given below showing the WPForms plugin with the highest 5-star ratings.

It's because there are many absolute beginners who find other forms difficult to use. While WPForms is can lets you easily create beautiful forms with drag & drop features. It comes with many essential tools to build your forms in minutes.
Popular Features of WPForms Plugin
WPForms provides many useful features as compared to other form builder plugin. The most popular features of the plugin are given below.
Easy to Customize with Drag & Drop Form Builder: You can easily add/remove the form fields with the drag & drop feature of the plugin. You have to grab the form field using your mouse to drag and drop to the required position.
Design Forms with 100+ Templates: It comes with many beautiful pre-made templates you can use to create forms in just one click. You have to select them and modify them as per your requirements.
100% Responsive Mobile Friendly: The forms developed with WPForms can easily resize itself to any screen sizes. You can check the responsiveness to different screen sizes.
Smart Conditional Logic to Display Form Fields: Conditional logic is useful to display form fields when it satisfies certain conditions. It's the best method to get conditional user data.
Easily Get Payments, Donations, and Online Orders: WPForms help you to easily collect payments from your clients worldwide. It comes with different payment options like Paypal and Stripe. You can also use its pre-made templates for billing, donations, and quotes forms. Integrate your forms with Paypal and Stripe options to collect payments.
Create Subscription Forms For Email Marketing: You can easily collect leads and check it at one place in WordPress. There are many email marketing services like Mailchimp, Constant Contact, etc. You have to integrate your forms with these services to start email marketing.
Easy to Embed Forms: You can easily embed your created forms to your website posts and pages. It comes with various options like shortcodes and widgets to easily embed it.
Smart Captcha For Spam Protection: People worry about spam submission while creating forms. WPForms comes with easy to add captcha to protect your forms from spam submission.
WPForms Lite: Create Forms with Free Version of Plugin
The WPForms Lite is the free version you can use to get basic features of the plugin. You can create forms with all the free available form fields and pre-made form templates.
First of all, you have to install the WPForms plugin.
After that, go to WPForms >> Add New option of the menu to start adding the new forms. It opens the page where you can create your forms with various tabs options like Setup, Fields, Settings, Marketing, and Payments.
Let's find out all the features in the WPForms Lite Free plugin given below.
Drag & Drop Features in WPForms Lite
The drag & drop feature is the most useful feature of the plugin to add form fields. You can choose the form field blocks from the left-hand side. Now, drag the block to the right-hand side and drop it inside the form.
See the example below showing the drag-n-drop feature of the plugin.
When you drop the block to the form, it displays the fields to get user input information. After completed adding blocks, you can rearrange blocks to adjust the position in the sequence.
You can also click the block to change its label, format, and description. It's useful to define whether the form field is required or not.
Available Standard Form Fields with WPForms Lite
The are many form fields available in the WPForms Lite free version plugin. The free available fields include single-line text, paragraph text, dropdowns, multiple-choice, checkboxes, numbers, name, email, reCAPTCHA, and GDPR Agreement.
The free available form fields in the WPForms Lite version is as given in the image below.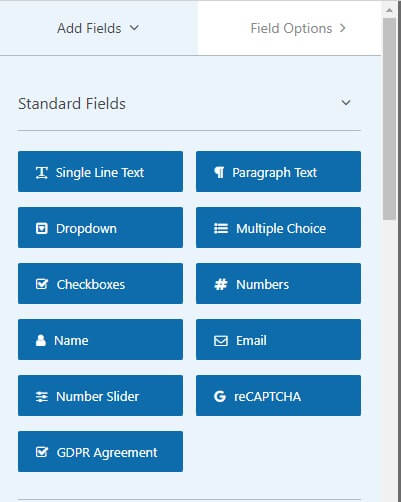 You can use the plugin drag-n-drop feature to add them to your forms.
Pre-Made Form Templates in WPForms Lite Free Version
When you open the 'Setup' option of the form, you can find many pre-made form templates. These templates are useful when you want to create forms in minutes. Let's check out each pre-made form template options given below.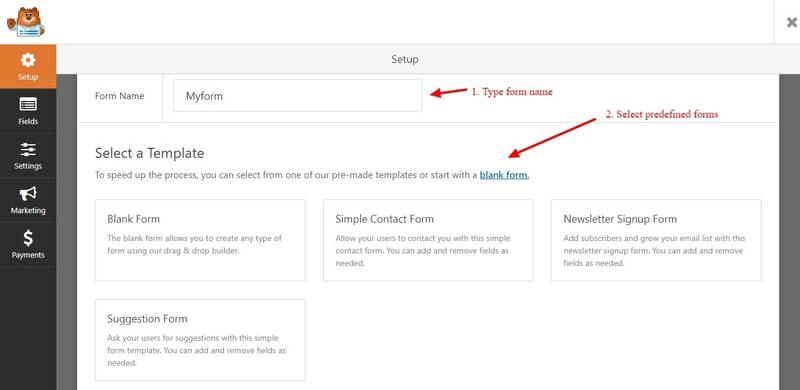 Blank Form
The 'Blank Form' template adds a pre-made template that contains no form fields. You can drag-n-drop fields from left-hand side available blocks. It's the best option when you want to create forms with your own defined fields.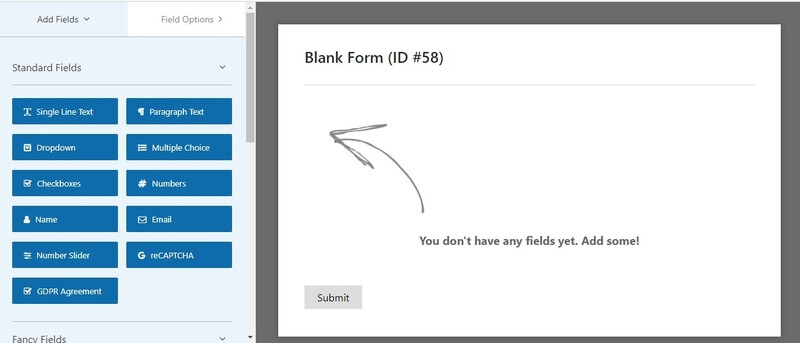 Simple Contact Form
A contact form should contain fields like name, email, and message. The pre-made 'Simple Contact Form' template contains all those fields required to create a contact form. You have to just select it and modify it as per your requirements.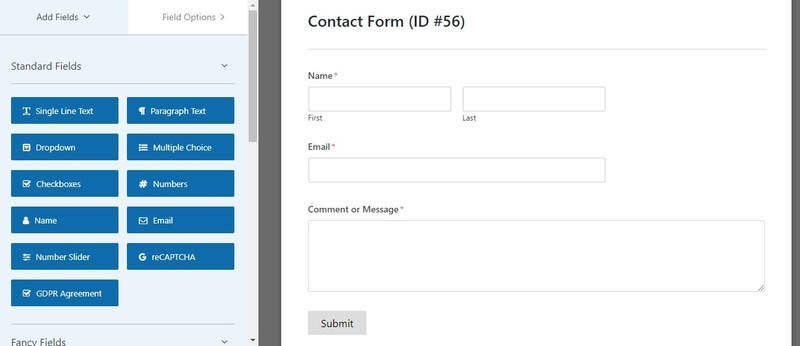 Newsletter Signup Form
A 'Newsletter Signup Form' template is useful when you have to collect leads and do email marketing. You can easily collect leads using WPForms and convert visitors into sales.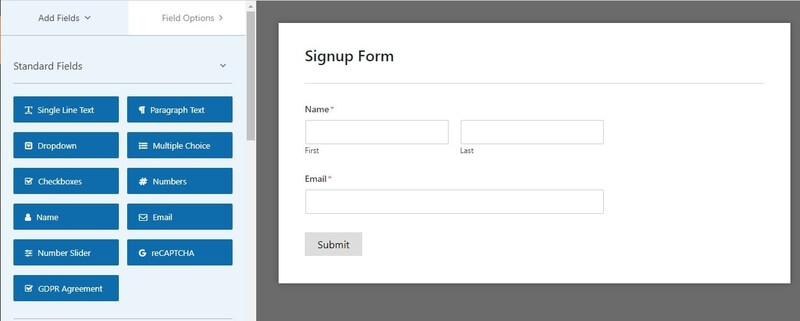 When you select the Newsletter form template, you will get a message to click the Marketing tab to configure the newsletter service provider. You have to click the 'Marketing' tab of the screen to open various email marketing services.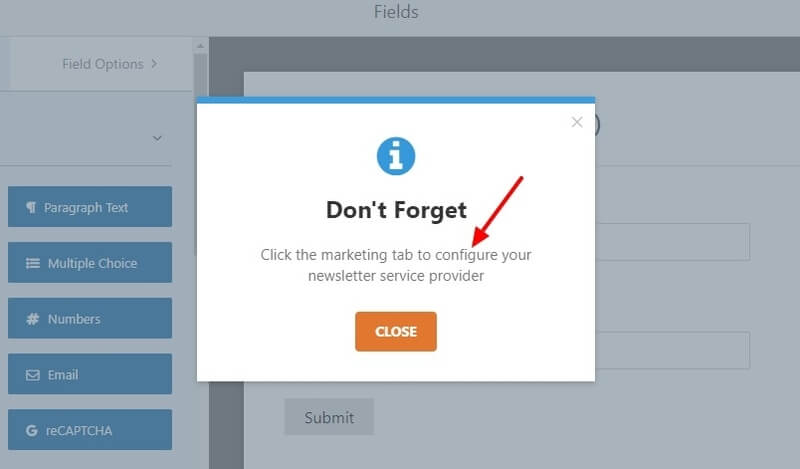 However, the WPForms Lite version offers only Constant Contact email marketing service. It is the oldest and the most trusted email marketing service to use. You can easily integrate Constant Contact with WPForms to start email marketing.
Suggestion Form
A 'Suggestion Form' template is useful when you want to provide various options to users. You can use the radio button or checkboxes to display options as given in the image below.
Configure Form Settings with WPForms Lite
After you completed creating your forms to add on your website. You have to make settings to get output from your forms. The WPForms Lite provides only three setting options which are General, Notifications, and Confirmations.
General Form Settings
You can change the General settings of the form like Form Name, Description, CSS Class, and submit button text. It also provides options to enable AJAX form submissions. An AJAX form submission is useful when you want to submit the form without page refresh.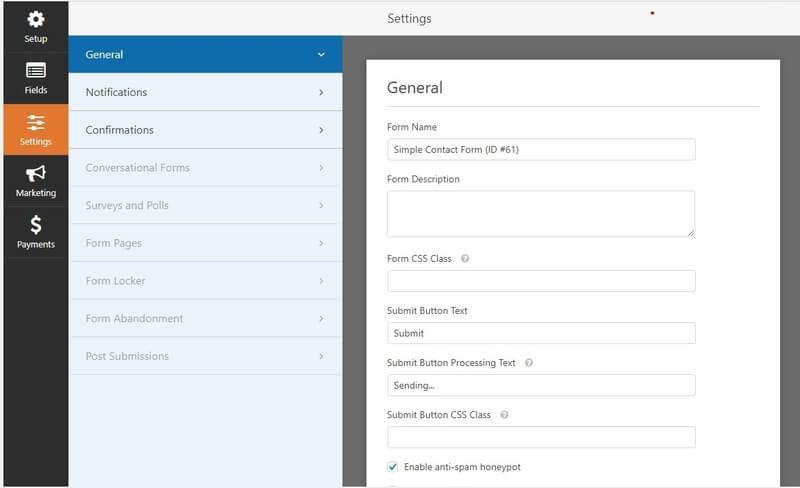 Notifications Settings
With this setting, you can change default notifications to get after the user submit the form. You can change settings like sender email address, email subject, from the name, email, reply-to, and message from users.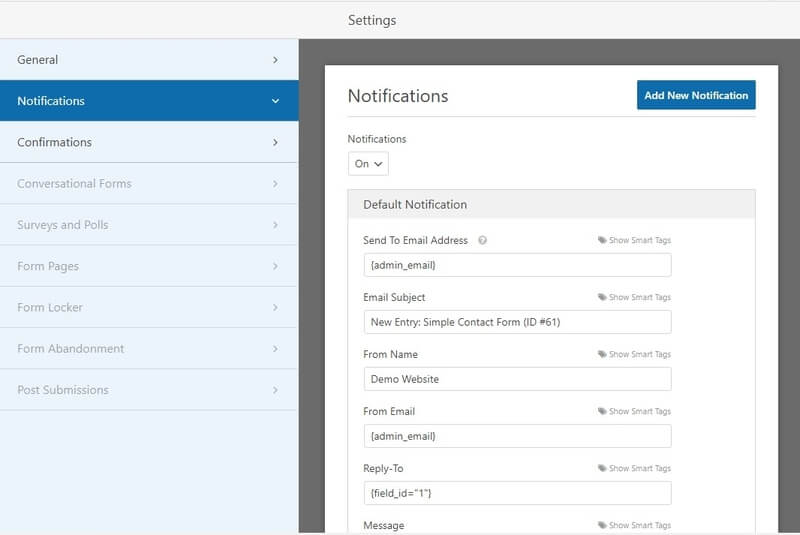 Confirmations Settings
The 'Confirmation' setting option can be used to give confirmation to users on submission. You can add confirmation messages, redirect URL's, etc.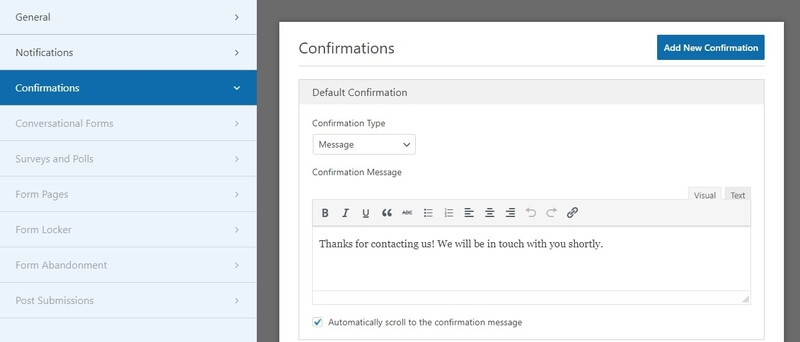 Embed Forms Using Shortcodes in WPForms Lite
After you are done with all the above settings, the last step is to embed the form to your website posts and pages. To do this, you have to click the 'EMBED' button given to the top-right corner of the screen.

A popup will open where you can find the shortcode as given below. Copy and paste the shortcode where you want to display it.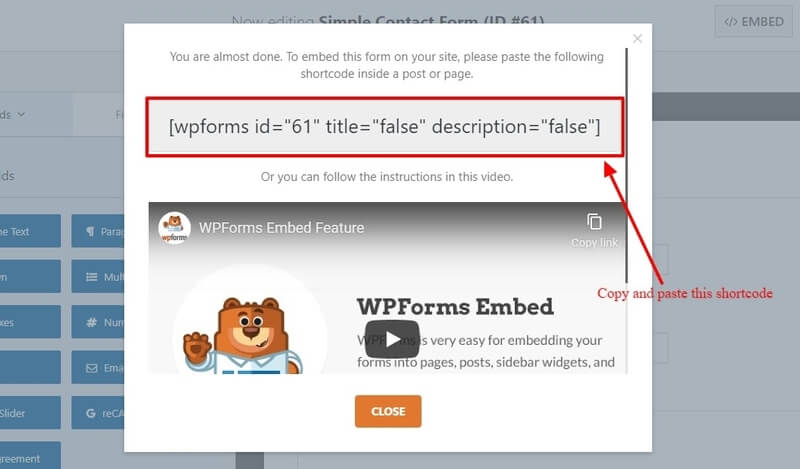 That's all about the WPForms Lite FREE version of the plugin.
WPForms Premium Version For Advanced Features
If you want to get more advanced features like collect payments, advanced forms fields, surveys, and polls forms, submit blog posts from frontend, and more email marketing services. You have to upgrade the WPForms plugin to its premium version.
The details of the features of WPForms Premium Version is given below:-
100% Money-Back Guaranteed If You Are Not Satisfied
They are very confident about their product and its advance features. If you are not satisfied with the WPForms premium version, they will happily refund 100% of your money with no questions asked. So, WPForms premium version comes with a satisfaction guarantee. See the image below from the founder of the plugin.

Accept Payments and Donations with WPForms
There is two payment option you use with WPForms premium version. These options are Paypal and Stripe methods. When you upgrade to its premium version, these options get activated. You can integrate with them to easily get payments directly to your business accounts.

The premium version offers pre-made forms templates to collect donations, bills, and orders. You have to click any of them to integrate with payment methods to collect payments.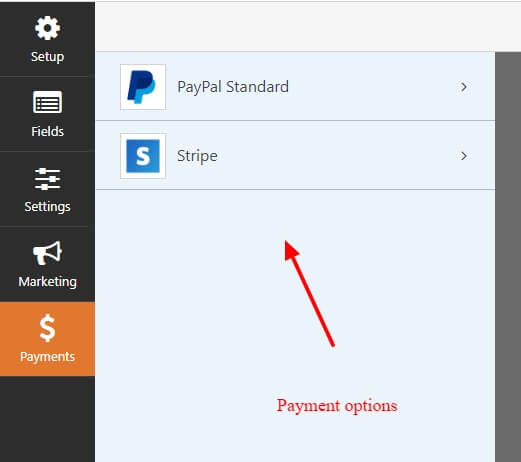 More Advanced Form Fields to Add to Your Forms
The premium version comes with more advanced form fields like File Upload, Ratings, Captcha, Signature, and other useful fields. In addition to these form fields, you will also get payment fields to add to your forms and collect payments.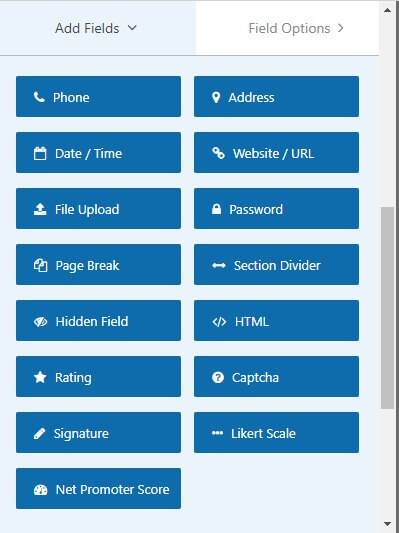 Create Survey and Polls with WPForms
Adding a survey and poll to your website can increase engagements with your website content. You can easily find the nature of your visitors and increase sales. With WPForms you can create survey forms and multiple polls. It's useful to add and get feedback from your visitors.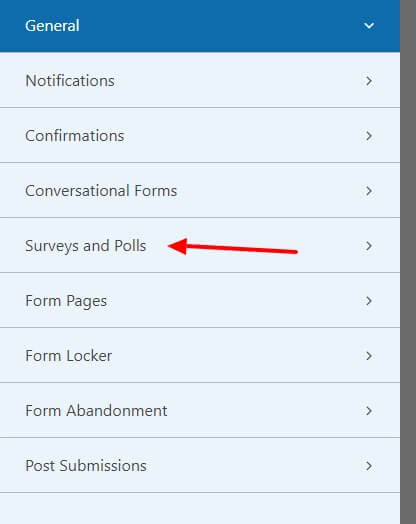 Submit Blog Post From Frontend with WPForms
To submit posts from your users, WPForms provide features to create blog post submit forms. There is no need to give access to the dashboard, you can accept guest posts from frontend with WPForms.
The submitted post gets saved as a draft from where you can approve, modify, and publish on your blog. You can use its pre-made templates and advanced settings for blog post submission.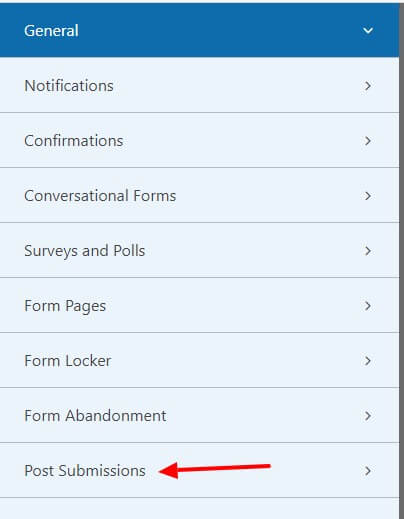 More Email Marketing Options
The premium version offers more facility for email marketing then its WPForms Lite version. After upgrading to the premium version, you can integrate your newsletter form with more email marketing services like Aweber, Drip, GetResponse, MailChimp, and Zapier.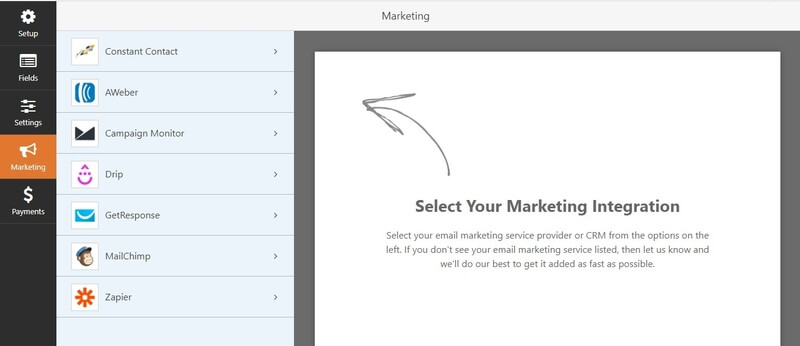 Pricing Options For WPForms Plugin
If you want to buy the WPForms premium version, it starts from $39.50/year. There are four different plans to purchase the WPForms plugin. Out of which WPForms PRO is worth to buy and value for money offer for you. WPForms Pro is the best plan to get everything you need to build a perfect form for your website.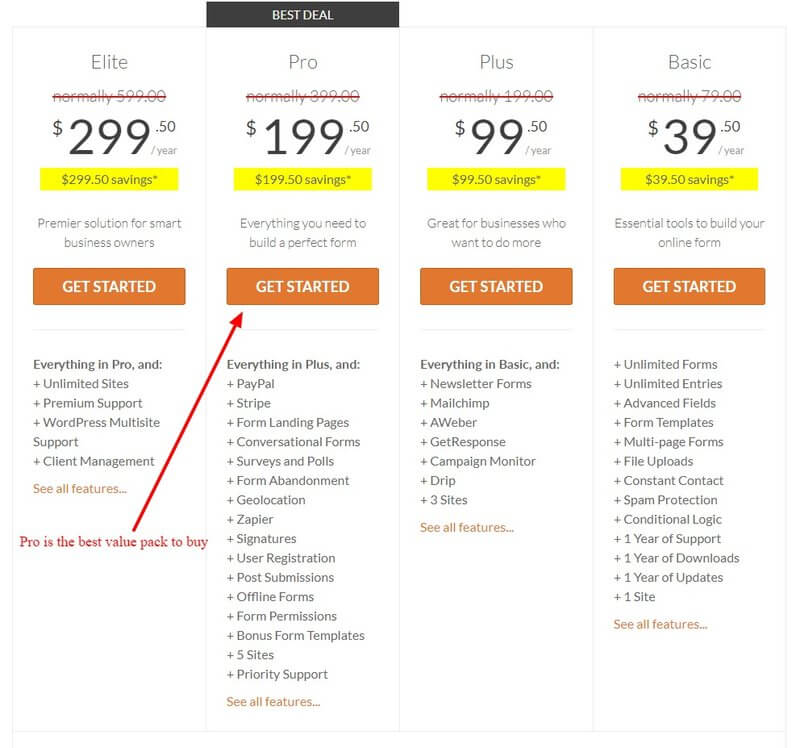 The Bottom Line Is
WPForms is the most popular and highly rated WordPress plugin in the market. It is more beginners friendly to create forms with pre-made templates in minutes. If you don't know where to start, you can use its pre-made templates to get pre-defined form fields.
The drag & drop feature makes it most easier for beginners to add more form fields.
You can create survey and poll forms, blog post submission forms, email marketing, and many more. In addition to all these, you can easily collect payment from your clients with different payment methods. The Stripe method offers you to collect payments direct to your accounts.
Visit WPForms Site For More Details
I hope you find this post helpful to decide your best form builder plugin for WordPress. If you have any queries regarding this post, please comment below.
Also tell me, which form builder plugin you are using by commenting below?