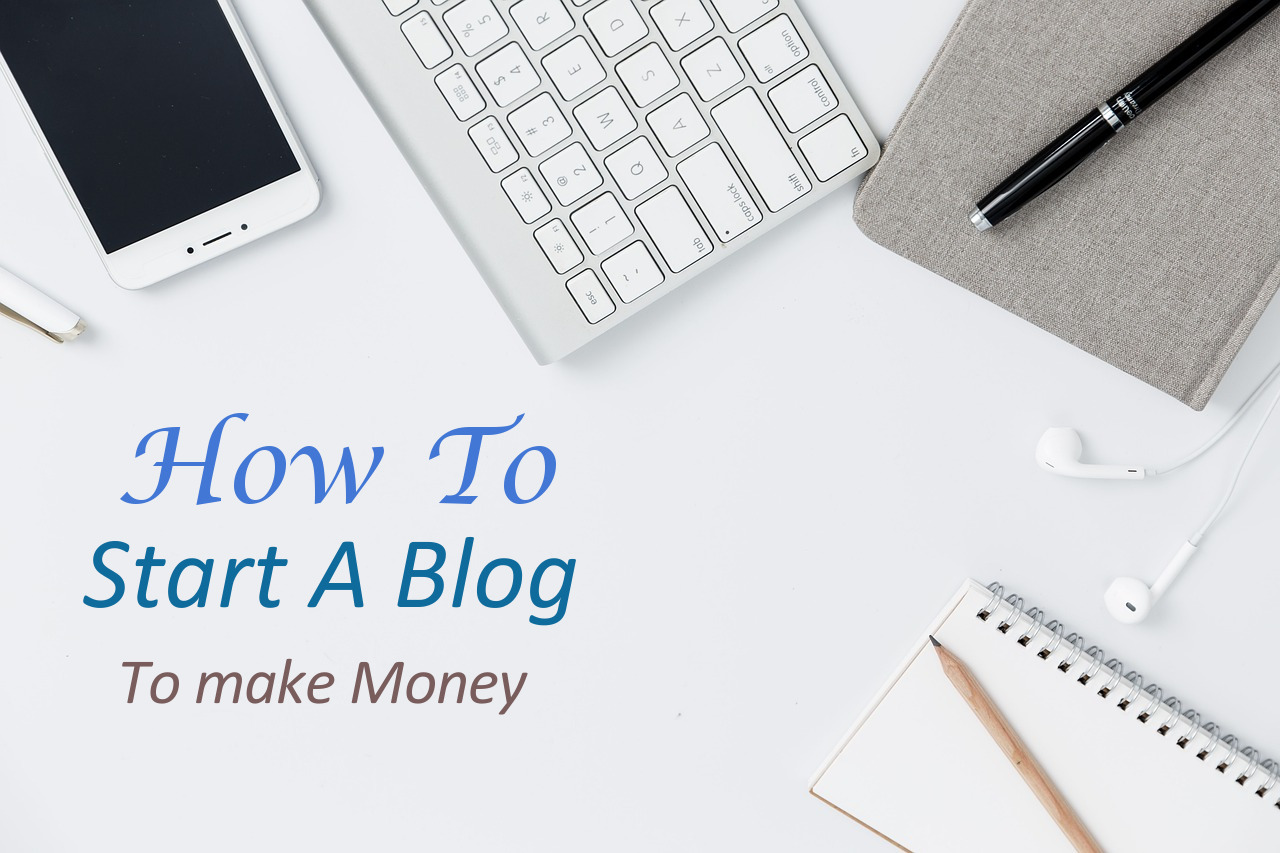 If you want to start WordPress blog, then you are at right place. This guide is a step-by-step instruction for those persons who wish to successfully start a blog with no technical knowledge.
When I started, I had little knowledge about blogs. I don't know how to start a blog. It's too confusing for me finding the right steps to follow. I was a newbie at that time.
So, I want to help newbies to avoid mistakes that most people do. This guide is for the beginners who want to create a WordPress blog.
If you want to set up by yourself, Follow our simple and easy instructions on how to build your own blog.
So, Are you ready to start your blog today? If yes, then let's get started.
Steps-By-Step Guide on How to Start WordPress blog
Find Your Niche
Register Your Domain
Get your Hosting
Select your blogging platform(WordPress)
How to install WordPress
How to Find right theme for your blog
1. Find your niche to Start WordPress Blog
Find your niche as per your interest. If you want to start your personal blog you can select any niche. The niche should not need to be more interesting. Think about a blog as a business.
If you want to sell your product or someone product. You can make a review blog. A review blog contains a review of different products. The review also contains some referral links. On clicking these links a blogger can earn some money as a commission. This can be useful when you want living with earning.
Suppose you are a web developer then you can earn money by referring themes. Include reviews about those themes you like more.
If you are a mobile geek, then include reviews about mobile phones, gadgets etc. you like more. MySmartPrice doing this and their blog earning smart money from this.
They compare the gadgets price with different online shops like Amazon, Flipkart, eBay etc. They included referral links with each button right to each shop. People click these links and make a qualifying purchase and MySmartPrice get the commission.
That's it, the Select niche which you have the knowledge and you know well all about it.
Get your Choosen Domain Name and Hosting
After you have decided to start your blog with the selected niche. You need a domain matching your niche. A domain name is the web address you choose for your blog Buy a domain name with .com extension. Because .com domain is the most trusted domain on the web. A standard domain is a .com domain.
Ready to start WordPress blog. Let's go ahead.
HostGator best option to start WordPress blog for beginners. In addition to this, HostGator provide 63% discount, if you buy hosting from below given button link. Click the below link and follow all below given to start WordPress blog and fully functional website.
Click here to claim this Exclusive offer
HostGator hosting is an optimized hosting with easy to install WordPress. So, the best blogging platform is ready to use for a newbie.
Over 8 million domains already registered in all around countries and chosen for their hosting. They have a 24/7/365  support team with highly qualified experts and 45 days money back guarantee.
Disclosure: At Tutorialdeep, we believe in transparency for our users. In this blog, there are some referral links. If you signup with these links we will earn some commission with no extra cost to you, infact it saves your money. We recommend these links because these are our trusted brands.
Open the Hostgator website using the above link and click the Web Hosting option of the menus.

Here, you can see there are three shared hosting plans. Shared hosting plans are best for beginners who want to start their blog at very low prices. After your website traffic increases and you earn some money, you can upgrade to other plans.
My recommended plan is baby plan, because with this plan you can start your website and in future, if you want to start more websites, you can do so with this plan.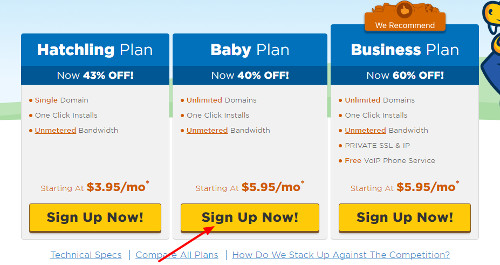 Enter your choosen domain name here and find out if the domain name is available to buy at the time. Many times it happens to bloggers that they delay for sometime to buy their choosen domain. The choosen domain may be taken by the other person and you may lost your choosen domain within minutes.
So, don't delay while purchasing your choosen domain name.


Choose your best plan here. My recommended plan is baby plan which you will get with 63% discount if you buy it from above link given in this page or use this link.
The discount will apply for the purchase of hosting for 3 years. The discount will not work if you buy hosting for less than 3 years. Why not go for 3 years, Google gives more preference in search engine to the domain and hosting taken for longer years.


Enter your billing details and creadit cart info. You can also pay using the payal account.
If you have chosen credit card card payment ooption, fill all your card details required for payment.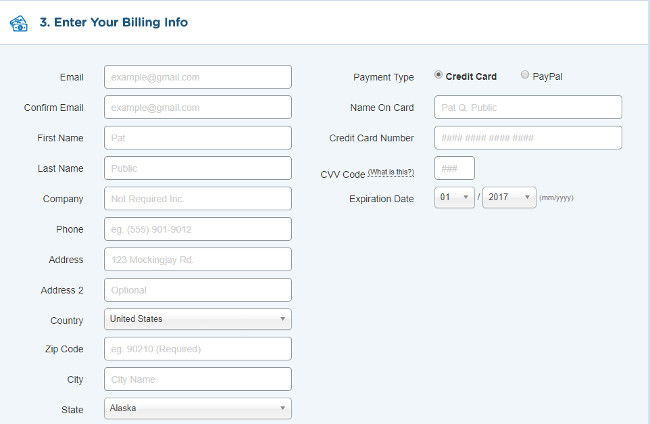 In the additional field, leave all field unchecked. Because they are not required if you are a beginner and just going to start to start your blog.
After you start getting enough traffic to earn some money, you can opt for these settings in future. But for noe ,leave all these setting unchecked.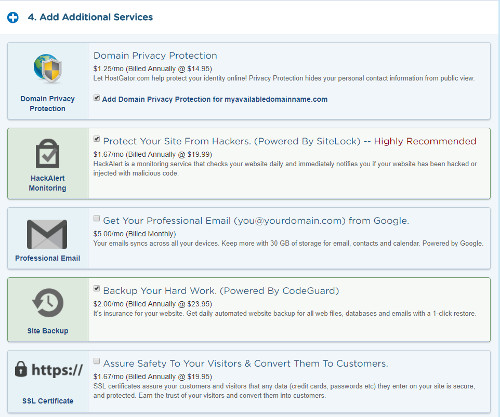 The coupon code is not required if you purchase it from one of our link given in this page. But if you have any coupon code, you can apply by entering the cooupon code and pressing the validate button.


Accept the privacy policy and terms of conditions and click checkout to complete the purchase.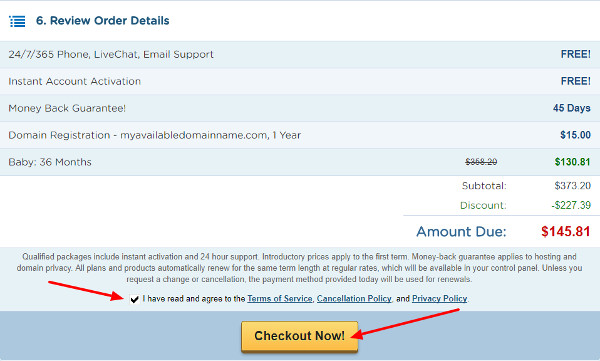 Why you should choose WordPress as a blogging platform and Start WordPress Blog
So, You have a domain and hosting to make your website live. Now it's time to select a platform by which you can easily manage your blog. There are so many platforms available online like WordPress, Drupal. tumbler, Blogspot. The more trusted Content Management System is WordPress. I recommend WordPress as a blogging platform for all the bloggers. Trusted y almost 90% bloggers around the world WordPress is the leading platform.
WordPress is open source with lots of customizing options. WordPress community already developed so many plugins. By using these plugins you can easily add extra functionality to your blog. WordPress community also develops themes. The themes are ready to use themes for your website with very less customization.
How to install WordPress
Open your Cpanel and check "Top Application". You can see WordPress there. Click this installer for WordPress.

You just need to click on install button and enter some details as below.

Enter the domain name you want your WordPress to get installed on it.
If you want to install your WordPress to a specified folder, then enter the folder name "In Directory" input box.

The next screen is the login details. These login details you use at the time when you want to login to your WordPress.
Enter your admin username and password for WordPress login.

In the site setting section, put your blog name. This can be the title for your blog. Enter your site description, Useful when you want your user to understand your website.

Next screen is the database section where you can enter your database name.

Click on plus sign of advanced section and enter your database name.

Now it's time to click on install button to complete WordPress installation. Your WordPress is ready to work for your blog. Let's create your blog by selecting WordPress themes.
How to Find right theme and Start WordPress Blog
After you install WordPress to your hosting, you need the best theme for your blog. WordPress bundled with some default themes. But these themes are not easily customizable. That's why you need a theme that you can easily customize and design as per your need.
Don't use free themes
Why you should not use free themes for your blog. Free themes are updated regularly. If you want support for customization of your theme, free themes are not giving you this. An updated and well-coded theme is required to for your blog to guarantee the security of your blog.
If you buy premium themes, You will get well coded and well-documented theme. These themes are updated regularly. The theme providers will give regular updates and security to your blog. You will get support when you are in a need of help with your theme.
Some of our trusted and recommended theme providers: