Ipage Review
Summary
Ipage comes with the cheapest web hosting. If you are a beginner, you can purchase this hosting to start your blog. In future, if you start getting more traffic and earn some money from your blog, you can switch to other reliable options.
Here i am sharing ipage review as the best hosting at cheapest price with high performance and full uptime. iPage is the leader in webhosting since 1998.
iPage hosting provides thousands of templates with web hosting. These templates are mobile friendly templates. Mobile Friendly means it resizes itself according to the devices size.
Affiliate Disclosure: At Tutorialdeep, we believe in transparency for our users. In this blog, there are some referral links. If you signup with these links we will earn some commision with no extra cost to you. We recommend these links because these are our trusted brands.
Webhosting is very complicated subject and highly technical industry. iPage eliminating these complications and providing you great experience with their hosting.
They have been in webhosting business, personal, social and non-profit websites for over 10 years. They got all the tools you want to start your business or blog. You will get a great hosting experience with this webhosting.
I have been using this hosting for one my client website. All their need is to have a hosting that is of very cheapest cost with high performance and iPage has all these things.
iPage powered more than 1 million websites. They have a best customer support with experts and professional providing solutions to their customers. Their expert team provides support for 24/7/365. So, all you need to do is to start developing your website. If you want some help about how to develop your website then you can contact us.
In addition to all these they provide 30 days money back guarantee. If you think you are not satisfied with their hosting, They ask no question to you and return all your full money. So, that's the customer satisfaction guanatee.
Introduction to iPage
iPage is the leader in hosting provider since 1998 as full web service provider company by Endurance international group. Their shared hosting contains many features as of other hosting providers.
They also have shared servers which are pre-configured to run wordpress. You will get an environment to start your wordpress blog which powers 27% of the websites worldwide.
You can create unlimited number number of email account, Upload files with FTP accounts, create your online store. You can run your blog with this webhosting.
This can be another Endurance international group owned company after Bluehost Hosting and Hostgator hosting.
iPage can give your website a stunning performance. To see this performance, we have check our client website with iPage hosting. We have uploaded the website to this webhosting and keep checking the performance. What we got, we got a high speed performance website with almost no downtime, that's great yeah!.
You should also see Bluehost Review
WordPress freebuilding Tool
iPage is the best shared hosting provider for wordpress websites with high performance. If you want to setup your wordpress blog with iPage, Then iPage provide you collection of popular and beautifull free wordpress templates. You can use these templates to develop your website.
WordPress website designed and developed using heavy plugins and themes. With iPage you will get hosting with increased load speed up to 2.5 times faster adn adaptable architecture.
You can make your website run with CDN security and
This hosting will gives you flexibility to run your website.
Uptime Status
iPate offers you full uptime performance of the website. They focus on 99.5% uptime for website and your website will not have any downtime. This really helpful when you are in a stage to get highest traffic to your website. As you will get unlimited bandwidth your website still working at the time of highest ranking and traffic.
If your website is made on wordpress then this hosting will give you high performance and better uptime. In ipage review i give 4.5 star to uptime stat
Pricing comparison

iPage comes with the cheapest hosting plan whose rates start from price of $1.99/month*. This is the all in one plan best suits to all to start a blog. This cheapest hosting provide free domain registration. You can create unlimited email accounts and unlimited MySQL databases.
iPage with this hosting provide you useful tool to develop websites. They also provide some popular themes. These themes are the collection of beautiful themes to create a beautiful blog for readers.
You can use this plan for wordpress hosting but they also have hosting plan and pricing for wordpress. This wordpress hosting plan cost you some more amount but it contains many tools. These tools are useful for the best environment of wordpress.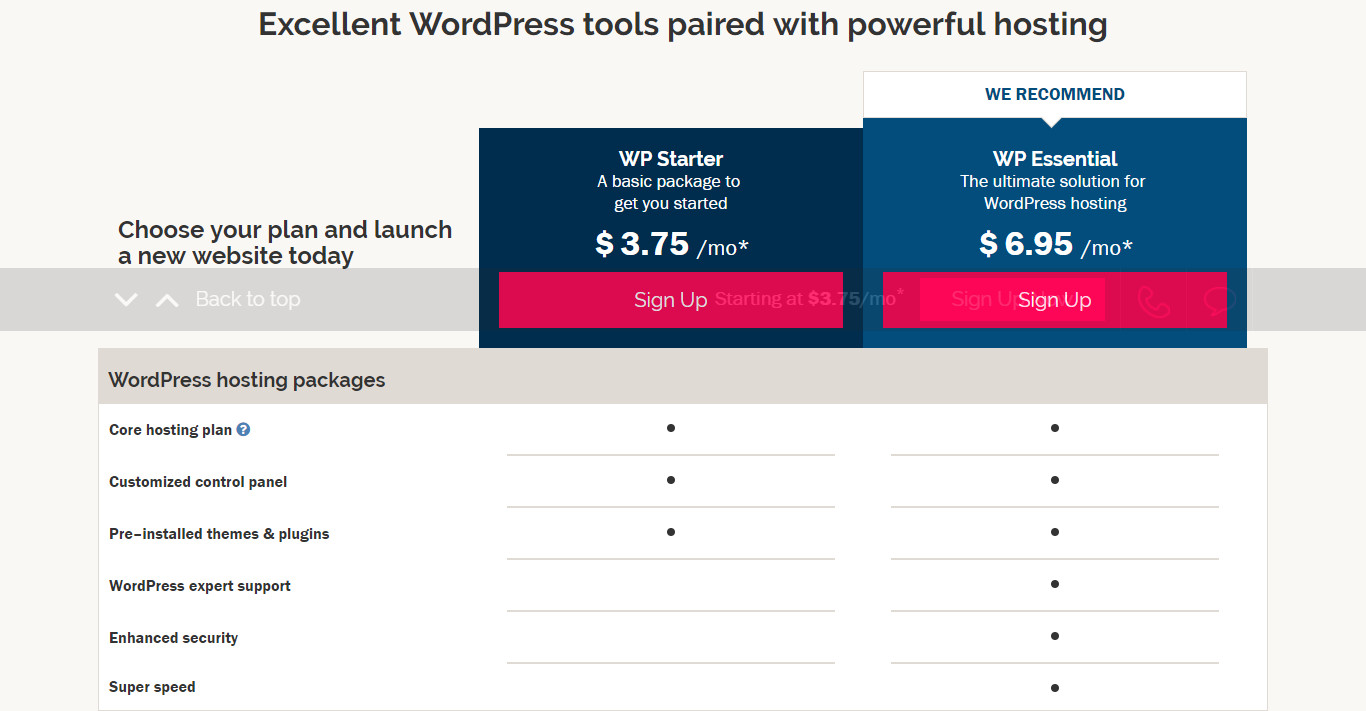 iPage has two plans for wordpress hosting.These plans are WP Starter and WP Essential. WP Starter cost you price of $3.75/month while Essential plan cost you price $6.95/month.
Free Sitelock Tool
iPage comes with free security tool. This tool protect your website from security threats. You can scan your website for Malwares direct from the cpanel. After scan you will get all the threats reports and actions to perform with these threats. You can clean your website and remove all the threats. Make your website safe with daily malware scans. Sitelock notify you in the event of any cyber attack direct to your registered mail id. You can then check your website for the attacks.
Threats are the security attacks occurs due to the presence of malwares and viruses. These viruses can change your website content and inject some unwanted codes to your websites. Sitelock protect you from all these attacks and makes your website secure and malwares free.
Justcloud CDN support
They have also a CDN support. You can integrate a CDN(Content Delivery Network) for your website. A Content Delivery Network is very useful when you want to run a blog with thousands of millions of posts. This can make your website to run very slow.
By using a CDN you can make your website to open very fast and increase your website overall performance.
Justcloud is a next generation Content Delivery Network provider. It store all your files to cloud, You can access your files from anywhere with high performance and speed. Justcloud automatically backup your website. For this hosting, they provide free plan of about 1GB storage for Justcloud. They have evrything to protect your website.
Justcloud speedup millions of websites and your website from online threats.
If you want to setup a Content Delivery Network with Justcloud, You must have account with the it. Justcloud makes your websites faster and safer.
JustCloud protect you from large number of attacks on the DNS system. This can also saves your hosting bandwidth and makes your website more secure.
Large selection of free templates
iPage hosting comes with popular collection of high quality themes. These themes are mobile friendly and responsive. You can use any of those themes as per your requirement. You can customize the themes and create a beautiful looking blog using the themes. The themes are beautifully designed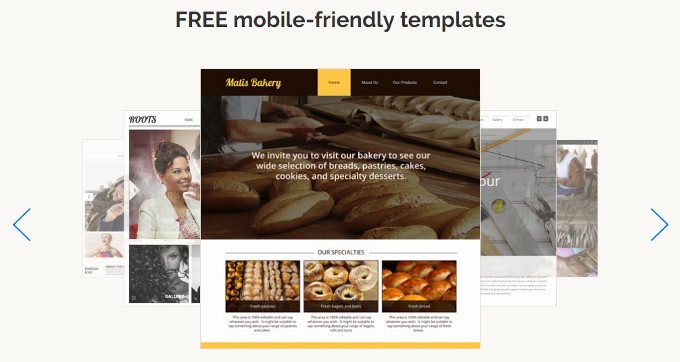 You can check all themes and select the themes best suits to your niche. Just find your theme and get started. All themes comes with some built-in features. These features can give extra functionality to your website. However, If you are using wordpress cms for your blog then you can use plugins to add extra functionality to your blog.
Dedicated Support
They have 24/7 best customer support. you can get support via chat, email and mobile/telephone. Their support time needs 5 to 30 minutes to resolve the issue. They have a professional expert of shared hosting and other hosting experts. You will get full time support for your hosting.
I hope you are able to buy ipage hosting as the best hosting for your blog setup. iPage hosting can be the most reliable hosting for wordpress blogs.
iPage Review Conclusion
iPage hosting is the best and cheapest hosting. You can create your wordpress blog using tools they provide.You can create your blog using their high quality beautiful themes. You don't need to do extra efforts to create theme for your blog. This is the most useful wordpress hosting for the beginners who want to start a blog.
This hosting is the most recommended hosting for the performance with low price. iPage osting pricing and plans are the cheapest plan as compared to the other hosting provider brands.
All these things makes iPage hosting as the worth try hosting for your website. Their shared hosting plan is the most cheapest and featured rich hosting.
If you are ready to start a blog then go to iPage hosting
Hosting comes with better speed, easy to use C-panel, High Performance and comes with best support team.
Hope this iPage review helps you to start your wordpress blog. wish you happy hosting.
If you liked this article, then please consider sharing it with your friends and leaving a comment below.
Also make sure you're following me on Twitter because I share tons of awesome resources there.