If you are an Indian and looking to start your own WordPress blog, then, HostGator India is the best option for you.
With 9 million plus domains already hosted, Hostgator is the biggest hosting provider company in the world. HostGator is the well-recognized name in the hosting industry.
Hostgator India offers you with the same hosting plans as of Hostgator US. Getting local server from your country can help you get better benefits for SEO.
The Indian HostGator website looking similar as on the HostGator US website.
Affiliate Disclosure: At Tutorialdeep, we believe in transparency for our users. In this blog, there are some referral links. If you signup with these links we will earn some commission with no extra cost to you. We recommend these links because these are our trusted brands.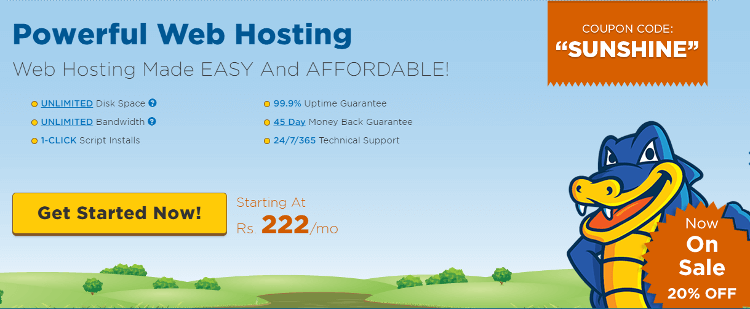 Hostgator offers the same features as of the HostGator US.
In addition to all these, your server would be located in India. If you want to target Indian audience, then you will get Good SEO benefits.
You can make payments with payment methods like NEFT, RTGS, Debit/Credit Card and Net Banking.
Get Indian HostGator Hosting Now
If you think you need your country language support, then, HostGator India is the right choice for you. They can also provide you support in the Hindi language as well.

Here, In this post, I am reviewing the shared hosting plan of HostGator India. If you are a beginner and want to start your blog, then you should start with the shared hosting and choose the hatchling plan to host your website.
You must also read:
For more information, read further to get a discount exclusive 33% discount coupon
Hostgator top blogging features
1-click software installer: There is 75 available applications you can choose to install with just one click. Install wordpress on Hostgator hosting in just single click. WordPress is the best blogging platform many bloggers using to start a website
Easy to use Cpanel User Interface: Cpanel comes with easy to use interface and with almost all the tools need to develop a powerful website.
Standard customer support: HostGator comes with standard customer support on the phone as well as chat for 24/7/365. They also give your ticket based email support.
Unlimited Bandwidth, Subdomains, Email Accounts and FTP.
HostGator India: Reliable hosting as of HostGator US
If you want to get a better hosting service, it should be reliable. A reliable web hosting provides you 100% uptime guarantee. However, HostGator India gives you 99.9% uptime guarantee, but I am using its services and never come up with any downtime with the service. You can say that HostGator India hosting is a reliable hosting as of Hostgator US.
You can say that HostGator India hosting is a reliable hosting as of Hostgator US.
HostGator Money back guarantee
Hostgator India also provides you a similar service as in HostGator US. If you buy the web hosting from them, you will get money back guarantee of 45 days. That means they are confident with their hosting services.

This gives you most trustable reason to buy Hostgator hosting. If you think for some reason, you are not satisfied with their hosting services. They will give you 100% refund amount. In my knowledge of hosting industry, no one other than HostGator gives you money back guarantee more than 30 days.
HostGator India Standard Quality Customer Support
Hostgator India offers their customers 24/7/365 phone support as well as live chat support. The live chat support may take some time to get the solution of your problem. You need to wait for live chat to get available support expert and resolve your problem.
However, if you want to get an instant support solution of your problems, you can use their phone support and call to their toll-free customer support phone number.
Anytime available phone support expert team gets your phone call and resolve all your problems in minutes. But if your problem requires some time to get resolved, the support team will generate a ticket for you to track the query for the next time you make them a phone call. The ticket based support service provides a solution with a phone call as well as with email conversation.
Get the solution of your problem at any time you can call them from day to the night. There is no limit to call and get support. They have experts provide you all support and solution.
Here is another thing you need to notice that If you call them many times to get the solution of your problems. Their hosting managers will call you, if you are getting the right solutions or not.
HostGator India Plans and Pricing
They have three shared hosting plan: Hatchling Plan, Baby Plan, and Business Plan.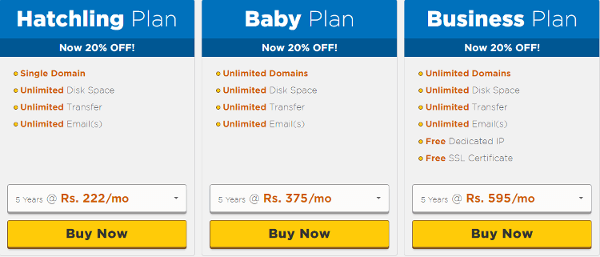 Let's describe each plan below:
Shared hosting is the environment where you have to get shared a server with other hosted website. This type of hosting suits best for the beginners who want to create a new website. If you have decided to start your personal website or blog, you should use this plan. After you get enough traffic and earn some handsome money, you can opt for VPS hosting and Cloud Hosting.
Hatchling plan: the plan cost you Rs 222/mo and best suits to beginner bloggers who want to just start their blog with a single domain. You will get a single domain, one click software install, and unmetered bandwidth with this plan.
Check Out Indian HostGator Plans and Pricing
Baby plan: The plan cost you Rs 375/mo and best for the beginner who has decided to host more than one website. The plan offers you unlimited domains, one click software install, and unmetered bandwidth.
Business plan: The plan costs you Rs 575/mo and best for the company who want to start a business. Get unlimited domains, one click software install, unmetered bandwidth. In addition to all these, you will get some extra features like private SSL and Free VoIP phone service.
HostGator India Hosting Coupon: Get 33% Discount
HostGator India offers their hosting with only 20% discount. However, if you buy web hosting from the below-given link, you will get 33% Flat off in HostGator India Hosting.
[wpcd_coupon id=19567]
Have you decided to start your own website?
Click here to get this hosting now(Discount added in this link)
Use Coupon Code: GATOR123
Use the coupon code given above, the coupon code only valid for the Shared Hosting Plan.
If you don't know how to buy hosting, you must read:
Helpful posts you must read to start your blog after you buy web hosting:
Hope, you like this review post. If you want some help you can email to Tutorialdeep mail id [email protected].
Feel free to comment below for any query. I reply fast on my social media profiles of facebook and twitter, so you can use that too.
Which Shared Hosting Plan are you using? Comment below.