Do you want to boost WordPress site vitals score?
Google Core Web Vitals becomes the main ranking factor from May 2021 to determine the rankings of websites. Every website owners want to rank higher in the Google Search engine to get higher search traffic.
There are many crazy easy speed hacks and tools that can help you to improve your site vitals score. You need to implement speed hacks and start using tools, it can definitely boost your website vitals score and make your website load faster.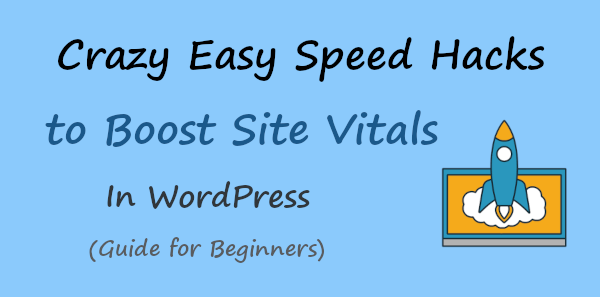 If you are using WordPress, you can easily get site vitals speed reports using the MonsterInsights plugin. After that, it becomes easier for you to identify the problems with your website that restrict search traffic to your website.
In this post, you will learn crazy easy speed hacks to boost WordPress site vitals scores. After you apply these hacks, you will see a major difference in your website loading speed.
Affiliate Disclosure: At Tutorialdeep, we believe in transparency for our users. In this blog, there are some referral links. If you signup with these links we will earn some commission at no extra cost to you. We recommend these links because they are our trusted brands.
Why You Should Boost WordPress Site Vitals Score
There are many reasons behind that and the top of them are given below:-
Improve Website Speed and Performance: It can improve your website speed and load website pages faster. When your website gets higher speed, its search engine ranking also increases.
Get More Conversions and Sales: A website with high web vital scores can give more conversions and sales. It can increase your revenue and help you earn more to grow your business online.
Improve Overall User Experience: Faster websites give a better user experience and attract more readers. You can focus more on creating quality content rather than worrying about speed.
How to Check Your WordPress Site Vitals Score
To get site vital speed reports features to your WordPress website, I recommend you use the MonsterInsights WordPress plugin. Trusted by more than 3 million users worldwide to analyze WordPress website speed and other insights. It is the #1 Google Analytics plugin to easily connect your WordPress website with Google Analytics. After that, you can easily start tracking the performance and get useful reports.
Create an Account with MonsterInsights
To start getting site speed and vitals reports on your WordPress website, you need to create an account with MonsterInsights. To create an account, open the MonsterInsights homepage and click the 'Get MonsterInsights Now' button to go to the MonsterInsights pricing page.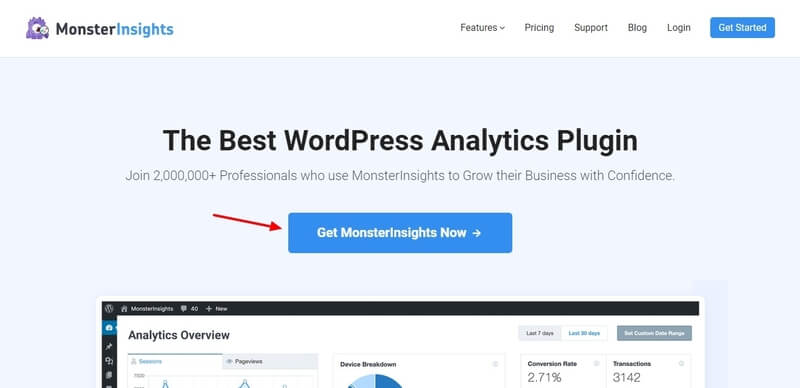 On the pricing page, there are three plans available and you have to select a plan for your account. To get the 'Site Speed Report' features on your WordPress website, you can select the lowest plan 'Plus'. The below image highlighted the 'Site Speed Report' feature in the 'Plus' plan.
However, I recommend our readers to select the 'Pro' plan that comes with all the essential features to get huge results in one single pack.
Install MonsterInsights Plugin and Connect with Google Analytics
When you have done creating an account with MonsterInsights, you have to install the MonsterInsights plugin on your WordPress website. For this, login to your WordPress admin dashboard and visit the menu option Plugins >> Add New, and search for the 'MonsterInsights' plugin.
After you get the MonsterInsights plugin, click the 'Install Now' button to install and activate the plugin on your website.
Now, you need to follow the step-by-step process of how to connect your WordPress website with Google Analytics using the MonsterInsights plugin.
Follow this guide to Connect with GA ➔ How to Connect with Google Analytics in WordPress
Enter Activation Key to Activate with MonsterInsights Account
After you have installed the plugin and connected your WordPress website with Google Analytics. You have to connect your website with your 'MonsterInsights Pro' account that you have created above.
For this, you need the MonsterInsights license key that you will get by logging in to your MonsterInsights accounts.
Furthermore, go to your WordPress dashboard menu option Insights >> Settings and click the 'General' tab option. You will get an input box where you have to enter the license key of your 'Pro' account. After that, click the 'Unlock Pro Features Now' button.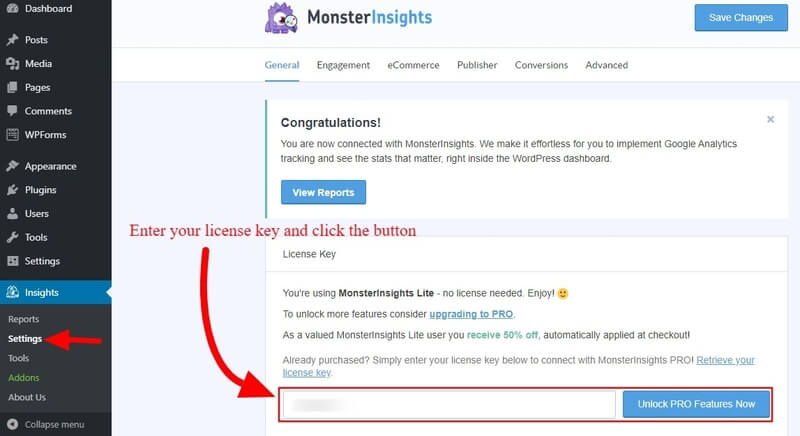 After that, you will get a popup that shows that you are going to connect your WordPress website with MonsterInsights 'Pro' account. Here, click the button 'Connect and Install MonsterInsights Pro' to complete connecting your WordPress website with your MonsterInsights 'Pro' account.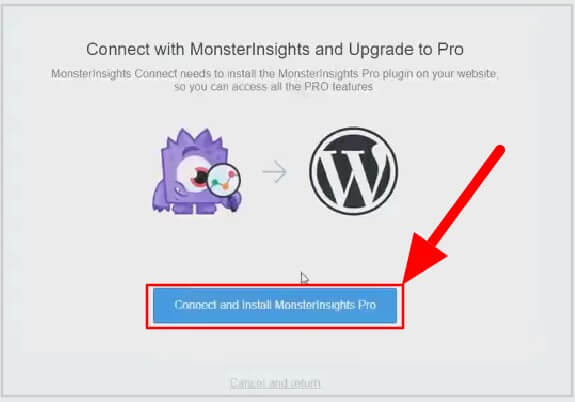 Now, you can take all the benefits of MonsterInsights 'Pro' features.
After you have done with the above process, you can return to your website to get site speed reports and Vitals on your WordPress website.
Get Overall Site Speed Overview
Now, you are ready to see the site speed reports on your WordPress website. To get the site speed reports, go to WordPress dashboard menu option Insights >> Reports as showing in the image below.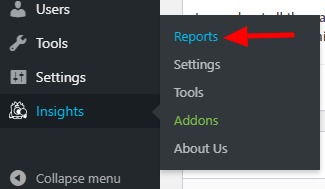 This will open the reports page where you will get many tab options and you have to click on the 'Site Speed' tab as indicated in the image below.

Here, you will get the overall overview of your website speed and Core Web Vitals. The below image shows the overall score for your site speed.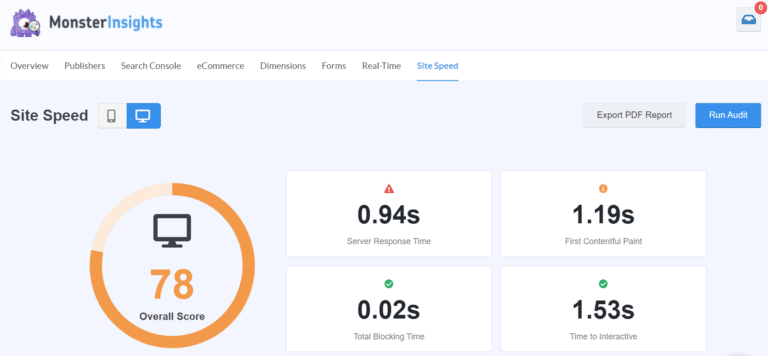 The above image shows the result that which Web Vitals gives you positive results and which gives negative ranking signals.
Important Stats and Insights to Improve Loading Speed
After getting the site speed score, you will also get useful insights to improve the performance of your website in search engines. The insights are helpful to determine the problems with the loading speed and performance on your website.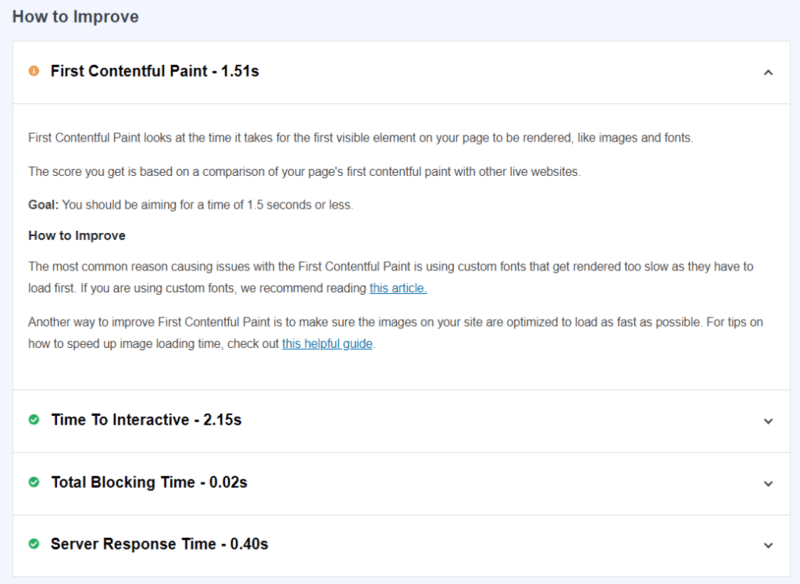 It will give you various insights like First Contentful Paint, Time to Interactive, Total Blocking Time, and Server Response Time. You can read and analyze these problems. After that, try to resolve these problems to improve the rankings of your website.
You just need to follow the recommendations and suggestions to improve the site speed score. Every single improvement counts to give you a faster loading performance and higher search engine rankings.
7 Crazy Easy Speed Hacks to Boost WordPress Site Vitals Score
Here are the easy speed hacks to boost WordPress site vitals score:-
1. Select a Faster Hosting Platform
Many beginners prefer cheaper hosting options (like Bluehost or HostGator) to start a blog. This will not create any problems at the starting days of your blogging. However, after you start getting more traffic from your blog, these hosting options are not suitable to provide enough resources to handle the traffic.
Your website needs more resources to handle more traffic that gives more conversions without any downtime. To upcome with these issues, you need one host that you can trust without losing any traffic and conversions in long run.
Always treat your website as a business to generate more revenue from it. Invest on managed cloud hosting option like Cloudways that guarantees the success of your business with worry-free user experience, faster load time, reliability, and 24/7 support.
When you consider hosting features, support, pricing, and faster load times, it's hard to beat the Cloudways Digital Ocean hosting platform. It comes with top features like 1-click backup and restores, Cron Job Manager, Free Site Migrations, Simple to Use Control Panel, Expert Support, SSD Based Hosting, Cloudways CDNs, Managed Cloud Servers, 1-Click SSL, and more.
2. Use a Caching Plugin to Speed up Your Website
To speed up your WordPress website, you can install a caching plugin that gives a faster performance. A caching plugin creates static HTML pages of all your website posts. After that, each time your readers request those pages. It will deliver the static pages that give faster load times.
WP Rocket is the #1 caching plugin because it comes with more speed features as compared to other caching plugins. It can give better results and you don't need to install more plugins, preload fonts, clean your databases, and delay JS.
Without using Caching plugin, servers have to fetch data from databases by executing queries, download several CSS & JS, and run different scripts. This may increase the load time of your websites and reduce performance. After using a caching plugin, the server doesn't need to perform that task. To deliver pages, servers only requires to fetch only the static pages after caching.
3. Use Well Optimized Theme For Faster Performance
Themes decide the overall designs of websites and you need to choose a theme that does not slow down your website. It should be well optimized and coded professionally.
Choose a simple theme with fewer animations, unnecessary Javascripts, simple layouts, and it should be easy to customize without the need for any coding. It should come with various customization options that require fewer plugins to install.
You need to start with a theme with a solid framework and lightweight in size with high performance. I recommend you choose the Astra theme that is the fastest theme with lightweight and highly customization options without the need for coding. It comes with a pixel-perfect and ready-to-use design that you can choose to quickly start with few modifications. You can also create any type of page layout for your website pages. There are many Layout Settings, Header & Footer Options, Typography, Colors, Content Width, Drag-n-Drop Builder, Live Editing, Advanced Styling, and more.
4. Optimize Image to Reduce the File Size
Images make your website posts easier to understand the topics and instructions. If you are creating an step-by-step tutorial, images can help readers to learn each steps in just a single view.
But, there are many downsides to using large-size images on your website posts. It may increase the size of your posts and makes them heavy to deliver to readers on their browsers.
If you are running an eCommerce website, you need to provide more quality product images to attract customers to attract them buy. High-quality images increase the size of product pages that can increase the load times on servers.
You need a tool that can reduce the size of images without losing quality. You can use TinyPNG to easily compress images without losing the quality of images.
For WordPress users, the WP Smush plugin is the best option to easily compress your website images. You can bulk compress images using its features on your website. After installing the plugin, your website already uploaded images are automatically compressed without the need to manually work on them. This can save your time and helps you focus more on your business without worrying about heavy images.
5. Use Asset Cleanup to Decide Which CSS and JS to Load Pagewise
You can decide whether you want to load that specific CSS or JS to a specific page or not. By loading only the required CSS and JS on the required website pages, you can improve the loading time to load faster on search engines.
If you are using WordPress, you can easily do this using the Asset CleanUp plugin. It can reduce the page size of your website by removing the files that are not required on that page. After using this, you can easily convert your slow-loading pages into a faster loading pages.
It also comes with various optimization options that are also useful to give more speed to your website. You can also use its debugging options to enable and check the errors before making the changes live to your website.
6. Regularly Update Your WordPress Website
If you are the Owner of WordPress websites, you should regularly update them with the latest WordPress versions, latest plugins, and latest themes. The new updates come with many bug fixes and reduce issues with them.
Also, it is recommended to take backups of your website files and databases before updating anything. You can use UpdraftPlus to take a full backup of your websites. After that, test each update with the frontend if gives any error to you before applying to your website. If you are getting any errors, you can keep using the latest updates.
The latest versions make sure that your website works better and faster and reduces security risks and threats. It makes your website pages load faster. Always running the latest version of plugins, themes, and WordPress. It helps you optimize the performance, adds more features, keeps your website up-to-date, and makes your website secure from threats.
7. Use CDN to Deliver Website Content Faster
CDN is a content delivery network that you can use to deliver the content of your website to your readers globally. It is a global network of multiple servers that stores your website files (like JS and CSS) and databases.
When the users request for the pages of your website, the CDN finds the nearby locations to deliver pages. It increases the speed of your website and improves the load times. If you have international users, it can be useful for you to deliver your content faster.
If you are using WordPress, you can easily start using top CDN like Stackpath (formerly known as MaxCDN) CDN. It can help you send your files to users with the closest locations of servers.
Conclusion
MonsterInsights is the best solution for every WordPress user to easily connect your website with Google Analytics. After that, you can easily start checking site speed reports and insights to improve performance. You can also follow the above useful speed hacks to boost your site vitals score.
➜ Download MonsterInsights Plugin Now
You may also like to read:
I hope you like this post on how to boost WordPress site vitals score with crazy speed hacks. If you have any queries regarding the tutorial, please comment below.
Also tell me, what other features MonsterInsights you are using on your website, do commenting below.