Do you want to know what is WooCommerce and its works for an eCommerce WordPress website?
If you want to create an eCommerce WordPress website for your business, you may definitely hear of this popular word called WooCommerce. WordPress websites need eCommerce functionality to create an online store.
When you are ready to sell your business online on your WordPress website, WooCommerce can help you easily build a store to sell products online and collect payments.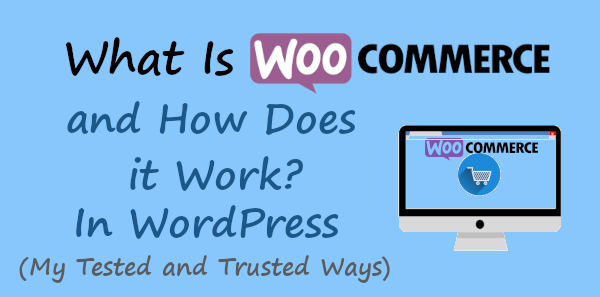 In this post, you will learn all about what is WooCommerce, its benefits, and how you can convert your WordPress website into a fully functional eCommerce store.
If you are ready, then let's get started.
What is WooCommerce?
WooCommerce is the free plugin available in the WordPress plugin repository to create eCommerce websites. The plugin comes with all the features required to sell products online.
You can easily set up your new store in minutes to start selling your products globally. It can also help you integrate your store with many payment collection options like PayPal, Stripe, Razorpay, Authorize.net, and others to easily collect payments online.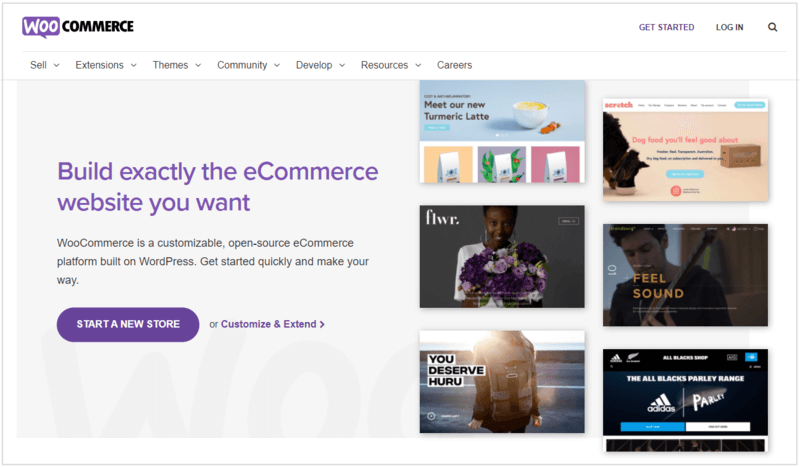 It is the most popular plugin used by many successful online eCommerce stores. WooCommerce plugin is the simplest and the easiest solution for business owners who want more features. The plugin is an open-source and easy to a customizable platform that any can use and contribute.
There are tons of other plugins in WordPress that are also developed for WooCommerce to extend its functionality. You can make your WooCommerce website more powerful using these extra created plugins. In addition to this, there is an amazing helping community of people in WooCommerce that can provide solutions to any problems fastly.
History of WooCommerce
WooCommerce is the WordPress plugin developed in 2011 by Woothemes with persons whose names are Mike Jolley and James Koster. After its development, it becomes more popular because of its simplicity and ease of use to easily create eCommerce websites.
WordPress becomes more popular for eCommerce after WooCommerce development to create eCommerce stores. Its features and benefits make it a priority for its users to start using it.
Because of its huge popularity and benefits, it is acquired by Automattic which is the main company behind the development of WordPress. After its acquisition, WordPress starts attracting more people by gaining popularity among eCommerce store businesses.
Benefits of Using WooCommerce For eCommerce Websites?
There are many reasons behind that and a few top of them are given below:-
Free and Open Source: WooCommerce plugin is available for totally free. It is an open-source plugin that anyone can contribute to improving its functionality. Open-source means you are the owner of its files and easily modify according to your requirements.
Easy to Setup an eCommerce Store in Minutes: You just need to install the WooCommerce plugin on your WordPress website to make it ready as an eCommerce store.
Can be Used to Sell Anything to the World: The plugin can be used to sell any type of product on your eCommerce store. You just need to add your products and make your website live to start selling to the world.
Amazing Helping Community: It has an amazing helpful community of people to get answers to any type of questions. You need to ask your question about WooCommerce plugin support.
Easy to Customize with no Limits: The WooCommerce plugin comes with tons of features to easily customize for your eCommerce store.
Flexible and Secure Payment Collection Options: After installing the WooCommerce plugin, you can easily integrate your store with PayPal, Stripe, Authorize.net, and others to easily collect payments online.
Easy to Extend Functionality: WooCommerce marketplace has hundreds of free and premium extensions to increase the functionality of your store. You just need to install the extension to get more features for your eCommerce store.
What Type of Products You Can Sell With WooCommerce?
You can sell any type of products you want whether it is clothes, Mobile Phones, Computers, or other products. It also requires a courier service to ship products (I Recommend Shiprocket) to the customer shipping location.
If you have digital products and want to sell them to the world, an eCommerce store made with WooCommerce is the best choice for you to sell. Digital products are easy to distribute to your customers without the need for shipping.
WooCommerce can also help you to rent your hotel rooms or sell restaurant dishes. So, WooCommerce can sell any type of product anywhere in the country.
How Does It Work For eCommerce Websites?
To make WooCommerce starts working for your eCommerce website, you have to follow the below-given steps:
Step
1

: Get a Domain Name and Hosting

A domain name (my domain name is TutorialDeep.com) in WooCommerce is the name of your store that every can remember online to visit. An easy-to-remember eCommerce store name makes it easier for customers to easily access your store online.

Hosting is the place where you can store all your eCommerce website files and folders to make it live. Here, you can easily add and edit your WooCommerce website content to make it visible in the frontend to our customers.

HostGator comes with a FREE domain name for 1 year when you buy hosting with them. More than 2 million websites are already hosted with HostGator, it is the most popular and trusted platform capable of hosting any size eCommerce website.

Affiliate Disclosure: At Tutorialdeep, we believe in transparency for our users. In this blog, there are some referral links. If you signup with these links we will earn some commission at no extra cost to you. We recommend these links because they are our trusted brands.

You can easily get a domain name that is the name of your WooCommerce store and a hosting to store your files. HostGator is the most secure and faster platform that comes with an easy-to-use control panel to easily manage your website data. It comes with Free SSL Certificate, Unlimited SSD Storage Space, Ultra-Fast Servers, Unlimited Bandwidth, Free CDN, and more on one single platform.
Step
2

: Install WordPress CMS Platform

WordPress is the best CMS that you can use on your WooCommerce store to easily manage your eCommerce website content. After getting your domain name and hosting with HostGator, you can easily install WordPress on your website with just a single click using the HostGator control panel.
Step
3

: Install WooCommerce WordPress Plugin

After you have completed installing WordPress CMS on your website, you can easily add eCommerce functionality to your WordPress website by installing WooCommerce plugin. When you are installing the WooCommerce plugin on your website, you are actually adding eCommerce functionality and features to your website.

To install the WooCommerce plugin on your website, you have to visit your WordPress website dashboard menu option Plugins >> Add New. You will be taken to a page where you have to search for the 'WooCommerce' plugin. After you get the plugin, click the 'Install' followed by clicking the 'Activate' button to complete installing the plugin.
Step
4

: Install a Best WooCommerce Ready Theme

There are many themes available in the WordPress themes repository. But, you need to find the best WooCommerce theme for your online store. It should provide every customization option to easily design your website without the need of writing a single code.

You can start with using a free WooCommerce theme for basic features and the best premium themes for more advanced features.
Step
5

: Extend the Functionality of Your eCommerce Store

There are tons of free plugins and the best premium WooCommerce plugins already developed and available to get and use. You can easily extend the functionality of your WooCommerce store using these plugins.

If you want to get more extra features with these plugins, they are also come with many extra available add-ons to add more features as per your requirements.

So, WooCommerce has no limit to creating any type of store with any type of fetures and functionality. You just need to go through the features of the plugin and start using it for your WooCommerce WordPress website.
What Can WooCommerce Plugin Do?
There are tons of features available with WooCommerce and a few tops of them are given below:-
Easy to Setup with WordPress
You can easily set up with WordPress using its free and open-source WooCommerce plugin for WordPress. You just need to install it on your WordPress website to get every feature required for an eCommerce website.
Easy Customization and Settings Options
In WooCommerce setting options, you can easily add your store address, selling countries, enable coupons, default currency of your store, Product Measurements, Ratings, Manage Stocks, Notifications, Shipping Zones, Payment Options, Accounts & Privacy, Emails, and many others.
With its customization options, you can easily make various customizations like Store Notice, Product Catalog to Display Products on the Shop Page, Image Sizes, and Checkout Options. You can also extend customization options by using free and premium themes specially made for WooCommerce.
Add and Manage Products with Categories, Tags, and Attributes
If you have products and want to sell on your WordPress website, WooCommerce adds features to easily add and manage all your products. The feature also comes with adding categories and tags for your products to easily arrange them in your store.
Categories help you easily define the type of products that makes it easier for customers to find them. Each product needs its category to easily place it one your online WooCommerce store.
Attributes are useful when you want to add variable products to your WordPress website. When your products have variations like Color, Size, and other varieties, you can easily add them using attributes features of WooCommerce.
Customer Management
Your customers can easily create their accounts with your WooCommerce stores. This can help you to retain regular customers for your store. Each customer can create their username and password that gets saved in a separate section on your website.
It helps you easily manage your customers in one place and find them easily on your store. You can also analyze customers about the products and revenue your customers have given to you.
This helps you easily get the top-performing customers and their interest in your products. After getting the requirements, you can create similar products to increase the revenue of your store.
Easy Order Management
When customers made orders, you will get all the orders within the WooCommerce section of your WordPress website dashboard. After that, you can easily manage and process orders to complete till they are shipped to customer's addresses.
You can also add manual orders for your customers directly from your dashboard to easily manage offline orders from your online store. It makes it easier for you to easily manage your product orders from one single place.
Coupons Management
WooCommerce adds a separate section for coupons on your WordPress website dashboard. You can easily add coupons according to your requirements from there. It helps you adds discounts for your customer for an unlimited or limited period of time.
You can also add Maximum Spend, Minimum Spend, products, and products categories where you want to show your coupon on your WooCommerce website.
Easy Tax Management
If you want to manage taxes with your eCommerce store, you can easily perform this task using the WooCommerce plugin on your WordPress website. It comes with a separate section for tax management in its setting options.
You can easily make settings like display products with taxes, Calculate Taxes Based on Shipping or Billing Address, Additional Tax Classes (GST, SGST, etc.), and other useful setting options for tax management.
In addition to this, you can also set Countrywise Tax Rates, Reduced Rates, and Zero Rates.
Zonewise Shipping Calculator
WooCommerce provides shipping features to set whether you want to give free shipping or flat rates to your customers. You can set zone-wise shipping rates to ship your products to your customers. It requires adding shipping zones in the Shipping setting option of WooCommerce.
You can also set whether you want to add a shipping calculator to your cart page. It automatically calculates the shipping rates according to the customer's shipping or billing address you select.
Different Payment Collection Options
It comes with different payment collection options that you can activate to easily collect payments from your customers. You can enable Cash on Delivery, Check Payments, Direct Bank Transfer Payments.
You can also extend the functionality by adding more plugins to collect payments with Razorpay, PayPal, Stripe, and many other options that make it easier for WooCommerce store owners to get paid.
WooCommerce Transactional Emails to Customers
WooCommerce can give email notifications to customers when they create a new order on your online store. It also can give email notifications of the status of their orders when the order is in processing state, shipped, or completed.
You will get a separate setting option to easily modify your email notification templates, header logo, From email address, and styling for professional-looking emails. If you want to get the status of your email notification, you can enable that too with the WooCommerce email setting option.
API Integration Options and Webhooks
API integration is the best option when you want to manage your store data from external apps (like mobile apps). You can also integrate with third-party applications using WooCommerce Webhooks to send event notifications. So, there is no limit on WooCommerce to do with it what you want to do.
WooCommerce Analytics and Reports
You can easily find the performance of your WooCommerce store from your WordPress website dashboard. The analytics and reports section gives you reports on getting the product gives you more sales. After getting the most popular products, you can create more similar products to easily generate more revenue.
It can also help you get useful insights into your customers and the revenue you have to generate with them. After getting useful customer insights, you can connect with your customers to get more similar requirements to get more sales.
Tons of WooCommerce Add-ons to Extend Functionality
There are hundreds of free and premium plugins already developed for WooCommerce. Each plugin comes with some useful features to add to your WooCommerce store. You just need to find the best plugin and install it on your WooCommerce store to add more functionality.
I hope you like this post on what is WooCommerce and how does it work. If you have any queries regarding the tutorial post, please comment below.
Also tell me, what type of store you have that you have created using the WooCommerce plugin. Do comment below with your store name. I can help you with all your problems related to your store to resolve.
You May Also Like to Read