Do you want to extend the functionality of your eCommerce website with the best free WooCommerce plugins? Are you looking to increase your sales?
You can easily increase the features of your WooCommerce website to gain more customers for your online store. Plugins can improve your WooCommerce store customer experience and increase conversion rates.
But, you need to choose the plugin that can make your WooCommerce store more powerful to generate more revenue. It should give you meaningful features without overloading your eCommerce store.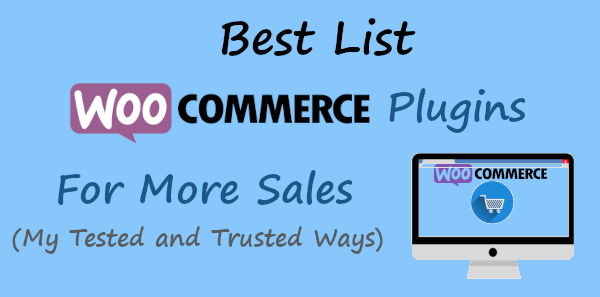 In this post, you will get the list of the best free WooCommerce plugins that I have already tested in many WooCommerce stores. So, let's get started.
Top 21 Best Free WooCommerce Plugins For More Sales and Conversions
1. WP Mail SMTP (For Integrating SMTP with WooCommerce)
WP Mail SMTP is the well-known plugin to easily integrate SMTP for your WooCommerce website. When your server email service is not working for your store, you can use it to easily integrate SMTP of Gmail, Sendinblue, SendOnline, Mailgun, etc.

Online stores require emails services to send emails to their customers to notify the status of their orders. Emails are the essential part of proper communication between store owners and customers till sales generation.
The plugins help you quickly connect with well-known STMP services to start email services to WooCommerce stores. After using the plugin, you can ensure the delivery of emails to your customers and focus more on creating more products. Its premium plan starts from $49/year.
2. Omnisend (Best Free WooCommerce Plugins For eCommerce Email Marketing)
Omnisend is the top email marketing platform for WooCommerce stores to generate more sales. After signing up with Omnisend, you can easily connect your online WooCommerce store to import your customers, products, and cart orders to easily add them to your emails to send to your customers.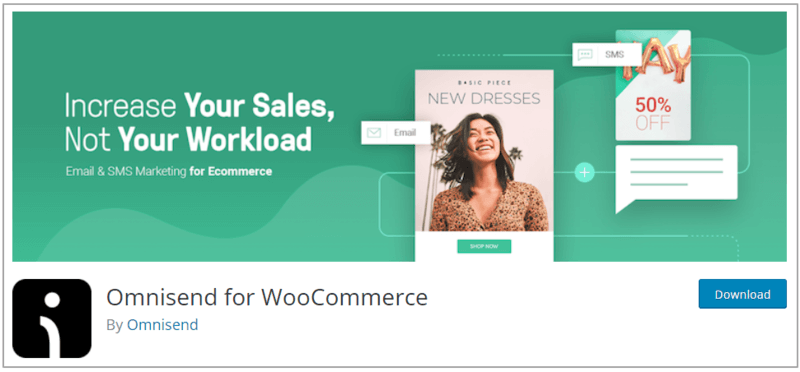 It is an all-in-one eCommerce marketing platform for Email Marketing, SMS Marketing, and Marketing Automation. Omnisend is the most trusted platform for WooCommerce for seamless communication with your customers.
If you want to use it for free, you can start with its free plan to get its basic features with 500 emails/month, 60 SMS, and 500 Web Push. Its premium plan starts from $16/month for advanced features.
3. OptinMonster (For Lead Generation)
OptinMonster can be the best choice for you when you want to generate more leads and convert them into customers. It's Exit-Intent Technology that easily converts your customers into leads when they want to abandon your cart or website.
It is the #1 lead generation plugin for WooCommerce websites to grow your email list and increase sales. If you want to confidently grow your online store, OptinMonster is the must-have plugin for your business.
The plugin comes with top features like Lightbox Popup, Exit-Intent Technology, Fullscreen Welcome Mat, Content Locking, Multi-step Popups, Countdown Timer Popups, and many more. Its premium plan starts from $9/month.
Learn:- How to Quickly Create Exit Popups for WooCommerce
4. MonsterInsights (Best Free WooCommerce Plugins For Integrating Google Analytics)
MonsterInsights is the #1 Google Analytics plugin that helps you easily analyze your WooCommerce website traffic. You easily connect your WooCommerce website with Google analytics and get real-time reports and enhanced eCommerce tracking.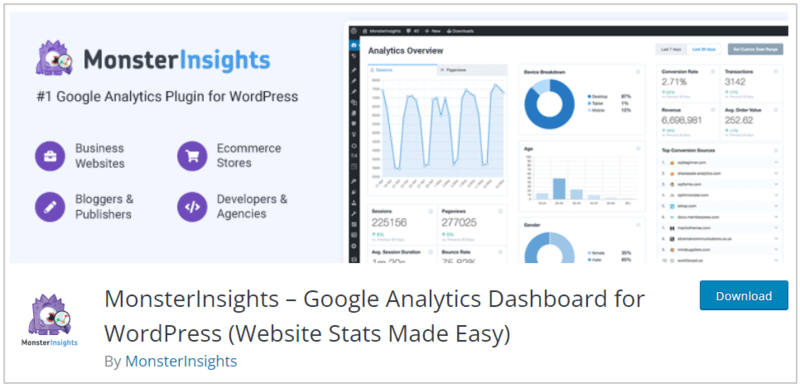 It comes with many analytics features and insights on your website traffic. You will also get useful suggestions with insights. After getting these actionable insights, you can work on it to easily improve your website performance to generate more revenue.
You will get many analytic reports like Pagewise Tracking, Event Tracking, Google AMP Tracking, Real-time Customer Behavior, and many more. Its premium plan start from $99.50/year.
Learn:- How To Add Google Analytics in WooCommerce
Checkout field editor for WooCommerce is the plugin to easily edit the checkout form on your WooCommerce store. If you want more custom fields to get from your customer during the checkout process, you can use this plugin.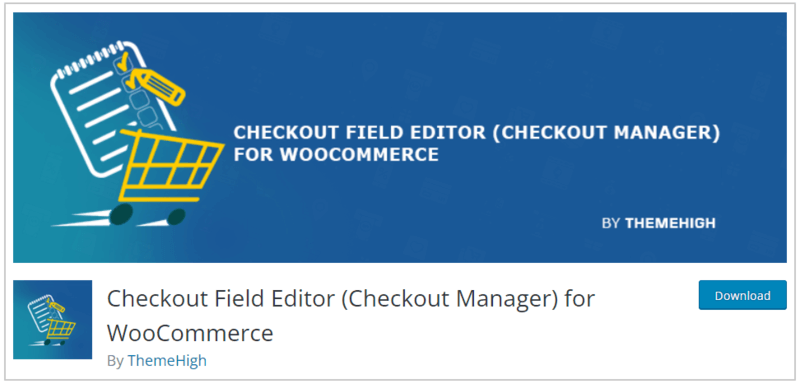 You can edit every part of the checkout form on your WooCommerce store. If you want to enable or disable the fields of your checkout form.
In addition to these, you can also add more fields to your checkout form to get more custom data from your customers. It gives you features to change both billing and shipping form fields on your eCommerce checkout form. Its premium plan starts from $49/year.
6. YITH WooCommerce Wishlist (Best Free WooCommerce Plugins to Add Wishlist Option)
YITH WooCommerce Wishlist adds a wishlist icon to each product to click and save products in a separate list. After adding the products to a wishlist, customers can buy them later or share them with their friends on social media.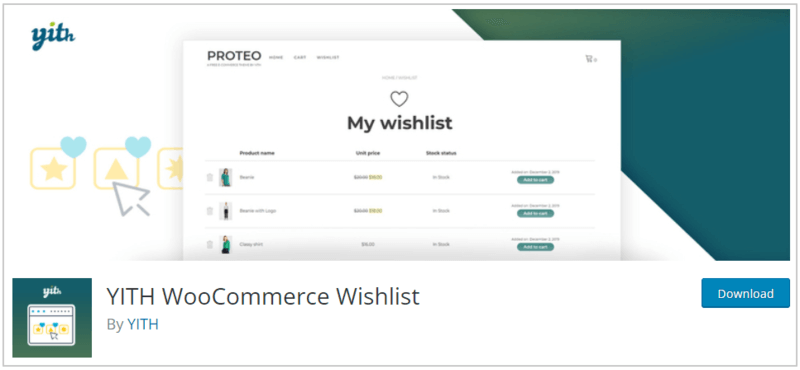 It is the most popular tool for WooCommerce online shops to help customers create a collection of their wishlists on a separate page. If the product is not in stock, customers can ask store owners to make it available for buy.
The plugin comes with many features like showing the 'Add to wishlist' button on the shop & product page, selecting a page for wishlist, and many others. Its premium plan starts from $94.99/year.
WooCommerce Quote or Enquiry Contact Form 7 is the easiest way to add a custom inquiry form to your product pages. You can create an inquiry form using Contact Form 7 and select the form using the setting options of the plugin.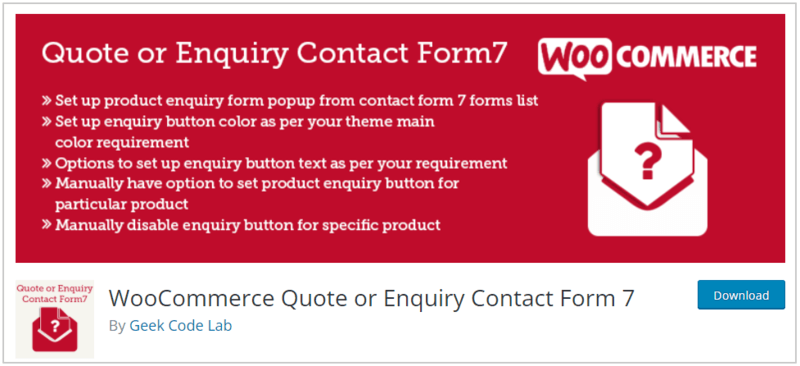 If you want to capture product title, price, and other dynamic fields with the inquiry form, you can use the Contact Form 7 Dynamic Text Extension.
You can make settings like showing the inquiry button in the product single page & list page, changing button color & text, and selecting contact form 7 forms. It is an open-source plugin available for free to use.
Variation Swatches for the WooCommerce plugin help you display variations in the Color, Image, and Buttons format in the product page and the shop page.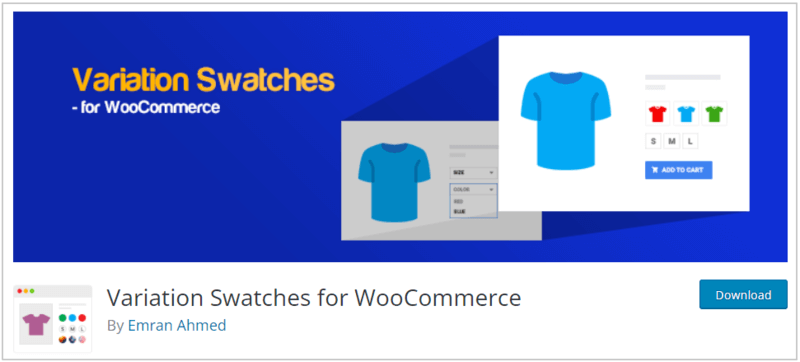 The default display of variations in the product page is the dropdown format. To make it more attractive, you can change the dropdown into beautiful-looking colors, small images, and buttons.
You can make the variations rounded or squared shape, change the behavior of variations, and other useful settings. If you want to make styling and other advanced settings, you can use its premium plan that starts from $49/year.
9. ShipRocket (eCommerce Shipping Solutions)
Shiprocket is the #1 all-in-one shipping solution to ship your products to your customer's locations. It provides both national as well international courier services for eCommerce stores with the widest reach.
You will get many options for your WooCommerce store to sync with ShipRocket using its plugin. After you made a sync, it adds an input box to your WooCommerce store product pages. Customers can check Pincode availability for a courier that is directly showing from ShipRocket.
Its network is spread over 220 countries with around 29,000 pin codes coverage. With features like Orders Sync, Order Invoices & Label Generation, Integration with Top 17 Courier Partners, Reduced Shipping Costs, and many more. Its premium plan starts from $26.38/month.
10. RazorPay For WooCommerce (Best Free WooCommerce Plugins for Integrating Razorpay Payment Gateway)
RazorPay For WooCommerce helps you to collect online payments through Netbanking, Credit/Debit Card, UPI, and many more. It's one of the best options to easily get paid from your WooCommerce store online.

You can easily connect your WooCommerce store with Razorpay and start collecting payments from your customers. It comes with a free plugin to install and connect your WooCommerce store with Razorpay.
The platform charge 2% of every transaction made on your WooCommerce store. Razorpay has certain transaction limitations for payment methods that you can increase by contacting them.
11. GTranslate (For Multilingual Websites)
GTranslate is the best option for WooCommerce stores to create a multilingual website for customers. You can make it easier for customers to convert store language to their native language.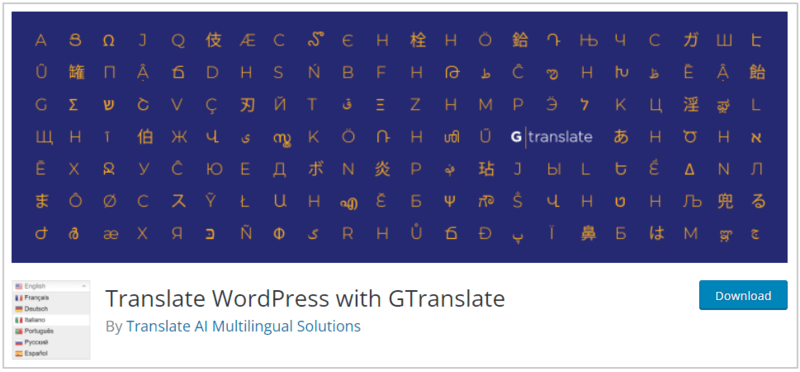 If you want to generate more sales and gain more customers internationally, you have to make your WooCommerce store multilanguage-ready. The plugin adds a dropdown to your website that customers can click the get store in their native language.
It is an automated Google language translation service to increase sales and customers internationally. With 103 languages available to convert, it's the easiest to integrate a system for eCommerce websites.
YITH WooCommerce Product Gallery and Image Zoom plugin helps you add a zoom effect to give the real appearance of products. It adds a lightbox with product images to the large size of products to attract customers.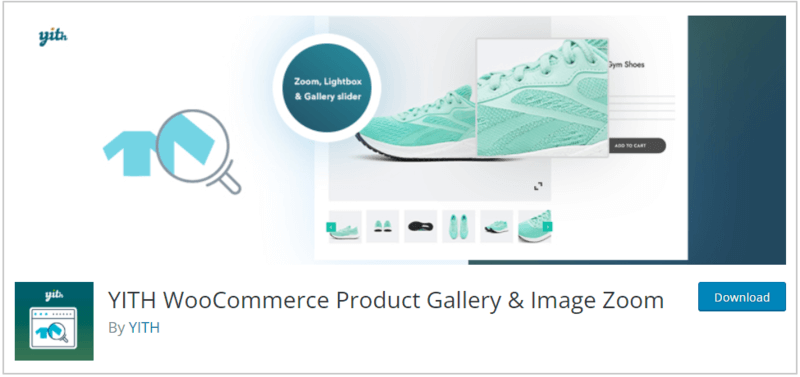 It displays the custom shape and color on hover over the product thumbnails. If you want to show the zoom effect internally or externally, you can make the setting option too.
Customers who read the product details also want to see the quality of the product. Zoom effect attracts customers by showing them the real product view to give the feel of touch for a better customer experience. Its premium plan starts from $59.99/year.
Stripe Payment Gateway is the online payment processing system for WooCommerce to collect payments. It helps you easily integrate Stripe API to accept payments and send payments for your businesses.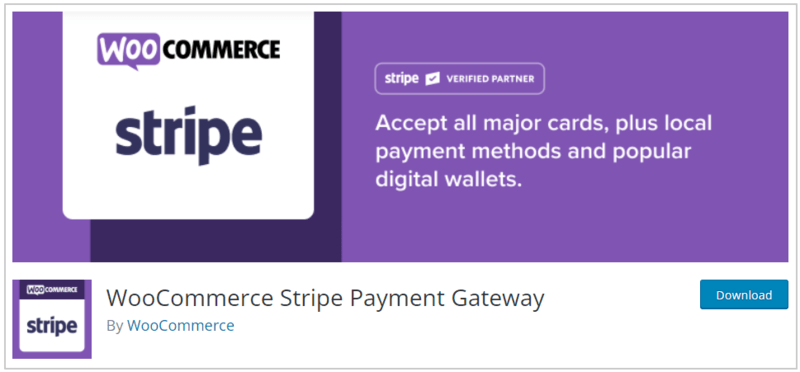 If you have an online WooCommerce store, you can easily collect payments from your customers to get paid for your hard work. It is available to accept payments from almost every country and many payment options like a credit card, Visa, MasterCard, American Express, Discover, JCB, Diners Club Cards, and Bitcoin.
It has no monthly fees, setup fees, or support fees to integrate with your WooCommerce store. You will only get charged when customers made payments using the Stripe method on your store.
14. WooCommerce PayPal Payments (Best Free WooCommerce Plugins for Integrating PayPal)
WooCommerce PayPal Payments is the all-in-one sollution for online stores to collect payments from your store. It has many secure payment collection options that get paid directly from your store.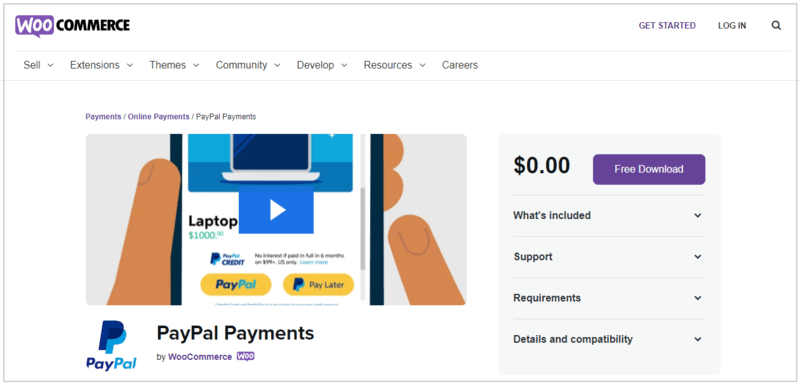 Many shoppers like to make payments through the PayPal method as it has a country-specific option to collect payments internationally. PayPal is the most popular payment method with trusted payment options like PayPal, Venmo (US only), Pay Later Option (US, UK, FR, DE, and AU), and Credit/Debit Cards.
It can also easily identify the location of the customers to provide country-specific payment options. It has some fixed fees according to the country received from your store.
WPForms is the best drag-n-drop form builder plugin for WordPress to create beautiful-looking forms in minutes. You can easily create Contact Forms, Customer Registration Forms, Enquiry Forms, Payment Collection forms, Multi-page Forms, File Upload Forms, Survey & Poll Forms, and many others.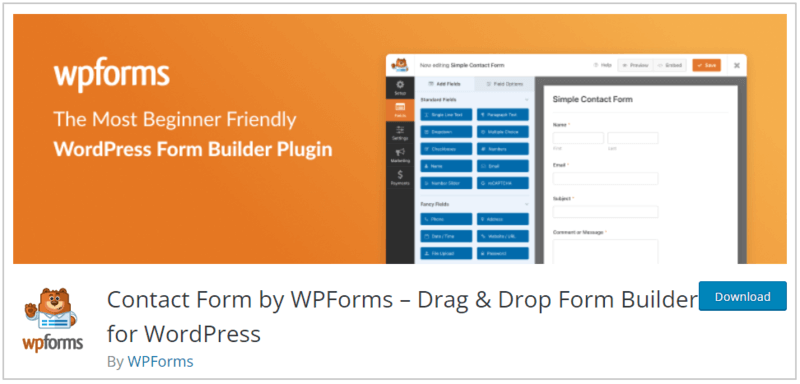 If you want to collect payments through your online forms, it has many integration options with online payment collection methods like PayPal, Stripe, Square, and Authorize.net Addon.
You can also integrate it with many email marketing platforms like Mailchimp, Sendinblue, Constant Contact, and Many Others. This helps you easily convert your visitors into leads. After that, you can send them offers and discounts to convert them into customers.
16. LiveChat (Add Chat Widget on WooCommerce Store)
LiveChat is the best live chat plugin to easily integrate live chat support to your WooCommerce website. If you want to provide instant communication to your customers, you can easily add a live chat widget with a ticketing system 24/7.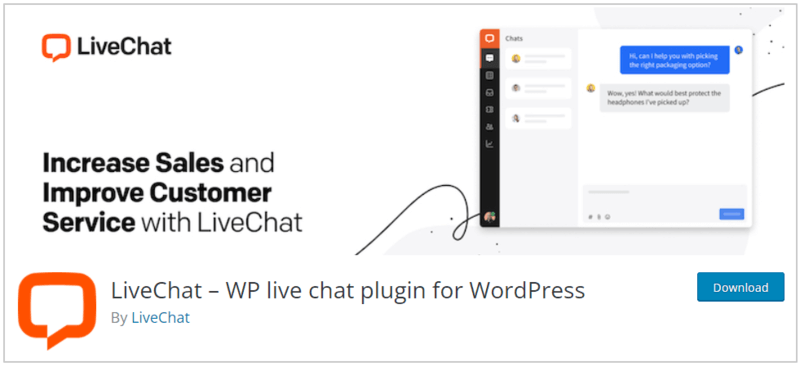 You can easily add a chatbox below your website to provide customer support to your customers. It also generates tickets when your team is not available for giving answers. After creating tickets, you can take follow-ups and provide answers to solve the problem of your customers.
It helps you generate more leads from your website and gain more customers for your business. You can also integrate it with your favorite apps like Constant Contact, Salesforce, Hubspot CRM, Mailchimp, Social Media Platforms, and others.
WooCommerce Quick View is useful to immediately display the details of a product on the shop page. It adds a quick view button with each product that customers can click to see the details and description of products.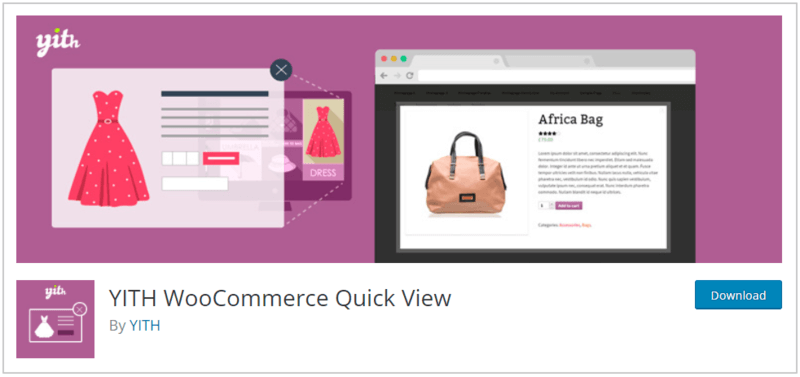 Usually, to see the details of the products, customers have to click each product one by one to see the product description. The quick view makes it easier to see the details without the need to visit the product page.
The quick view button displays the popup for the single product that contains the product name, image, price, description, and add to cart button to immediately add the product to the cart. This can increase sales of your WooCommerce store.
WOOCS Currency Switcher for WooCommerce is a multi-currency switcher plugin to set product prices with real-time currency rates. You can easily add any currency to allow customers to switch and pay.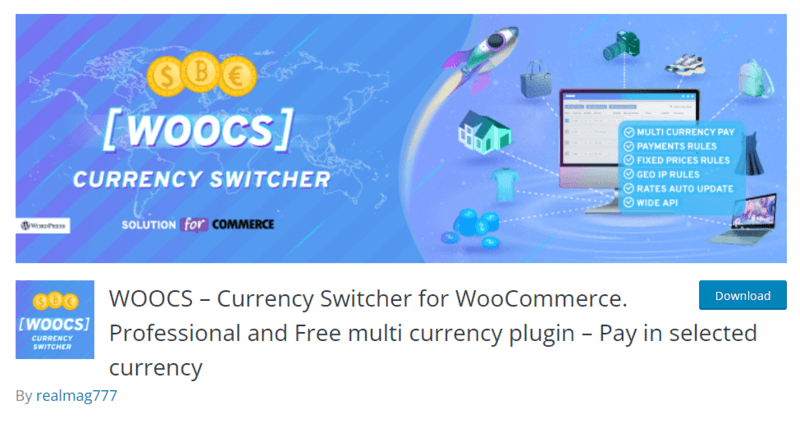 It helps you increase more sales by allowing customers to pay in their currencies. You can easily add it to any place of your site using ajax shortcode or widget of the plugin.
The plugin provides many design variations like Dropdowns, Flags, and Side-switcher. Its currency rates are also updated regularly and you can also set the rates according to your requirements.
WooCommerce Cart Abandonment Recovery helps you capture customers that are about to purchase your products. It sends automated recovery emails with unique checkout links, gives reports, Ready-made emails template for follo-ups, and more.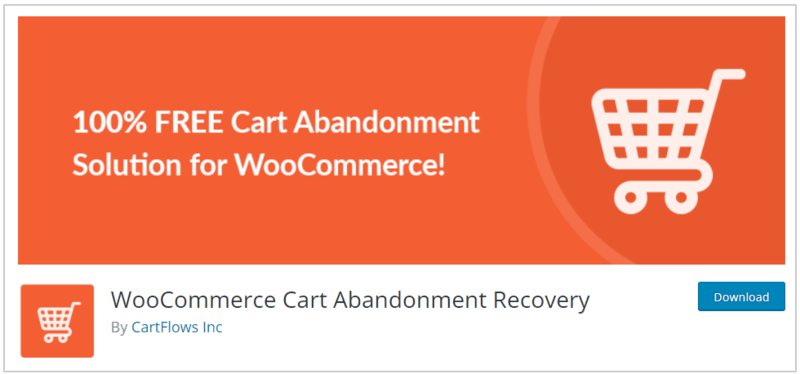 Around 70% to 80% of customers add products to the cart and go to the checkout page for purchase. But, they do not complete their purchase and abandon your cart without giving any reasons.
The plugin captures these customer's email id during the checkout process and sends emails to recover abandonment. It sends emails with the purchase link of the checkout page where your customers abandon your cart. You can set up follow-up emails according to your requirement to send to your customers automatically.
WOOF Product Filters for WooCommerce add many filter options for your customers to search. Customers can easily filter your products by Category, Attributes, Tags, Custom Taxonomies, and Price.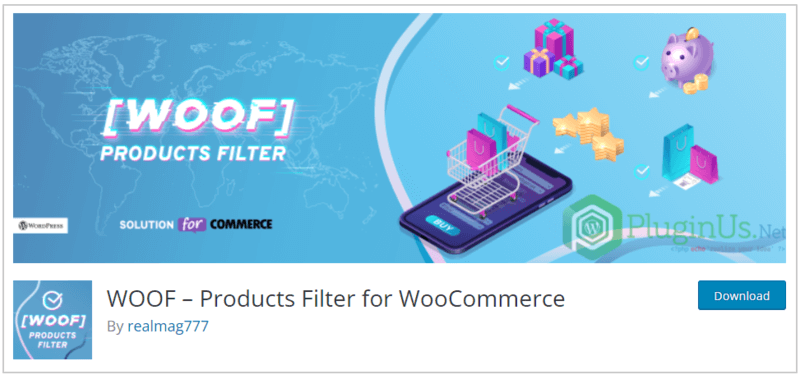 You can display product Filter Anywhere on Site in the format of Radio Buttons, Dropdowns, Multi-dropdown, and Checkboxes.
The plugin has many features like Product Search by Ajax, Dynamic Product Recount, Search Product by SKU & Price, Product Text Search, Quick Search, Product Messenger, and more.
Conclusion on Best Free WooCommerce Plugins
WordPress requires a WooCommerce plugin to create an eCommerce platform from it. You can make your online store more powerful with the above plugins and easily extend its functionality.
Omnisend can be the best email marketing option for the WooCommerce store to gain more customers for your business. All plugins given above give different features and functionality. You need to decide which feature you want to add to your WooCommerce store to select the plugin.
You May Also Like to Read
If you think we have missed some other useful plugins, you can comment below. We will add it to the above list when found useful for our audience.
Also tell me, whats plugins you are using on your WooCommerce store. Do comment below.