Do you want to join the best affiliate network? if yes, then you should sign up ShareASale affiliate network. ShareASale is the most popular, trusted, and one of the most reputed network to join.
You can earn easy money after you sign up ShareASale affiliate network. Joining an affiliate network is the best way to monetize your blog from the first day. If you are a blogger then its highly recommended to start affiliate marketing to make money.
Affiliate marketing is the way of earning money by promoting someone else product. In this post, you will learn everything about ShareASale affiliate marketing to earn money. So, let's get started.
What is ShareASale Affiliate Network
ShareASale is the popular affiliate marketplace where you can find 2500+ merchants. After that, you can start promoting them on your blog to earn money.
It offers services to Affiliate Marketers or bloggers and Merchants or product creators. Affiliate marketers join ShareASale to find products to promote and earn money. Merchants join ShareASale to get traffic from the blogger's website and sell their products.
Here is my earning proof of ShareASale affiliate. See the screenshot given below.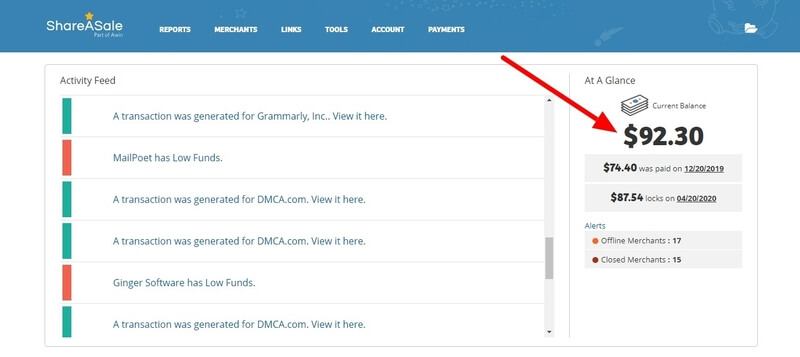 There are many types of affiliate programs given below are available to make money in commission.
1. Pay-per-lead:- The pay-per-lead affiliate programs pay you a commission when someone signup with the merchants for free.
2. Pay-per-sale:- The pay-per-sale affiliate programs pay you when someone buys the product.
Why ShareASale is the Best Affiliate Marketplace to Join
There are many affiliate networks that you can join. However, I recommend you sign up ShareASale affiliate because of the following reasons.
Easy to use interface for affiliate marketer to easily find merchant products.
There are almost many products available for every type of niche.
You can easily find affiliate links and coupons to add on your content and earn money.
It offers both pay-per-sale and pay-per-signup programs to earn easy money.
Realtime reports to track your earnings and affiliate link clicks to improve your performance.
In addition to above all, you can also earn easy money by just writing reviews for affiliate products. There are many merchants like Grammarly, WPForms, Tailwind, which offers you to start earning instant money from the first day of approval.
Disclosure: At Tutorialdeep, we believe in transparency for our users. In this blog, there are some referral links. If you signup with these links we will earn some commission with no extra cost to you. We recommend these links because these are our trusted brands.
Requirements You Should Know Before Sign up ShareASale Affiliate
Before you join ShareASale, you should know the requirements of joining it to get approval.
To get approval, you need to have a website where you can promote merchant products. If you don't have any website or blog, you can read our step-by-step guide on how to start a website in just 15 minutes.
Don't use Gmail and other free email ids for ShareASale signup. Use domain-specific email ids like [email protected] After starting your website, you can easily create a domain-specific email id.
Provide exact information about yourself and your website. Any wrong information could lead to the rejection of your application.
How to Sign Up ShareASale Affiliate to Make Money
First of all, open the ShareASale website to create a free account.
After you open the website, click the link 'Affiliate Sign Up' indicated below to signup as an affiliate marketer.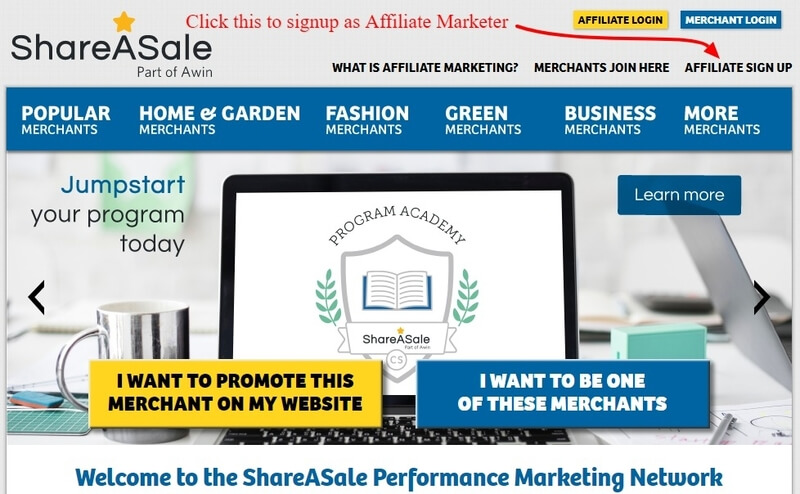 This is the 1st step where you have to enter your ShareASale login username and password. Remember to keep them to make login to ShareASale account after approval. Select your coutry in the dropdown indicated in the image below.
Click 'MOVE ON TO STEP 2' to move to the next step.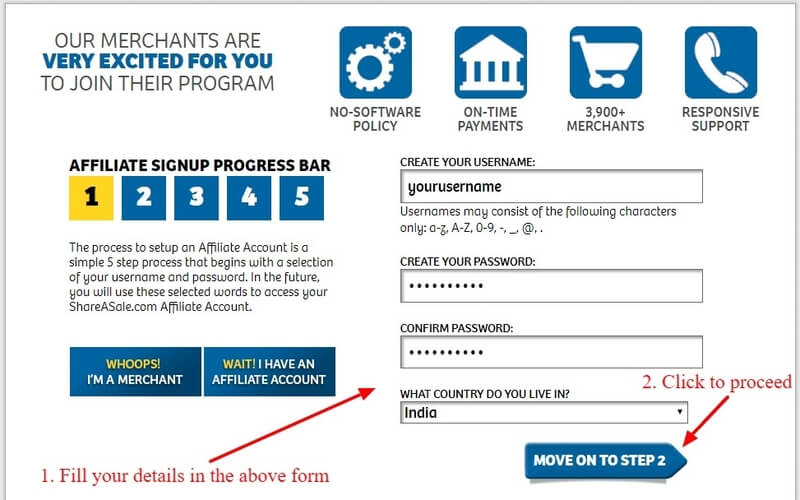 Now, in the 2nd step given below where you have to provide your blog or website name. If you don't have any website, you can read our beginners guide on how to start a website.
After you have a website, provide it in the place indicated below.
Click 'MOVE ON TO STEP 3' to move to next step.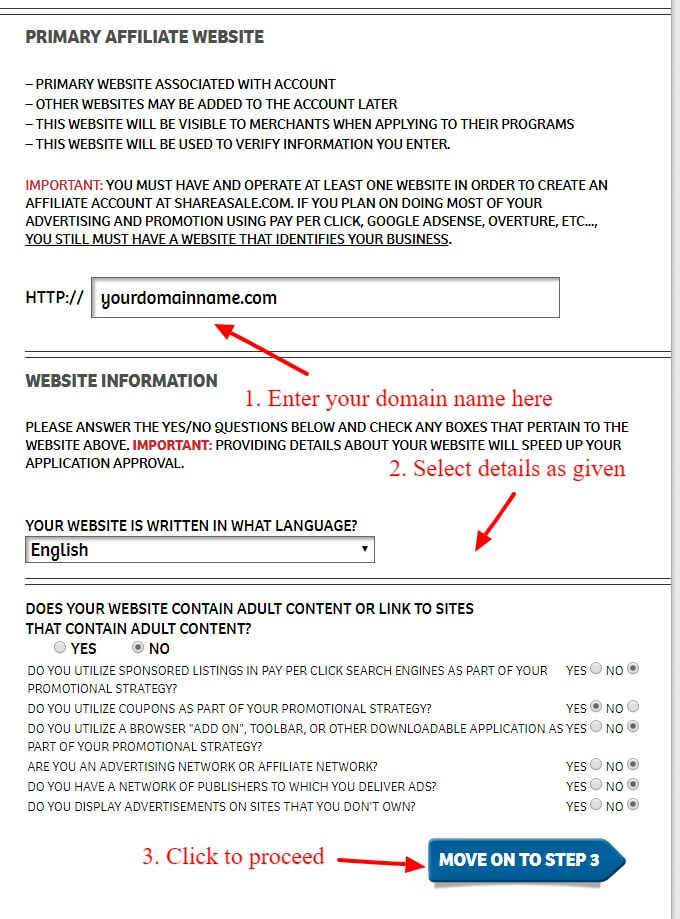 The 3rd step requires a domain-specific email id to provide in the input box indicated below.
After that, click 'MOVE ON TO STEP 4' for next step.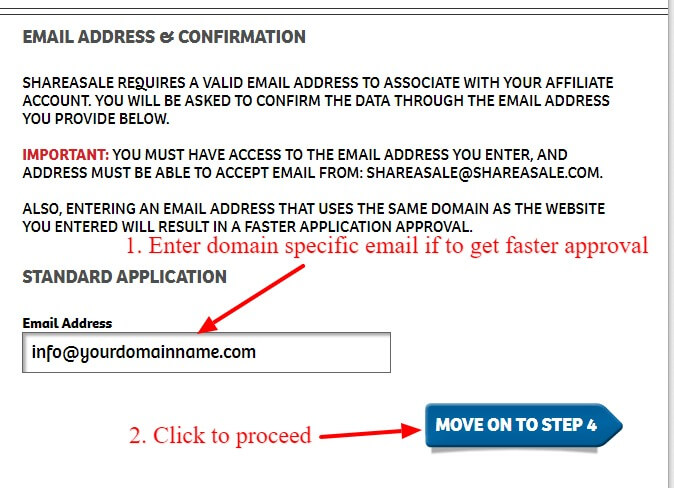 In this step, you have to provide all your contact information as indicated below. Enter a 4-digit support and describe your website in the input box given below. Choose the option 'I verify that I own the domain yourdomainname.com' for domain ownership.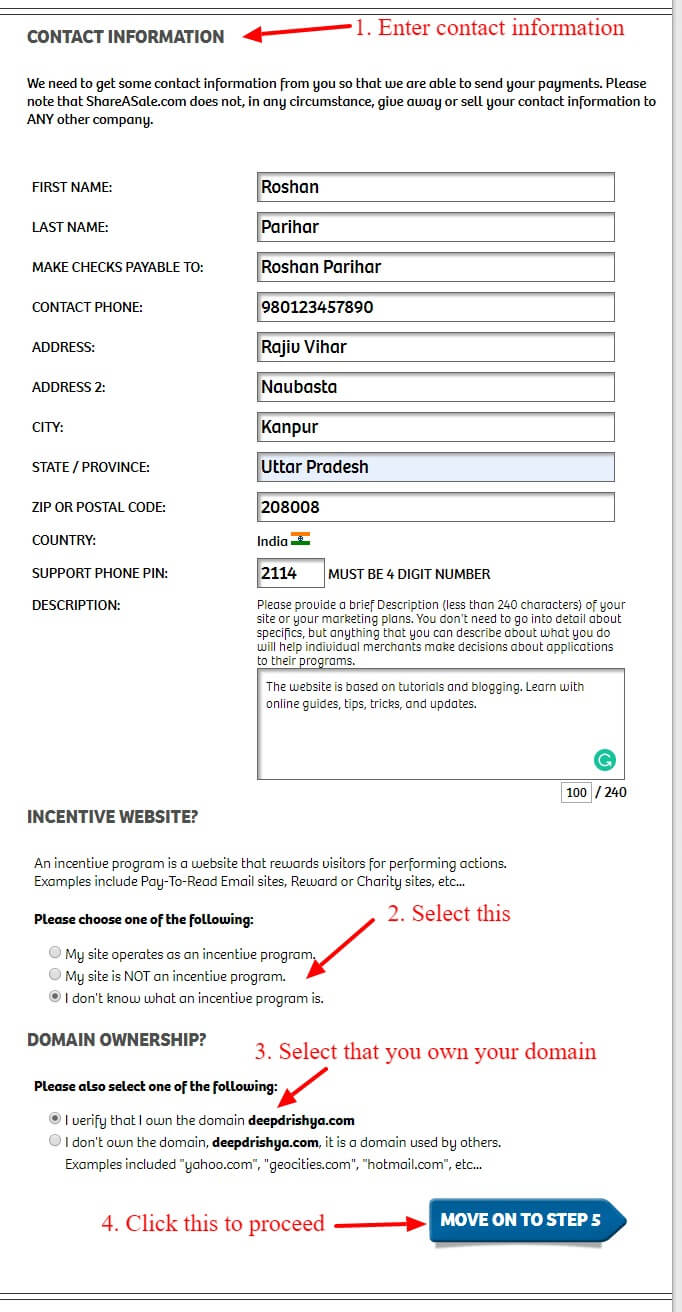 Finally, click 'MOVE ON TO STEP 5' to configure your payment settings. You can also skip the payment configuration to fill later.
Once you completed with the signup process, you have to open your email account to click on confirmation link.
ShareASale usually takes 1-2 days to approve your application. After getting the approval, you can login to the ShareASale dashboard to find merchant products to promote on your website.
ShareASale Merchants, You can Join After Approval
After getting approval from ShareASale, you can start finding the merchants to promote on your website. There are many merchants in ShareASale you can join and promote on your blog. Below is the list of high paying affiliate programs that are given below.
ShareASale Payment Methods to Get Your Earned Money
After earning money in ShareASale you need to provide a payment method to get your payment. The minimum earning money should be $50 to cash out your payment. ShareASale offers you are three modes of payments which are given below:-
ACH Direct Deposit (Wire Transfer): Get payments directly to your bank account.
Payoneer: Get paid via Payoneer which transfers the money to your bank account. For this, you have to create a Payoneer account first.
Via Checks:- The method can cost you more with different fee charges applicable.
I recommend you to join Payoneer as it is the best method to get payments with very less fee charges for each payment transaction.
I hope you like this post of how to sign up shareASale affiliate to make money. If you have any query regarding the ShareASale affiliate, please comment below.
Also tell me, what affiliate merchants you have joined by commenting below.