Are you running an agency and want to build trust and relationships with your clients? Flywheel Growth Suite client reports are the one-stop solutions that come with white labeled branding. It means you can send client website reports in emails with your own brand logo and name.
With Flywheel Growth Suite, you can easily hide the platform you are using to give services to your clients. This gives you a unique feature to do business to improve your presence and reputation.
Client reports help you increase the value of your business with your clients. You can easily grow your brand online and build a business that people can trust. This helps you generate more revenue for your business.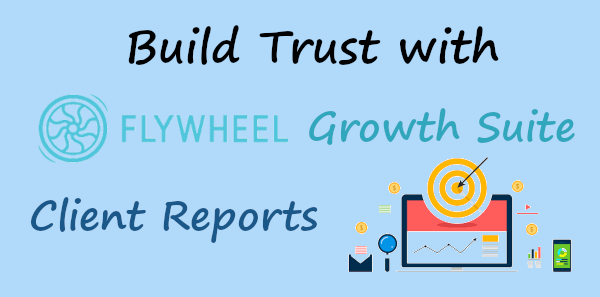 In this post, you will learn all about Flywheel Growth Suite automated client reports, their importance, and how you can create and customize reports for your clients.
So, let's get started.
What is Flywheel Growth Suite?
Flywheel Growth Suite is an all-in-one solution for agencies and freelancers to easily manage multiple clients in one single place. It provides hosting for Multiple Websites, Subscription Billing, Agency Branded Client Reports, One-Time & Recurring Invoicing, Client Management Platforms, and more.
Affiliate Disclosure: At Tutorialdeep, we believe in transparency for our users. In this blog, there are some referral links. If you signup with these links we will earn some commission at no extra cost to you. We recommend the links because they are our trusted brands.
If you are an agency working with client's and customer's websites, you can easily save your time with Flywheel Growth Suite. The platform is specially made for Agencies or Freelancers to easily manage their client websites and subscriptions.
Get Started with Flywheel Growth Suite
What Are Growth Suite Client Reports?
Growth Suite Client Reports are your client reports regarding all the updates regarding their websites. It will give reports to your clients based on hosting stats, Google Analytics Stats, and other necessary data of client websites.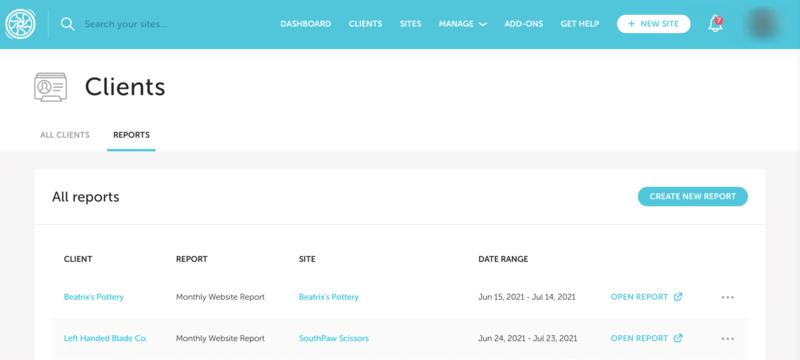 You can start sending weekly, monthly, and quarterly reports to your clients with your agency brand logo. This can bring more trust and help you increase recurring clients for your business.
See Layouts of Growth Suite Here
The Flywheel Growth Suite comes with many customization options to easily create beautiful-looking reports. You can choose templates and configure them according to your requirements to send to your clients.
Why You Should Use Growth Suite Automated Client Reports
There are many reasons behind that and a few top of them are given below:-
Build a Strong Relationship with your Clients: Client reports are helpful for your business to build a great relationship with your clients. It can give your value to clients that show your presence to them.
Increase Your Branding: You can send client reports along with your brand logo. This helps you easily increase branding and makes you popular among your clients.
Save Your Time by Creating Automated Reports: It helps you reduce manual efforts in creating reports for your client's websites. You can easily automate your client reports with Growth Suite features.
Show Your Client Website Data and Stats: You can show the clients their website data and stats. It helps them improve the performance of their websites.
Gain More Customers Online: After you become more popular among your clients, you can easily gain popularity by gaining more positive reviews from your present customers.
So, client reports can be the most useful feature for your business if you running an agency. You can easily grow your business online and increase the revenue of your business.
How to Create Automated Client Reports on Flywheel Growth Suite
To create automated client reports on Flywheel Growth Suite for your clients, you have to follow the steps given below:
Step
1

: Customize Report

After you get Flywheel Growth Suite for your business, you have to open the 'Create Report' options as shown in the image below.

You will be taken to a page where you have to first customize your report. Choose a cover style for your client report.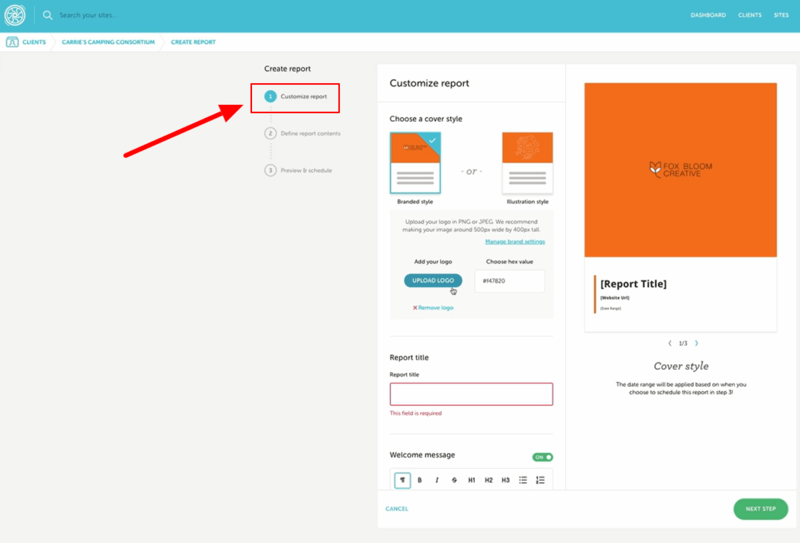 There are two cover style types that you can select for your client reports. You can click the style to see the look for your report. Upload a logo to display with reports to your clients.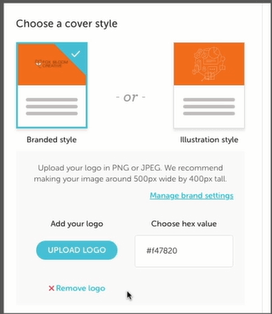 After that, enter a title for your report to distinguish it from other reports. Click the 'Next Step' button to proceed to the next step.
Step
2

: Define Report Content

In the second step, you have to define the content for your client reports. Here, you can make settings to add content for the hosting stats and Google Analytics reports.

The Hosting Stats content is regarding WordPress updates, Backups, Security, and Site Optimization. The Google Analytics reports contain reports like Users, Sessions, Average time on site, Bounce Rate, and Conversion rate.
These reports are useful for your clients to check details about their WordPress website and its performance. After setting up report content, you have to click the 'NEXT STEP' button to proceed to the next step.
Step
3

: Preview Report and Schedule

Furthermore, this is the final step where you can preview the reports that you want to send to your clients. Check each and every part of the report to see its content created.

You can also choose which site you want to report to your client. After that, set the frequency of the report you want to send the report to the clients.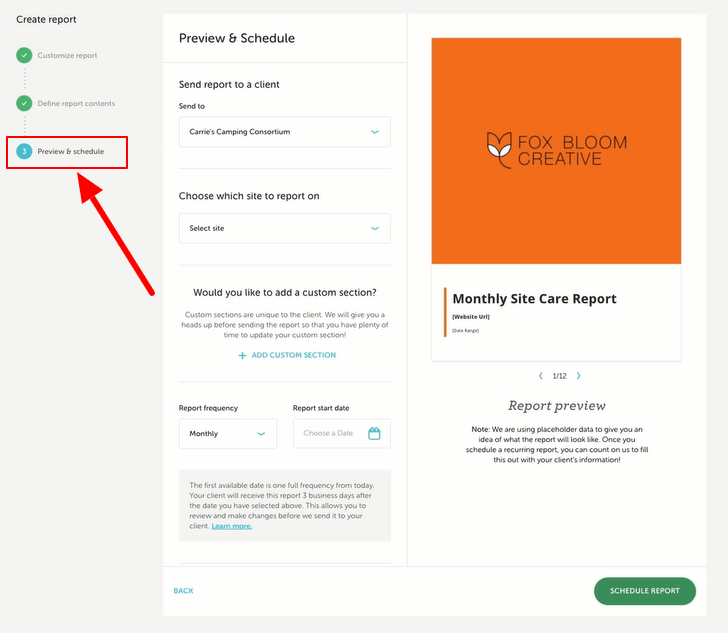 Once you have done setting up all the details and the frequency of sending reports, you can click the 'SCHEDULE REPORT' button to complete scheduling the reports to send to your clients.
That's all! you have successfully created client reports using the Flywheel Growth Suite.
Flywheel Growth Suite Pricing Options
Flywheel Growth Suite is an affordable solution to get for both agencies and freelancers. There are two separate pricing options in which one is for Freelancers and the other is for Agencies.
Its pricing options are based on the number of sites, monthly visits, Disk Size, and Bandwidth. The other useful features of the Flywheel Growth Suite will be available for both plans. The more sites you have for your clients, the more money you have to pay.
Here are the two pricing options of Flywheel Growth Suite that you can choose to select according to your business:-
| Plan Name | Cost Per Month (in $) | Number of Sites | Monthly Visits | Disk Space | Bandwidth |
| --- | --- | --- | --- | --- | --- |
| Freelance | $113/month | 10 | 100,000 | 20GB | 200GB |
| Agency | $275/month | 30 | 400,000 | 50GB | 500GB |
Whether you are a Freelancer or you have an established agency, its plans are separately distributed to get started. Its prices for plans are based on US Dollars. However, it may vary depending upon the location of the servers.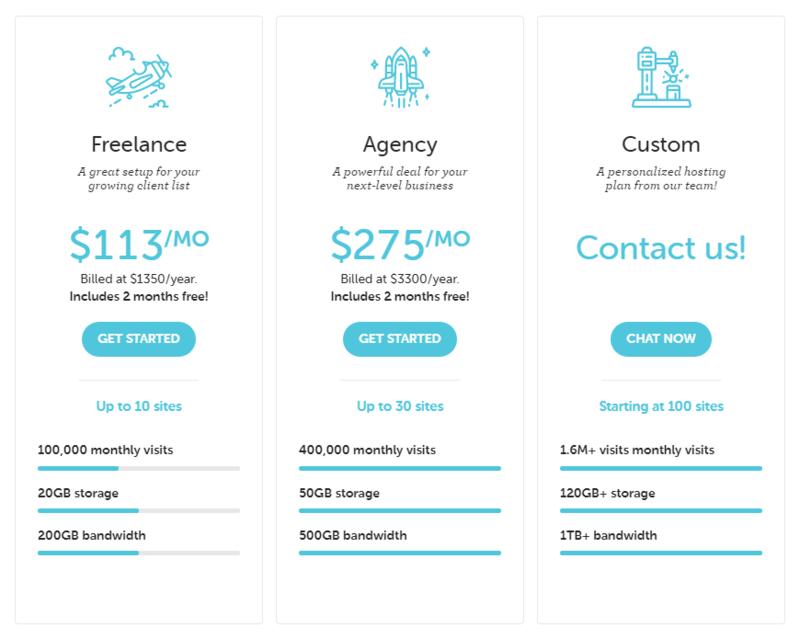 Every plan of Flywheel Growth Suite comes with all the features except the limit on the number of sites, visits, disk space, and bandwidth.
Get Started with Flywheel Growth Suite (2 Months Free with this link)
If you want to save money on your plan of Flywheel Growth Suit, it's recommended to choose the annual plan. The features like Phone support, Migration Dashboard, Dedicated Account Manager, and Quarterly Business Reviews are not available for the Freelancer plan. It means Agency plan gives more benefits and features as compared to the Freelancer plan.
Conclusion: Build Trust with Flywheel Growth Suite Client Reports
If you want to be professional and give value to your clients with your agency brand. You will get many useful features like Client Management, Bulk Site Management, Recurring Billings in Multiple Currency, Simple and Third-Party SSL, Regular Backups, Free Site Migrations, and many more at one single platform.
It helps you easily grow your business online and increase revenue. To provide professional services with automation, Flywheel Growth Suite is the must-use platform.
Get Started with Flywheel Growth Suite here
You May Also Like to Read