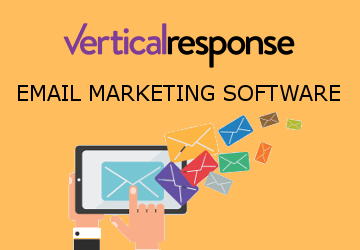 Vertical Response Review
Online Email Marketing Software
Summary
Vertical Response offers almost many features without spending a penny at the start for beginners. After you grow your business and earned some money, you can upgrade your plan and get more benefits from this service.
Choosing a best Email Marketing Software is a very difficult thing. This is the honest Vertical Response review to give overview of the top online Email marketing software available to promote your business or blogs.
Create your own email campaigns, schedule your social posts are few services of Vertical Response. Any business can increase their returning customers and get more sales with the online email marketing platform.
The platform is more than the best email marketing software. You can send emails as well as share your post to social networking sites like Facebook and Twitter.
Scheduling your post day and night is not an easy task for business and bloggers.They need a software that helps them to achieve this task.
Vertical Response is the best Email marketing software makes this easy for them to schedule their post for social sharing.

Website URL:
http://www.verticalresponse.com
This can increase your returning customer and subscribers.
Easy and useful online email marketing tools are the needs of all companies for growth. The company needs all these email marketing tools to promote their products and make their name a brand.
The company needs best email marketing software to reach more and more people daily to get more sales. When you use Vertical Response first time, you really get overwhelmed with the services with its robust features. The free services are available for a lifetime and never expires.
Vertical Response best online Email Marketing Sofware for bloggers and business
These are one of the few services in Vertical Response review as the best email marketing tools which alone can boost your website traffic. When first time I used these services, I got a sudden boost in the traffic of my website. Email Marketing tools are the best medium to get more trusted visitors for the website.
Few of these services of Vertical Response listed below which I used mostly:
Email Campaigns: Create your Email Campaigns with the beautiful HTML templates in minutes. This gives you more returning customers to get enough traffic for your blog to monetize it.
Email Automation: This is the email marketing tools to set up an autoresponder Email series with this service of Vertical Response.
Scheduled Social Post: This is the best feature I like most to get more traffic from social websites like Facebook and Twitter. I recommend this feature to every blogger and website owner to promote their article or product in the major social website.
Sign up with the best email marketing software called Vertical Response in less than one minute and start using these free services for a lifetime.
Send 4,000 emails per month to up to 300 contacts for free! Sign Up Today at VerticalResponse!
How to Signup with Vertical Response
If you don't have email subscribers on a consistent basis, then this service is for you to test the first time. Vertical Response works seamlessly with the social media service Facebook and Twitter.
Sign up with the Vertical Response to get all the benefits. The signup process is very simple and needs less than one minute to signup with the service.
Step1
First of all, you need to open vertical Response website to signup with the service.
Visit Vertical Response Website
and click 'Signup' or 'Get Started for Free'.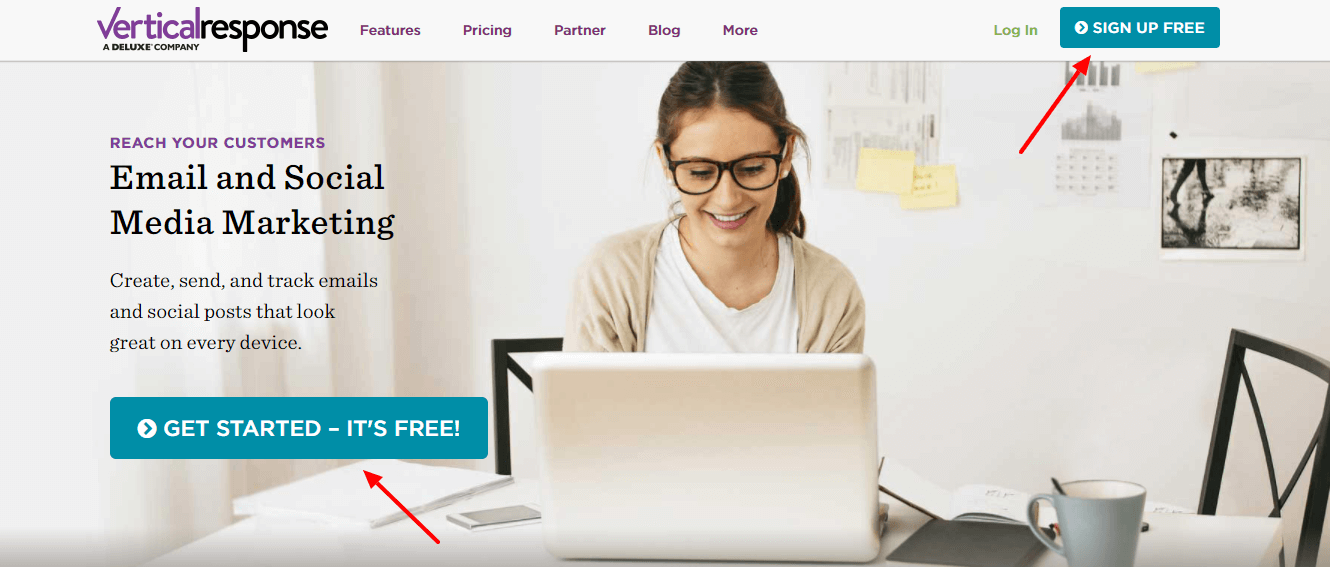 Step2
A signup form requires an email id and password to signup with a Vertical Response online marketing tool.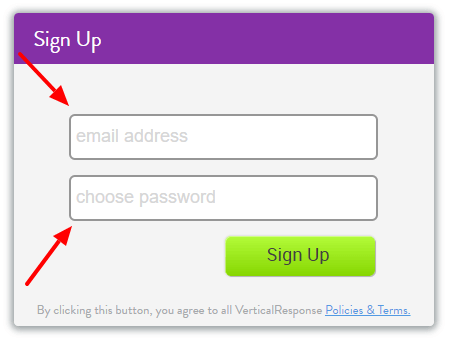 That's it. Very simple, isn't it!
After you signup, A welcome page will appear to start your first campaign.
Bonus tip:
Additional 25% Off Basic or Pro annual Plan(Discount added in this link)
UI Interface and Email Marketing Templates
The UI interface of the vertical response is simple and easy to use with Drag and Drop features.
There are 8 templates available to create a campaign. The templates are simple enough to use and you can easily edit each section of the templates with hover over them and click the edit. You can change each and every section of the template. Moving to the section from one place to another can be done with the drag and drop feature.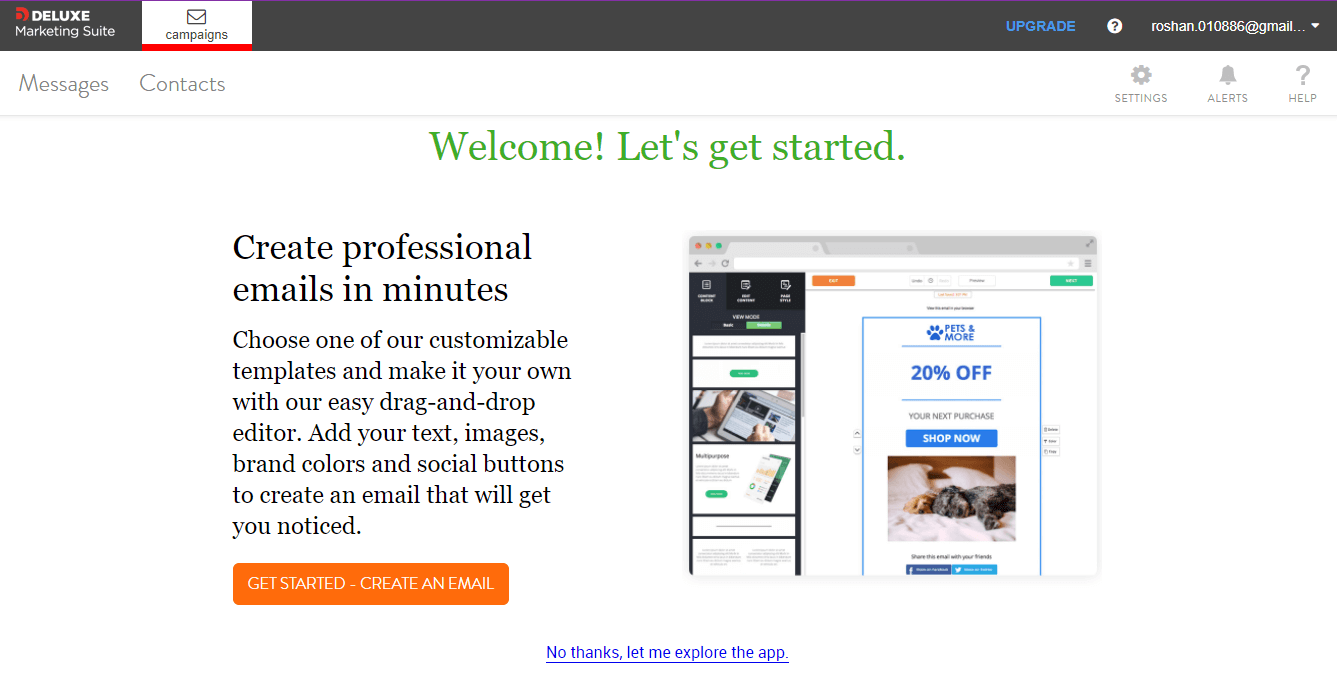 Vertical Response Plans & Pricing
There are 4 plans for Vertical Response.
However, if you are a beginner, you should use the Free plan which is for a lifetime. But if you are running a business, then the Basic plan is the best plan suits to every business to buy and cost you only $11 per month.
Signup for Vertical Response Free Plan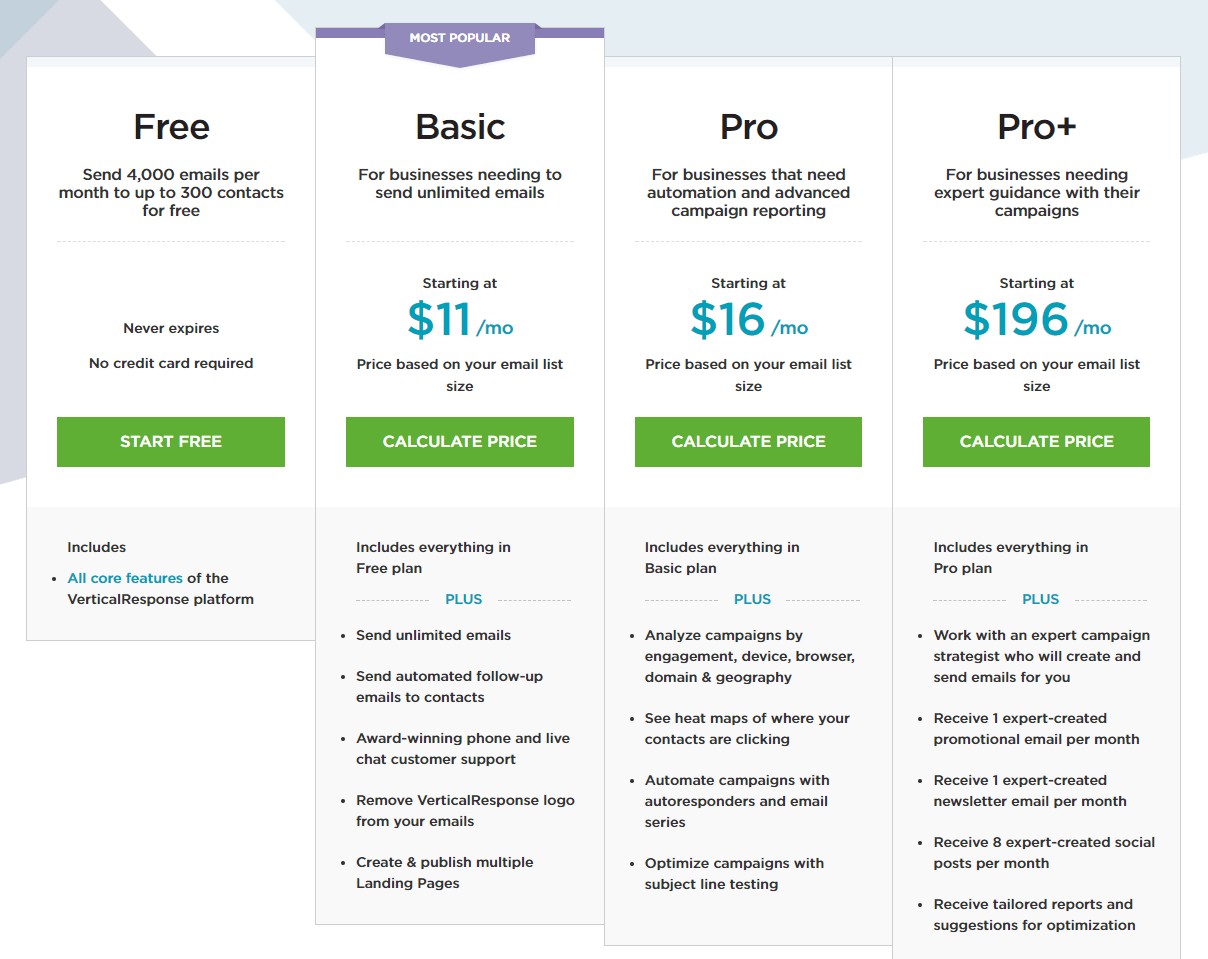 If you have decided to go with more advanced features which provide your campaign and visitors engagement report, you can use pro and pro+ plan which provides every tool you can't imagine for your best email marketing software.
What are the various features of Vertical Response
Easy to Use Email Editor: They have professional-looking templates which you can use for email marketing. These templates are responsive and mobile-friendly. You can move, edit and delete each block of the template according to your need. Creating a campaign takes a few minutes to get ready to use and send.
Contact list management: Create and manage all your email list to send emails. This is the effective way of Email Marketing to attract your customer and make a sale.
Basic reports & analytics: Vertical Response email marketing comes with the basic reports to track your emails and get the best results. The basic reports are easy to use, However, I recommend to use the advanced reports for better tracking and results. Check which devices your users using to open your emails and increase your performance.
Send automated emails to new contacts: Schedule your email timings at which email will automatically get sent. Your email reaches to your target at a time when you are busy doing other work.
HTML editor: The feature comes with easy to use HTML editor. Create your custom templates as per your needs.
Customizable, mobile responsive templates: All templates are easy to use and mobile-friendly. The templates are ready to use and responsive to fit any screen size.
Award-winning email customer support: Interact with the experienced email marketing team of vertical response. You can phone call to them and talk with the requirement for your email marketing. Chat and email to the team to get your solutions.
Facebook & Twitter sharing: Schedule your post sharing according to the time you want to send. Reach more people in the social profile by sending your post anytime you want to get more audience.
Access to image library
Create and publish a stand-alone Landing Page
Conclusion: Vertical Response Review free Email Marketing Software
There are many online Email Marketing services available today. However, every other service is not free to use for beginners when you don't have enough money to buy the paid services.
In this condition, Vertical Response is the best free service for beginners to use for a lifetime. Promote your business online and get more visitors to your blog. So, In this Vertical Response review, I recommend this to all the beginners who want to use email marketing software without spending a penny.
You must also read:
Checkout these tools while writing your emails:
Hope, you like this post. If you want some help you can email to Tutorialdeep mail id [email protected].
Feel free to comment below for any query. I reply fast on my social media profiles of facebook and twitter, so you can use that too.