Free traffic that converts visitors to subscribers and buyers is worth its weight in gold. There are many best ways to increase website traffic to generate more sales. But, finding effective ways to get that website traffic can be difficult at times.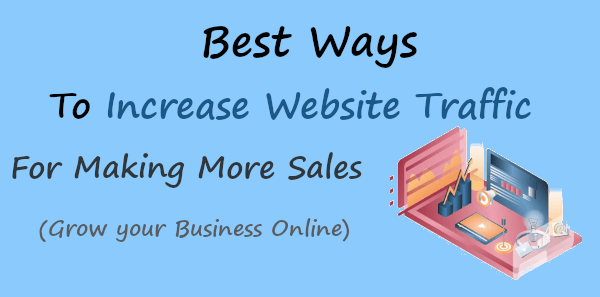 In this post, you will find some best ways to increase your website traffic for making more sales.
So, let's get started.
Best Ways to Increase Website Traffic For Making More Sales
Here are some best ways to increase website traffic that can effectively generate more sales and conversions for your business.
1. Article Marketing (Common Way to Increase Website Traffic)
Article marketing is a common way for promoting the business online. It can easily be adopted by anyone without costing anything. Many of the top online marketers earn a handsome income through using only article marketing to promote their businesses.
Article marketing is all about how informative your article is about a product or service you offer through your business. Write the article content in such a way that it gains some value in the eyes of the reader. Along with this, do follow-up questions in your article to bring in the essence of professional format.
The best content you can provide in your articles is information that solves a problem your target market experiences.
You need to promote your articles on a regular basis to keep the track of audience feedback. For this, submit your articles on multiple top-notch directories like ArticlesBase, EzineArticles, and GoArticles.
If you are marketing to a particular niche, you could increase the traffic on your articles. You need to submit them in popular and relevant niche directories available on search engines.
Whatever you publish, choose the best among them and compile them into a short report of PDF files. Add a compelling name for the customers to get them access to the gist of your influential articles.
Add a resource box at the bottom of your article in which can include a link to a free product offering to the reader. Also, place a link on your website to download the product for free.
By providing a continual flow of valuable content in the form of articles and marketing them properly your target audience will eventually like, though, and trust you. This is what makes the sales cycle work and what builds a relationship between you and your customers.
Read Guide: How to Start a Blog on Bluehost
2. Keyword Research (Do Before Writing Content to Increase Website Traffic)
Keyword research is the backbone of internet marketing. Failure to do this part properly right from the beginning can result in time lost and a failed internet business opportunity. Keyword research can take your website and business to new heights.
Also, if you are planning to do pay-per-click advertising, proper keyword research to discover less costly. But, effective long-tail keywords could well save a ton of money and it will get you some cheap website traffic.
The best way to do keyword research is to use a keyword tool. Semrush is one of the best keyword research tools in the market right now.
If you have the money, there are many paid keyword services and tools out and you can view their statistics or perhaps research how they go about getting cheap website traffic with targeted keywords.
But if you don't have the cash, there is a very easy and very effective way to do keyword research with the help of the free Google keyword tool.
3. Social Bookmarking: (Useful to Get Addition Traffic)
Social bookmarking is a way to get your site seen by others for free, thus getting additional websites traffic in the process. When you find a site that you find interesting, you add it to your bookmarks.
With social bookmarking, you have the option of sharing your links with other users. It is important to use social bookmarking correctly. First, you should make your site interesting before you bookmark it. Bookmarking pages that are not interesting to users will only hurt you in the long run.
Add links to your websites so that others can bookmark them. This works especially well if you have a blog. You can add the option for readers to rate the stories or posts that they find interesting.
For each bookmark, you add tags. Tags are keywords that describe the content of the page. Use tags that will help people find your web pages.
If you are the only person bookmarking your sites, you are not going to receive that much traffic. Do not take this as an invitation to spam the bookmarking sites using multiple user accounts. You can start your own website using InterServer, HostGator, or Bluehost hosting as they are the top hosting providers in the market.
It will only waste your time. Instead, make it easy for people visiting your site to bookmark or to rate it. Make your site interesting enough that they will want to. Encourage your friends to visit your site and bookmark it.
4. Google Trends: (Check What is Trending to Increase Website Traffic)
Interestingly enough, there is a bit of a difference between keyword analytics and determining which subjects belong on your site.
You will gain valuable information about what the largest number of people are searching for. If you find that people are interested in celebrities, cold cures, or other topics, then you can think about slanting your blog posts in these directions.
While these trends may not last for more than a day or two, you may still find that they will come back up in popularity on a regular basis. At that point, your pages will already be indexed and ready to capture as much traffic as possible.
5. Video Marketing (Must Try the Best Way to Increase Website Traffic)
Videos are now used by many as a way for searching for information and they often appear on page one of the Google search engine results for key terms. If you own a website then you should really be using YouTube to create small videos that could just bring in some very good traffic to your website.
Users of websites like visuals and there is nothing better than actually meeting the owner of the website through a small video. The video doesn't have to be professionally done by any means; in fact, users prefer raw video that shows you in a realistic light.
You can create videos for anything from an introduction to a how-to video or shots of your products. These videos can then easily be shared and embed onto your own website so that users can view them whenever they want.
Having a YouTube video can help with both local and national searches, making you more visible to potential new customers. It also adds good dynamic content to your website and allows users to interact with your website which helps to keep them interested.
Websites can be very impersonal things with the user often not knowing whom they are dealing with; this is where a video really helps. You can break down the usual communication barriers which will create better sales and inquiries.
A good video can seem the perfect introduction to your company because customers and potential clients feel like they already know you before they actually meet you, which means if they like you on a video or the product on a video, you are halfway there to landing the business or sale.
Something else which many people do not understand is that YouTube is also a good social media platform enabling you to communicate with other people of similar interests.
You can subscribe to other YouTube channels as well as becoming friends and sending personal messages. This is definitely something to investigate because if you can build up a good base of YouTube friends and subscribers you will get more video views and in turn more website traffic.
Read Guide: Get the Best YouTube Channel Management Tool: TubeBuddy
6. Email Newsletter (Oldest But the Most Effective Way)
Newsletter, this may seem like a lot of work, when you think of all the newsletters you are going to have to write. However, you are able to write the newsletters and articles yourself or use the articles available in the directories.
All you have to do is make sure when you use an article from another author that you keep the resource box intact, therefore the may generate a little traffic from the article as well.
As your newsletter grows in popularity and gets passed around, your exposure grows and you are able to generate more traffic to your website and also build your opt-in list.
Read Guide: How to Start Doing Email Marketing in 3 Easy Steps
7. Forum Marketing (Best Way to Increase Website Traffic on Automation)
Use the forums, join the online communities and forums that are in your niche market. You will find many forums online through a simple search. Login and provide helpful and informative comments to the problems and questions and you will get your name and website on every comment you leave.
A great way to help others and to generate traffic at no cost to you other than a little of your time. You would be building your reputation and when visitors do click on your links they already trust you.
Conclusion:
In conclusion, You can go and spend an absolute fortune on an advertising campaign and you will be able to generate traffic to your website while that campaign is running.
However, what you want to achieve is to run your advertising on low-cost methods and especially methods that will be able to grow and generate ongoing or see a continuous increase in your website traffic.
Author Bio: Shubham Chopra, founder of Marketing Savior and an exuberant content creator with a great zest for providing insightful reviews about digital products that will help startups & SMEs penetrate into the online world easily.