FreshBooks Accounting Software is the top accounting software using by the top internet marketers like Pat Flynn and Roman Mars.
FreshBooks accounting software completes all your financial needs to perform financial operations and track.

Website URL:
http://www.freshbooks.com
What is FreshBooks Accounting Software?
A FreshBooks accounting software is a required system for the recording of financial information. Create and manage financial operations or transactions using a single platform.
Create and send your invoice and track your accounting data for company financial activity. Top online businesses using accounting software to save their time. Focus only on your work and not the headache of financial operations.
FreshBooks: A Complete Accounting Software For Small Businesses
FreshBooks is the easiest accounting software for small businesses. It is a cloud-based accounting software built for online business owners. Create your billings for your customers in just a few clicks.
The automated invoice can be easily created and send automatically to your customers. Organizing your expenses in a single platform and take followup of your clients using FreshBooks.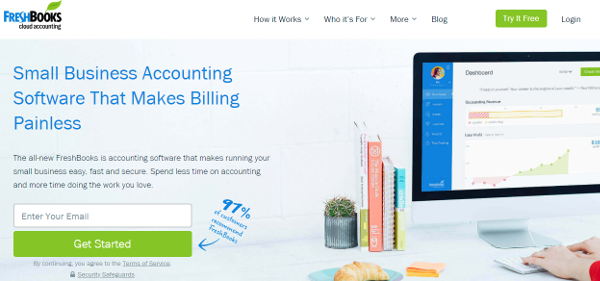 Generate recurring invoices with just a few setting options. Save your valuable time and increase your revenue.
Get credit card payment in any currency from your customers. In addition to this, You can even automatically bill customers credit card and keep your life simple.
If you want to create your financial transaction and tracking secure and fast. You can do so by using the FreshBooks accounting software for your businesses. FreshBooks is the easy to use software and the best accounting software. Track your expenses and calculate your profits.
It does not matter whether you are running an agency, firm, consultancy or you are self-employed. Freshbooks is the best accounting software for everyone from small business to a professional consultancy firm.
Features of FreshBooks Accounting Software
Time Tracking: Track the time of your financial transactions and increase your earning potential.
Unlimited Invoices and Estimates: Create a beautiful looking invoice for your customers to get paid.
Accept Online Credit Card Payments: Get credit card payment online in any currency.
Automatically Import Bank Account Expense: Import your bank account expenses direct to FreshBooks software.
Automatically Send Payment Reminders: Generate and send automatic reminders for payment and save your time.
Charge Late Fees for Overdue Invoices: You can even charge late fees from your customers if they make any delay.
Accounting Reports: Get regular reports of your financial operations in this single platform.
Schedule Recurring Invoices: Create schedulings to send regular invoices to your customers.
Send Proposals: Create simple proposals and send it to your regular or new customers in just a few minutes.
Multi-currency Support: It supports multi-currency payment to get payments from any country clients.
Mobile Access: FreshBooks mobile app gives the flexibility to work from anywhere or anyplace.
If these sounds appealing, get its free trial for 30 days with no credit card required and run your business from anywhere you want.
FreshBooks Self-Employed Entrepreneurs Work From Anywhere
If you are an entrepreneur, you can maintain your accounting work anywhere in the world. You don't need to work in the same place at all the time.
Freshbooks works every time for entrepreneurs to leave their 9 to 5 limit of the job. So, when do FreshBooks customers work? Who are the Freshbooks professional? Well!, below is the infographic to learn more about the FreshBooks tradition.
Signup FreshBooks For FREE here
Affiliate Disclosure: At Tutorialdeep, we believe in transparency for our users. In this blog, there are some referral links. If you signup with these links we will earn some commision with no extra cost to you. We recommend these links because these are our trusted brands.
Hope, you like this post of FreshBooks accounting software for small business with an infographic. If you have any query regarding this post, please comment below.
Also, tell me, how useful is FreshBooks for you and for your professional life.