Do you want to write emails without grammar mistakes in English?
Emails are the best option to communicate with your audience. Many native English speakers still make mistakes while writing emails. If you are a non-native English speaker, the chances of making English grammar mistakes increases.
You are writing a good email for your audience. But, to make it more readable and easy to understand, your emails in English should be grammar error free.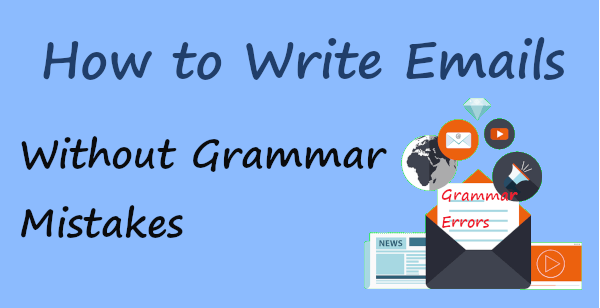 One single grammar mistake can lead to miscommunication. To write better emails in English, you need to avoid common mistakes to communicate with your audience effectively. You need to know the best ways you can easily follow to write English without grammar mistakes.
Affiliate Disclosure: At Tutorialdeep, we believe in transparency for our users. In this blog, there are some referral links. If you signup with these links we will earn some commission at no extra cost to you. We recommend these links because they are our trusted brands.
In this post, you will get the top 3 tips that can help you write emails without making grammar and spelling mistakes. After learning these tips, you can automatically find and resolve all your English grammar mistakes.
So, let's get started!
1. Use Online Grammar and Spelling Checker Software to Write Emails
(Recommended)
To write emails without grammar mistakes, you can start using the online grammar checker software. You just have to install the software extension on your browser. It can help you automatically detect all your grammar errors while writing emails online.
After trying and testing the best grammar checker online software, I recommend Grammarly to our readers. It is the #1 online grammar checker software that can help identify all your grammar mistakes automatically.
You just need to install the Grammarly extension on your browser to automatically start using its features while writing emails.
It's the fastest way to resolve grammar mistakes in your emails easily without needing to proofread content thoroughly.
Let's find out the step-by-step process to install Grammarly and write emails without grammar mistakes:-
Step 1: Create Grammarly Free Account
First of all, go to the Grammarly homepage and click the 'Get Grammarly' button as indicated in the image below.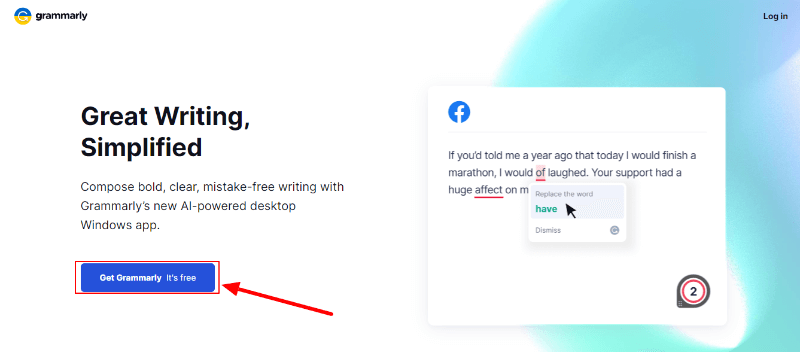 A signup form will open where you can use your Email and a Password for your Grammarly account. You can also choose to signup using your Facebook, Gmail, or Apple account.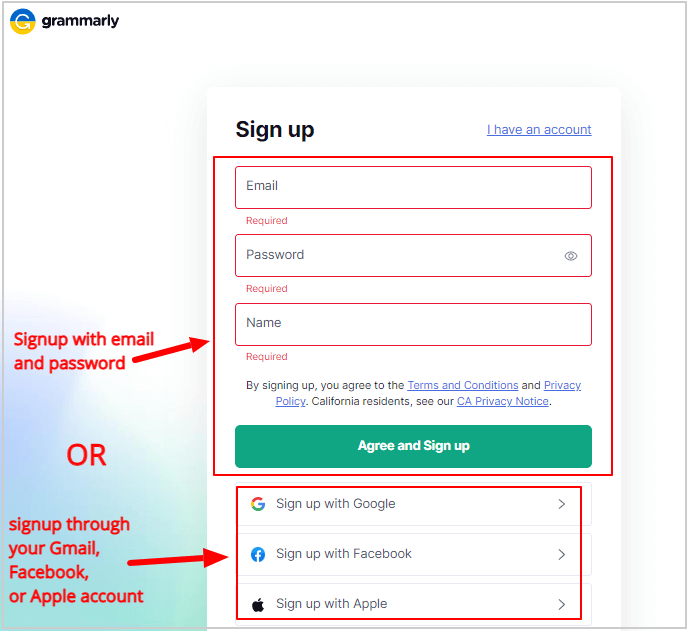 Step 2: Install Grammarly Browser Extension
After completeting creating an account with Grammarly, you will get the 'Add to Chrome it's free' button. Click this button to start installing the Grammarly extension on your browser.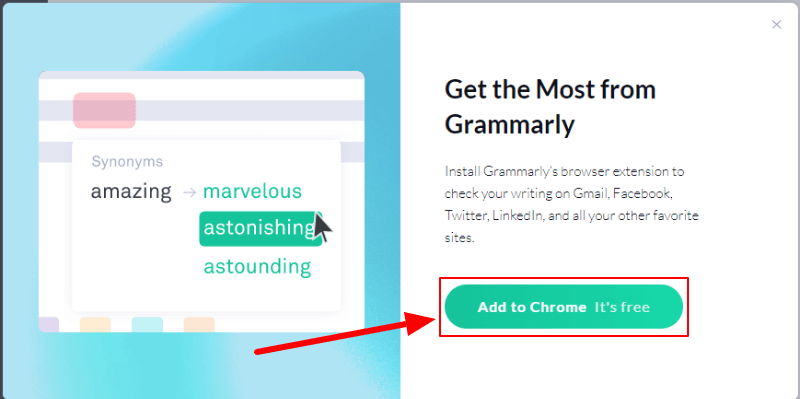 You will be taken to the browser extension store to install the Grammarly extension on your browser to start using it.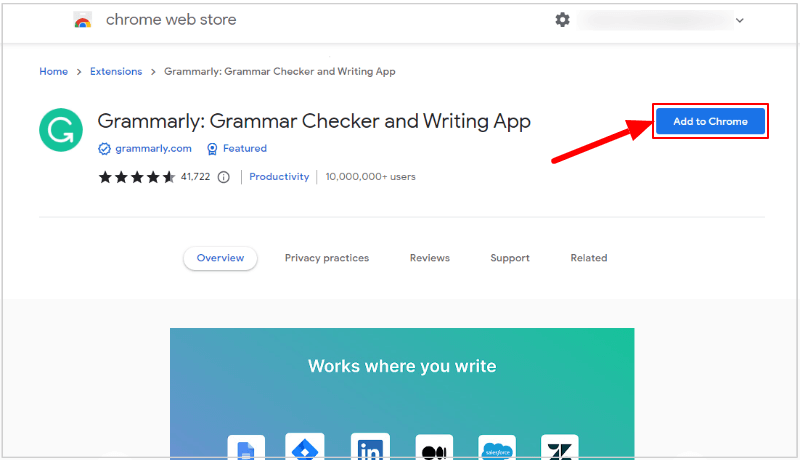 After you complete the installation of the Grammarly browser extension, you will get the Grammarly icon on your browser as indicated in the image below.

Final Step 3: Now, you can start writing emails in English and Grammarly will automatically mark your grammar mistakes. You have to take your mouse on the marked errors to get suggestions for corrections.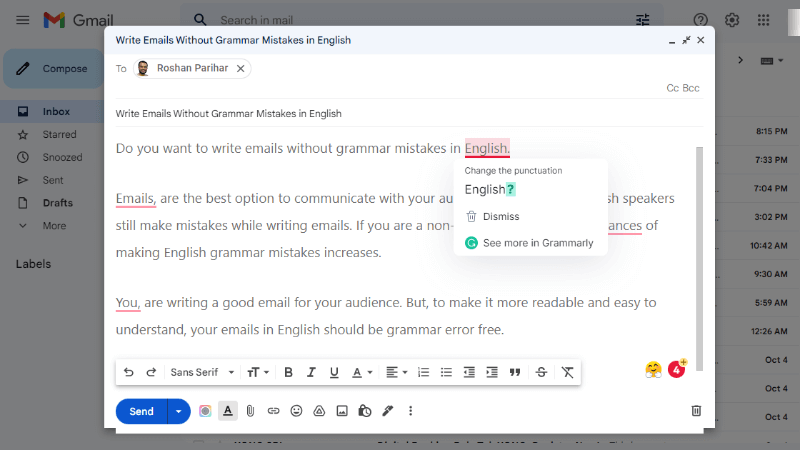 2. Proofread Your Email Content to Write Without Grammar Mistakes
After writing your email content, read it aloud to find the grammar mistakes in your writing. Print your email content and again read it loud.
Take a pen and mark your errors and mistakes while proofreading your email content. When you think that your written text is not suitable for the sentence or have doubts about spelling, mark it for correction.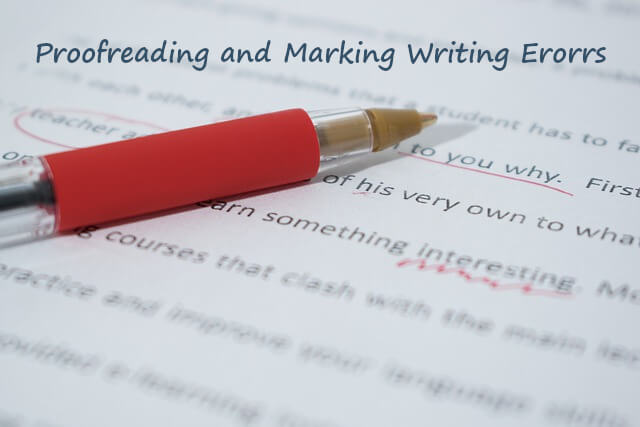 You can also ask your friend who well knows English writers to proofread your content for your grammar mistakes. Ask them to give suggestions for corrections. Reading your email content thoroughly helps you make corrections to convert it into meaningful content.
If you are a company owner, you can take the help of your employee who is a better-known English writer. Ask them to read your email content and provide useful suggestions and corrections. Make changes accordingly to write better emails.
This way you can write better content for your emails that your audience can easily understand. After proofreading your content and making corrections, your email content is ready to communicate with your audience. You can send it now to your audience for one-to-one communication.
3. Learn English Grammar Rules to Avoid Grammar Mistakes
Writing emails without grammar mistakes requires learning English grammar rules to write correct emails. You can start with learning basic English grammar rules online and offline.
Learning online grammar requires a website that provides standard grammar rules. There are many websites available online and you need to find the best resources to learn English grammar.
To help to learn online, here are the top websites to learn English grammar:-
Offline books are still the best option to use and learn English grammar. For offline grammar learning, I recommend to choosing practice makes perfect basic English book.
You May Also Like to Read