Do you want to design and schedule Instagram posts with Tailwind Create?
You can easily design and schedule beautiful-looking Instagram posts using 'Tailwind Create'. It makes designer-quality Pins quickly and allows you to streamline and optimize all of your Pinterest marketing better than ever before!
'Tailwind Create' is the best tool that can help you create Instagram posts and Facebook Posts as well as Pins. If you want to grow your audience on Instagram, Facebook, and Pinterest. You can use 'Tailwind create' to create high-quality posts quickly. Here is the typical result of tailwind members using Tailwind Create.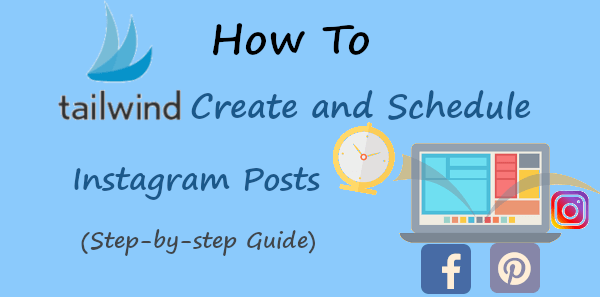 In this post, you will learn how to create and schedule Instagram posts using 'Tailwind Create'.
So, let's get started.
Affiliate Disclosure: At Tutorialdeep, we believe in transparency for our users. In this blog, there are some referral links. If you signup with these links we will earn some commission with no extra cost to you. We recommend these links because these are our trusted brands. I was compensated to create this content.
How Tailwind Create and Schedule Instagram Posts (Step-by-step)
Follow the step-by-step process given below to create and schedule Instagram posts using 'Tailwind Create':
Step
1

: Create an Account with Tailwind

First of all, open the Tailwind homepage to start a free account.

You can create a free account either by clicking on social media platforms or by using your email id. The below image indicated the place where you can click the button of your preferred choice.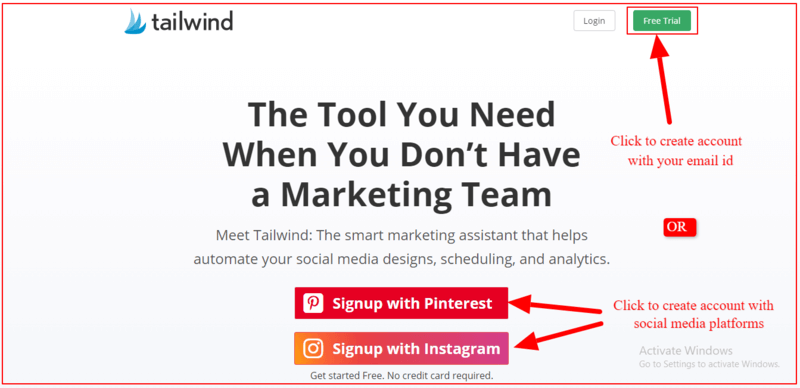 After you create an account with Tailwind, you will be taken to the Tailwind dashboard whose first appearance is as given below.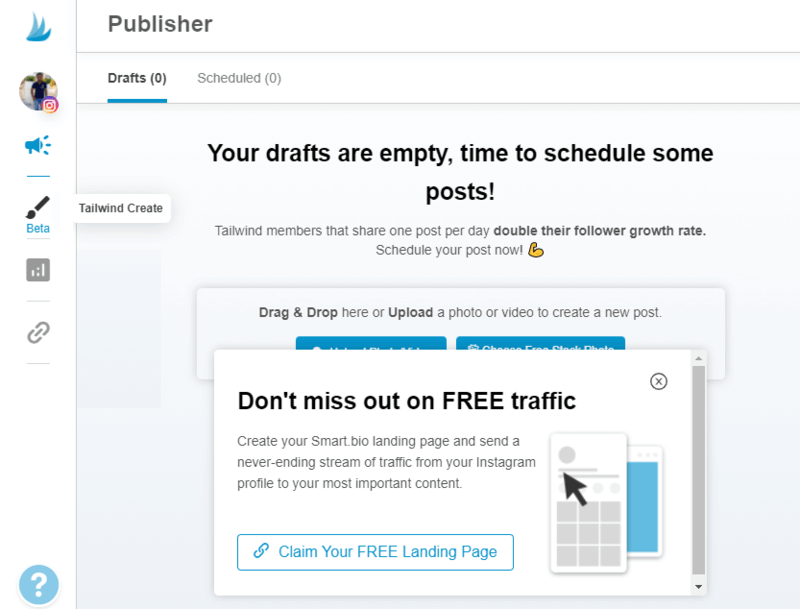 Step
2

: Go to 'Tailwind Create' to Start Creating Design

To visit the 'Tailwind Create' page, you need to look for the paint brush in your Tailwind dashboard as indicated below and click on it. When you take your mouse to the paint brush with the text 'Beta', it displays a text showing that it is 'Tailwind Create'.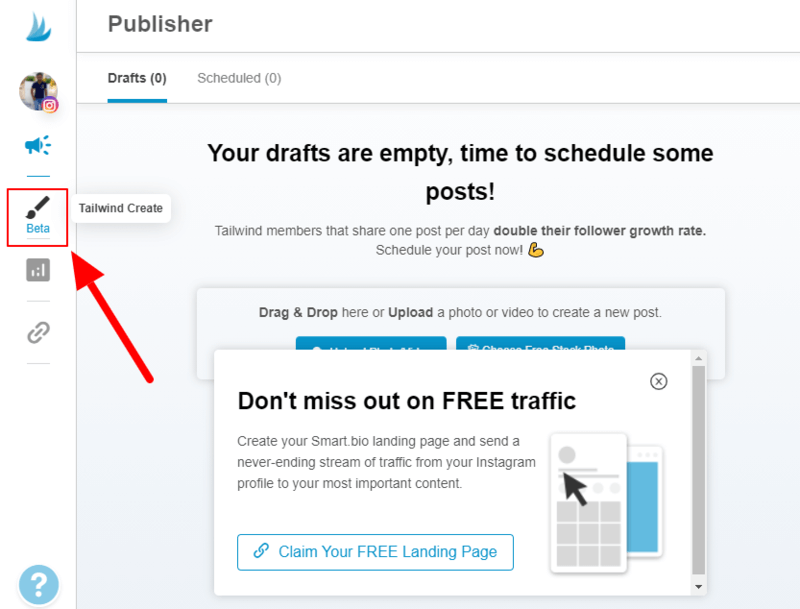 After that, click the 'Start Creating Now' button as indicated below to start the process of creating designs with 'Tailwind Create'.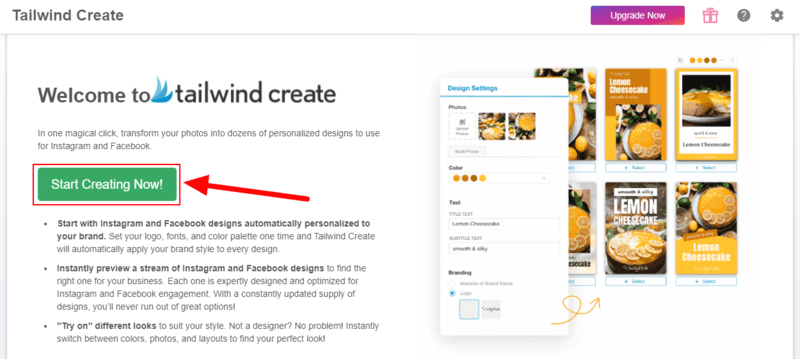 Step
3

: Personalize Your Design with Your Brand

Now, you can set our branding for the designs each time you create with 'Tailwind Create'. It is a one-time step to set your logo, font, and color palettes, and 'Tailwind Create' automatically applies your brand style to every design.

Enter your Brand Name, select your font and color, and upload your brand logo to use with every design. After that, click the 'Save and Continue' button to save the personalized settings.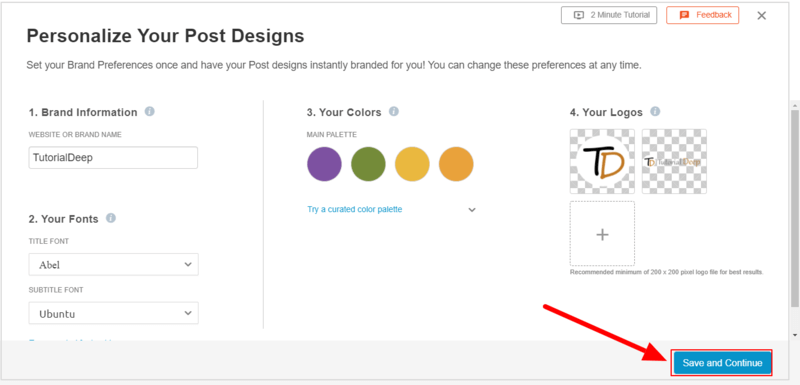 After completing the settings for your brand, you can start creating beautiful post designs with 'Tailwind Create'. Click the 'Start Creating' button to go to the design creation page.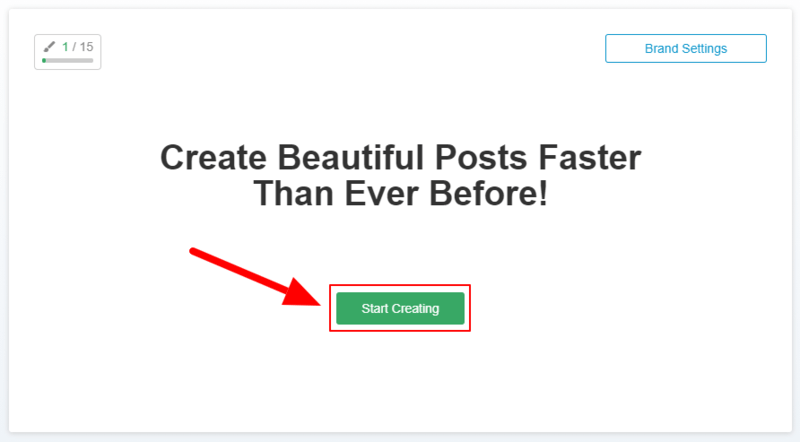 Step
4

: Fill Detail to Create Designs

On the design creation page, you need to enter the URL of your website posts to fetch the title and site image automatically. You can also choose to upload images or find images from the available stock photos.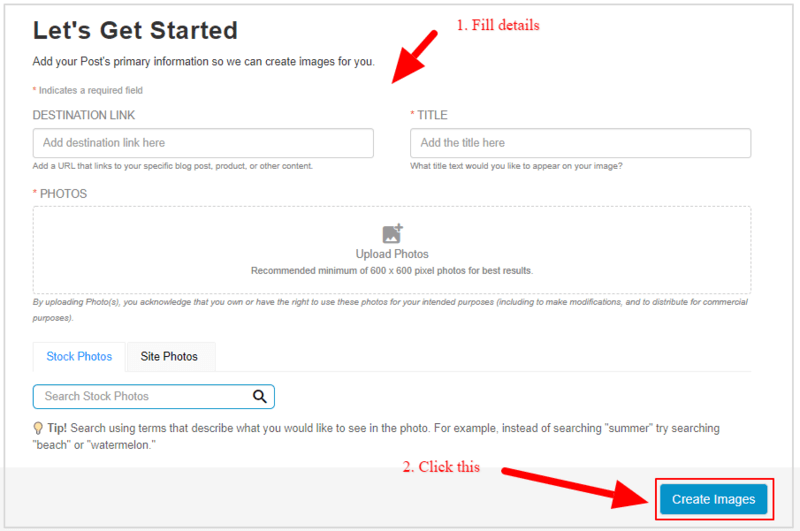 When you have completed filling the form, you can click the 'Create Image' to start generating designs for your posts.
Step
5

: Select Your Preferred Design

You will get hundreds of beautiful designs from which you have to select your preferred designs. The below image shows the designs generated from 'Tailwind Create'. It also contains separate dropdowns Post Types, Photo Count, and Categories to filter your designs.

Select a design of your choice by clicking on the '+Select' given under the design as showing in the image below. After clicking on the design, it shows that the design is ' selected'. You can select multiple designs to choose the best choice in the next step.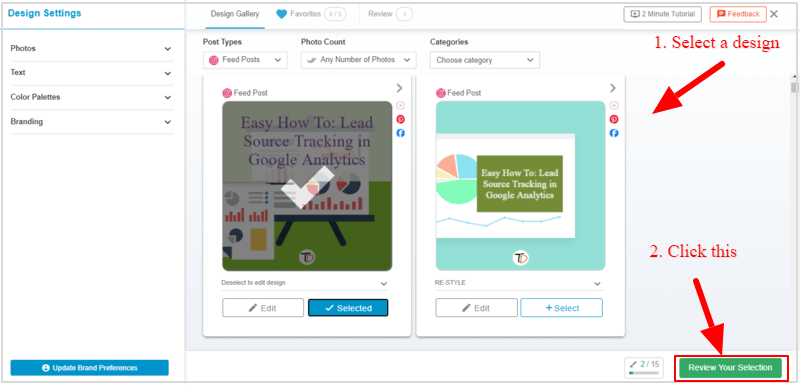 After completed selecting a choice for your design, click the 'Review Your Selection' button to review your selected choices.
On the review page, you can click the '' sign in the design that you don't want to keep selected for the post. The below image shows a single design it will keep for the post.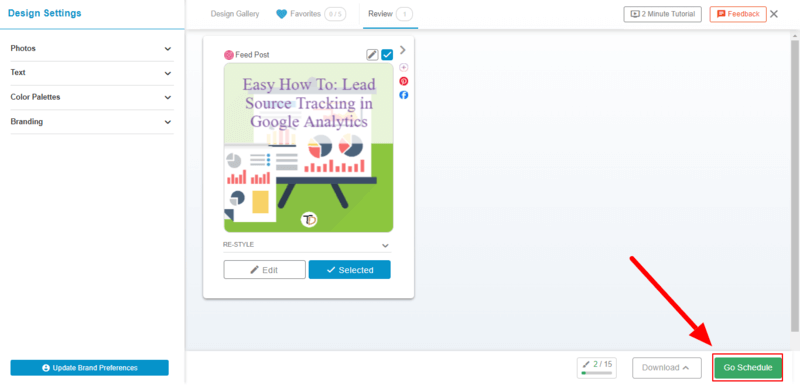 Click on the 'Go Schedule' button to save all your post in draft.
Step
6

: Schedule Your Design on Instagram and Facebook

To schedule your post, you have to click on the saved post as showing in the image below.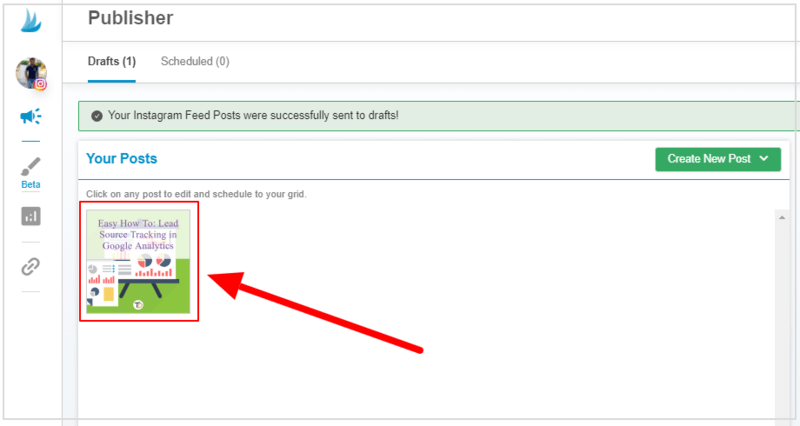 After you click the post, you will get various options to enter 'CAPTION' and tags. You can enter caption and tags of your choice to display to your audience on social media.
Now, scroll down the page and click the checkbox given with Facebook. You will get the popup where you have to enter the same caption and tags that you have entered above.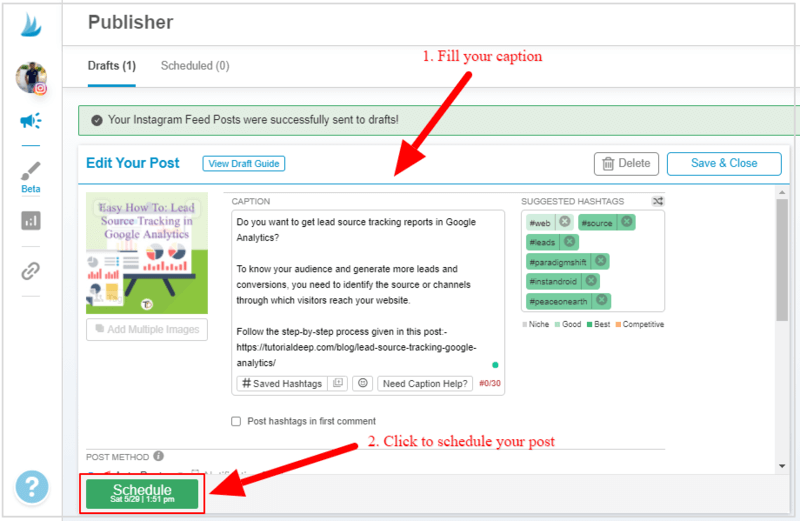 Furthermore, click the 'Schedule' button to set a time to post your design to social media.
That's all!
Congratulations! you have successfully created a design and post the content on Instagram, Facebook, and Pinterest using Tailwind Create.
Why You Should Use 'Tailwind Create' to Make Social Posts for Instagram, Facebook, and Pinterest
There are many reasons for this and few tops of them are given below:
High-Quality Designs: It creates high-quality designs that look beautiful and more attractive to the audience. You can create hundreds of beautiful designs and choose your preferred one to share with your audience.
Save Time on Design Creation: Time is more valuable when you are running a business online. 'Tailwind Create' helps you save time and effort to create designs for Instagram, Facebook, and Pinterest. It can generate many designs in just a single click.
Optimized for Facebook, Instagram, and Pinterest: The designs are created according to the need of size for Instagram, Facebooks, and Pinterest. Every part of the design made from 'Tailwind Create' are well optimized to display according to the social platforms.
Grow Your Audience and Traffic: High-quality designs help you generate more audience that can be your future customers. Designs look beautiful and attract more clicks to increase your website traffic. It helps you to build more audience from social media platforms like Instagram, Facebook, and Pinterest.
Create Branding Online: Sharing -high quality content online helps your business make branding online. People trust more on your business and love your content. You can grow your business more and become a brand online.
➜ Start Your Free Tailwind Account (No Credit Card Required)
Frequently Asked Question
Q1. What is Tailwind Create?
Answer: Tailwind Create helps people easily create high-quality content for social media platforms like Instagram, Pinterest, and Facebook. You can grow your audience on these social media platforms and build a better reputation with an online presence.
Q2. Can I Schedule Instagram Posts on Tailwind?
Answer: Yes, you can create high-quality designs and schedule on Instagram to increase your followers. It helps you get more popularity and perfection to create posts with ease.
Q3. Is Tailwind Good for Instagram?
Answer: Yes, if you are serious about growing a community for your business on Instagram, you can easily use Tailwind tools to get success on Instagram.
Tailwind is worth buying platform and you can also start your free account with Tailwind to check its interface.
Q4. Is There a Free Plan Available to Use Tailwind?
Answer: Yes, it comes with a Forever Free plan to use Tailwind with 1 account for Instagram and Pinterest. The free plan also includes 20 posts /month, 20 designs/ month, 5 Tailwind Communities, and a Smart bio custom link.
Ready for a whole new way to create standout, scroll-stopping designs for Instagram, Facebook, and Pinterest? Let Tailwind Create help you design beautiful posts, Stories, and Pins in seconds.
Click Here to Create Your Free Account
You May Also Like to Read