[wpcd_coupon id=19765]
InMotion Hosting Coupon
It's difficult to find the best hosting company to host your WordPress website. InMotion Hosting is the fastest performance business hosting provider company.
One of the consistent performer to provide hosting is InMotion Hosting and we've got the coupon code to save your money. Discounts are a great way to reduce your expense when you have decided to buy something. We are offering 56% discount to our readers to buy hosting using Inmotion Hosting Coupon.
With our special 56% discount, The basic package will cost you only $3.49 which also includes a free domain name to start your website. This is the best offer anyone wants to start their online blog or business if you buy this from the link given on this page.
You don't need to use any coupon code, all You need to do is to click the link given above inside the coupon.
How to buy Business Hosting using InMotion Hosting Coupon
Go to InMotion Hosting website, click this link(discount coupon added in this link). You can also use the above link given in the coupon.
After you click the link, you will reach InMotion Hosting website. Where you will see the below-given image when you scroll down the website. This shows that 56% discount is added for you, you can proceed to buy hosting and free domain.


Disclosure: At Tutorialdeep, we believe in transparency for our users. In this blog, there are some referral links. If you signup with these links we will earn some commission with no extra cost to you. We recommend these links because these are our trusted brands.
Now, click the business hosting option given in the below image.
This will take you to the plan list page to select your best plan.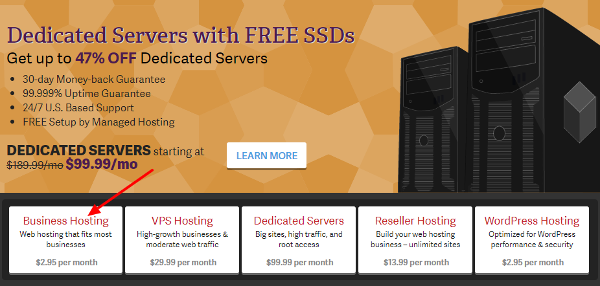 There are three plans for business hosting, these plans  are:
Launch: The plan cost you $3.49 if you buy it from our website link. You can use this plan if you want to start your website with the cheapest price.
Power: The plan costs you $4.49 and best suits you want to start your small business. But if you want to start your blog you should use Launch plan.
Pro: The plan costs you $7.49, you can switch to this plan after your website starts getting a huge amount of traffic or want to start your own business.

Here's you will get the domain name. Enter your chosen domain and check whether the domain is available to buy or not.
If the domain is not available to buy, you can enter other chosen domain. After it confirms the domain availability, you can proceed further.


If the domain is available then click the 'ADD TO CART' button.
This will add the domain to the cart and you can proceed to checkout.

If you want a preinstalled WordPress setup, then select the 'Install WordPress' option given in the Content Management Auto-Installer.
This will install a copy of WordPress to your hosting account.
Now, Go ahead and make payment to complete your purchase.
I hope the InMotion Hosting Coupon could help you to save your valuable money. If you want other deals to check out our WordPress Coupons and deals page.